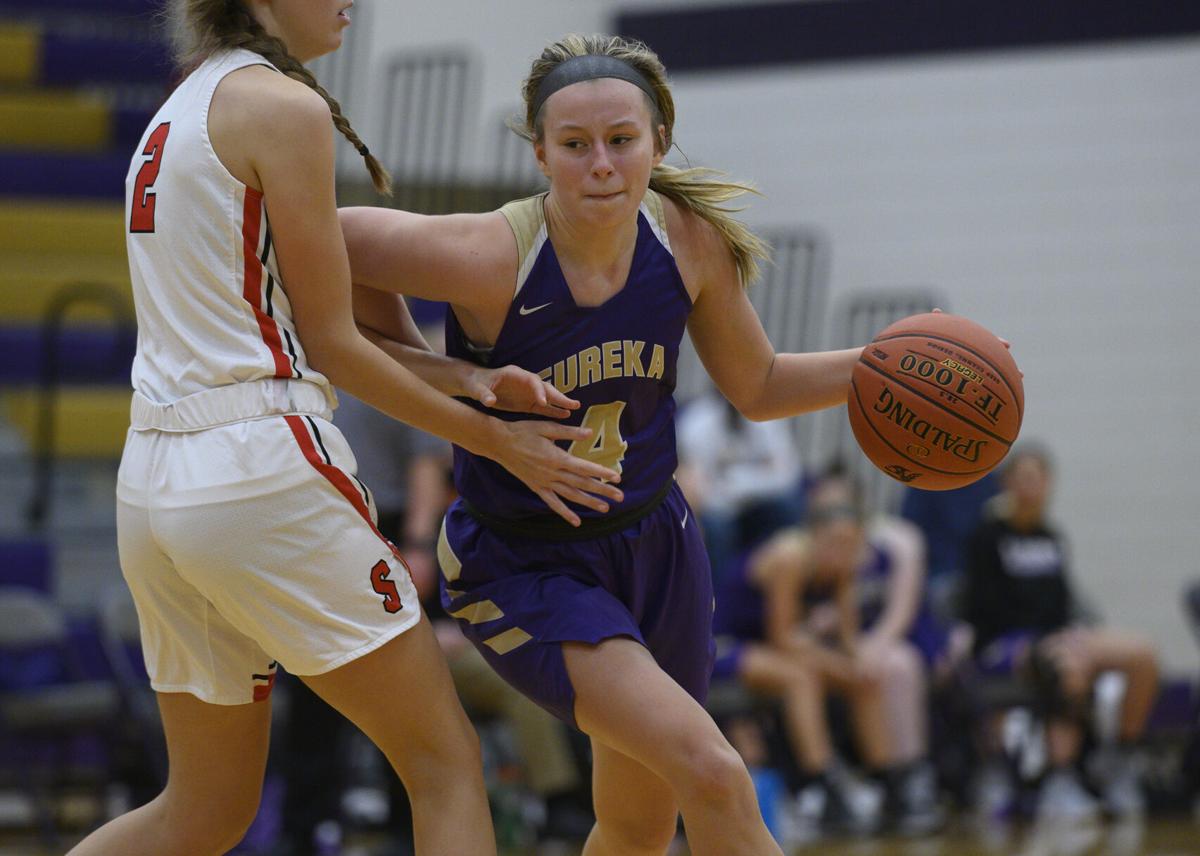 When the coronavirus pandemic hit early in 2020, Kate Hillyer found herself with a lot of time on her hands.
With competitive basketball off the table for a while Hillyer, who is now a senior on the Eureka basketball team, turned to a different arena to find a new passion.
Hillyer took up cooking and has become quite adept at it. While she doesn't exactly have a favorite dish, there is a style she's working to perfect.
"I really found myself having a lot of fun learning to cook and make good food," Hillyer said. "I have continued that passion and almost every weekend make some sort of new recipe. I think it is fun to find ways to make food that you could buy at a restaurant. Also, I just think it's impressive when people know how to cook so I thought it would be nice if I knew how to too."
While Hillyer spent a lot of time learning how to cook in the kitchen, the 5-foot-10 guard has been cooking on the basketball court for a while now.
Hillyer's scoring average of 22.3 points per game for Eureka (11-10) is currently third-best in the area.
Wildcats coach James Alsup said that the ways Hillyer has cooked up points this season has brought a certain spice to the team's offense.
"Kate has been able to be successful this year on the offensive end despite being hounded most nights," Alsup said. "People know what a good shooter she is and take away her space, Kate has added attacking off the dribble more than in the past. When they foul her on a drive she makes them pay at the line."
Hillyer has definitely made the opposition pay at the free throw line.
Her 90.6 success rate from the line is the top percentage in the area as she has made 115 of 127 attempts.
Alsup said that it's been of no surprise to see Hillyer improve each season as a free throw shooter.
"Kate has made herself a great free throw shooter through repetition," Alsup said. "She gets in the gym, gets shots up and repeats her same routine every time. Countless hours have gone into making Kate the shooter that she is."
HIllyer said that her success comes because she's broken the act of shooting free throws down to its most basic form.
With free throws being just that – free – it would be a mistake to give them away.
"I think honestly it comes down to the fact that I like to score. When you're at the free-throw line, no one is guarding you, no one is face-guarding you, it's just you and the basket," Hillyer said. "I have worked countless hours with my dad shooting free-throws. This summer, we started a challenge where if I made my first 25 free throws in a row then I could be done shooting them for that workout, but if I didn't (make them), then I had to shoot 100. This got my competitive juices rolling and a couple weeks in I was making 25 free throws in a row."
HIllyer said that, ultimately, repetition and muscle memory are keys to her success at the line.
"I think that also keeping your free throw routine short and sweet is helpful," Hillyer said. "I take one dribble and shoot the ball. I do this because I like to replicate exactly what I do when I am shooting anywhere else on the court. I don't think, I just shoot."
HIllyer said that her affinity for the game of basketball, and for Eureka basketball mores specifically, stemmed from growing up around the program as her older sister, Alex, was a 2012 graduate of the school.
From her youngest days right through current times, Kate Hillyer said Alex has been there for her for all things basketball and life.
"Alex has been a huge influence in what I do on the court and the attitude about the sport in general," Hillyer said. "Alex has instilled a work ethic in me from a very young age. Every morning in the summers that she was home from college she would drag me to go work out with her. No matter how tired I was, I went. She showed me the steps and the work you have to put in to be great. Not only that but she is the most supportive older sister. We talk before and after every game and she is constantly encouraging I and giving me ideas of what I can do better. She watches me play and helps me, and I am always listening to what she has to say. She has seen my setbacks and has been there to pick me up through them all. I have always wanted to be like her and I continue to strive to be the athlete that she was."
Like Alex, Kate will soon be headed off to play college basketball.
She has signed to play in college at Division II William Jewell where she looks to go into biology with a pre-dental focus.
While her 4.0 grade point average throughout high school has been a source of pride, it's the future that has Hillyer excited about her plans.
Getting the chance to help others has been a key for her.
"My entire life I have loved helping people and putting smiles on their faces," Hillyer said. "I have seen first-hand what a healthy and pretty smile can do for the confidence of others. In a perfect world, I hope to work with low-income communities providing dental care for the youth and giving them confidence and skills to keep a healthy smile. While I love basketball and I would love to only have to focus on that, the reality is that at some point basketball will end. I need to have the skills and knowledge to continue on in my life and school is so important in that. School comes first always and I think that my discipline in the classroom has helped my discipline on the court. I love all things science and could spend hours learning about the human body. I think it is so interesting how it all works and is like one big puzzle."
One part of life that once was a big puzzle but now fits together perfectly, Hillyer said, was how everyone in the Wildcats' program fit together.
She said that, from her time as a youngster to her current spot as a leader for the team, working for and then seeing everything fit together has been well worth it.
"I will say time and time again there is nothing like Eureka basketball," Hillyer said. "I grew up watching my sister in the program and now I get to experience it myself and it is really special. Coach Alsup has been one of the most influential people in my life. He cares so much about me and has seen me at my lowest and my highest and has never stopped cheering me on. I think the best way to describe it is that we are a family."