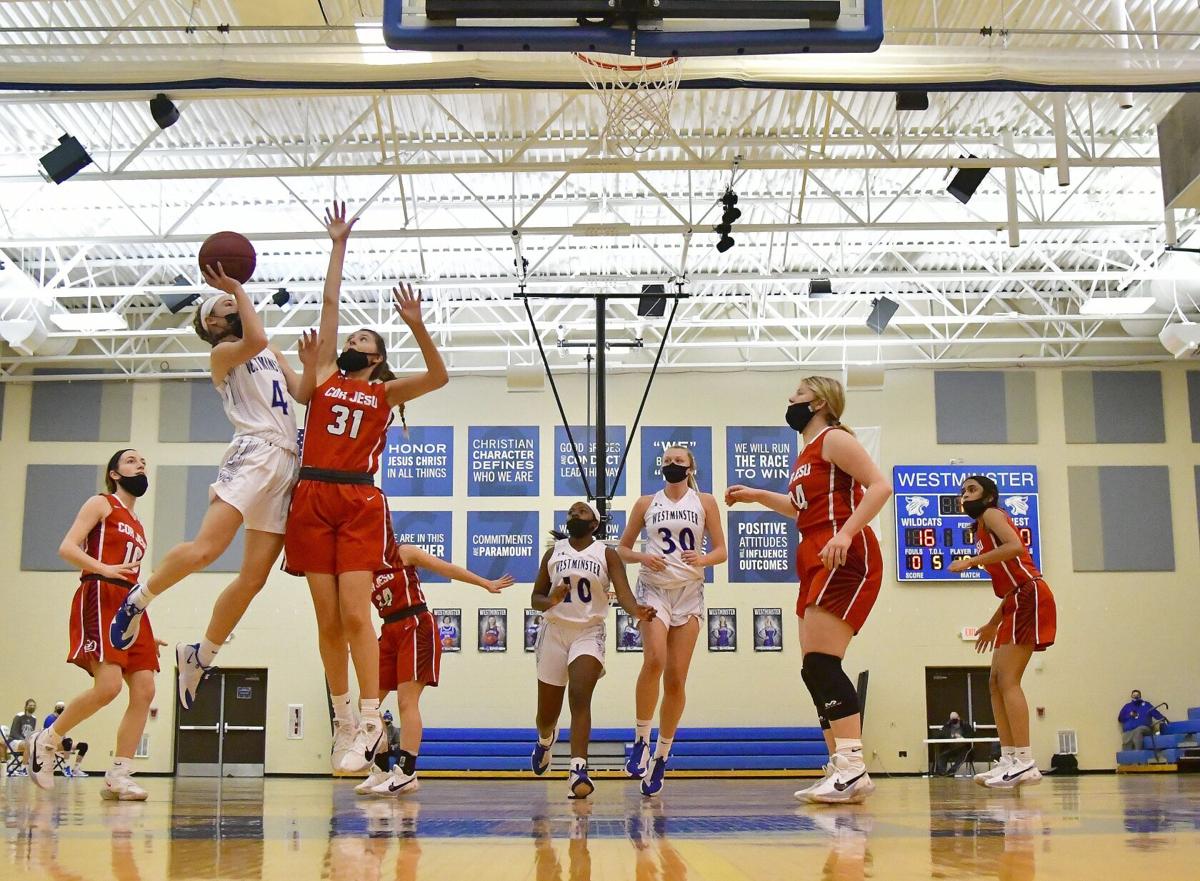 TOWN AND COUNTRY — Westminster junior guard Brooke Highmark has a pretty reliable sounding board if something is amiss.
Her father is Scott Highmark, the former Parkway West standout who went on to score 1,703 points in a career at St. Louis University that included NCAA Tournament appearances in 1994 and 1995.
"I reflect ideas off him and we have conversations about games," Brooke Highmark said. "Just hearing things from him, I know I'm doing the right things and that he's there to guide me. He's just been really encouraging."
Brooke Highmark, who has committed to play at the NCAA Division I level for Belmont, is continuing to make the family name proud.
She scored 24 points Saturday to help the Wildcats win the title in their own Westminster Shootout with a 62-27 championship game victory against Cor Jesu. The Wildcats also won the title in their own tournament in 2019.
Coming off a season-low eight points Friday in a semifinal victory against Francis Howell Central, Brooke's 24 points were the single-best effort in any of the tournament's 12 games.
Westminster coach Kat Martin said Brooke's semifinal performance — which included eight assists — was just as impressive.
"Brooke did what we needed as a team to win," Martin said. "Brooke does so much for us that involves more than just her scoring."
But she was back to scoring in bunches in the final, scoring nine of the first 11 points as Westminster (12-1, No. 2 in the STLhighschoolsports.com small-schools rankings) opened a 23-13 lead.
Senior guard Mallory Ronshausen led Cor Jesu (6-6) with 15 points.
"A good player like Highmark may have an off night, but rarely do they have two in a row and we knew what she's capable of doing," Cor Jesu coach John Neff said. "We didn't do very much well offensively or defensively. If we're going to be competitive, our offense has to execute better and our defense has to be more active. We just didn't have that today."
After Highmark, junior forward Carlie Vick and sophomore forward Julia Coleman each pitched in 12 points for the Wildcats' winning attack.
The 24-point effort was the sixth time this season Highmark has scored 20 or more points. She scored 27 points Tuesday in a victory against Nerinx Hall, tying the career best she hit twice last season.
"I said to her that she was going to play great (Saturday) because she always bounces back," Scott Highmark said. "She knows what she needs to work on. (Friday) night, I thought she was more of a playmaker. (Howell Central) played that 1-3-1 zone and they took her out of the game, which is fine. I thought she did a great job making plays for her teammates. I said that (Cor Jesu was) going to play man today, so you should have more opportunities. I said you're going to play great today."