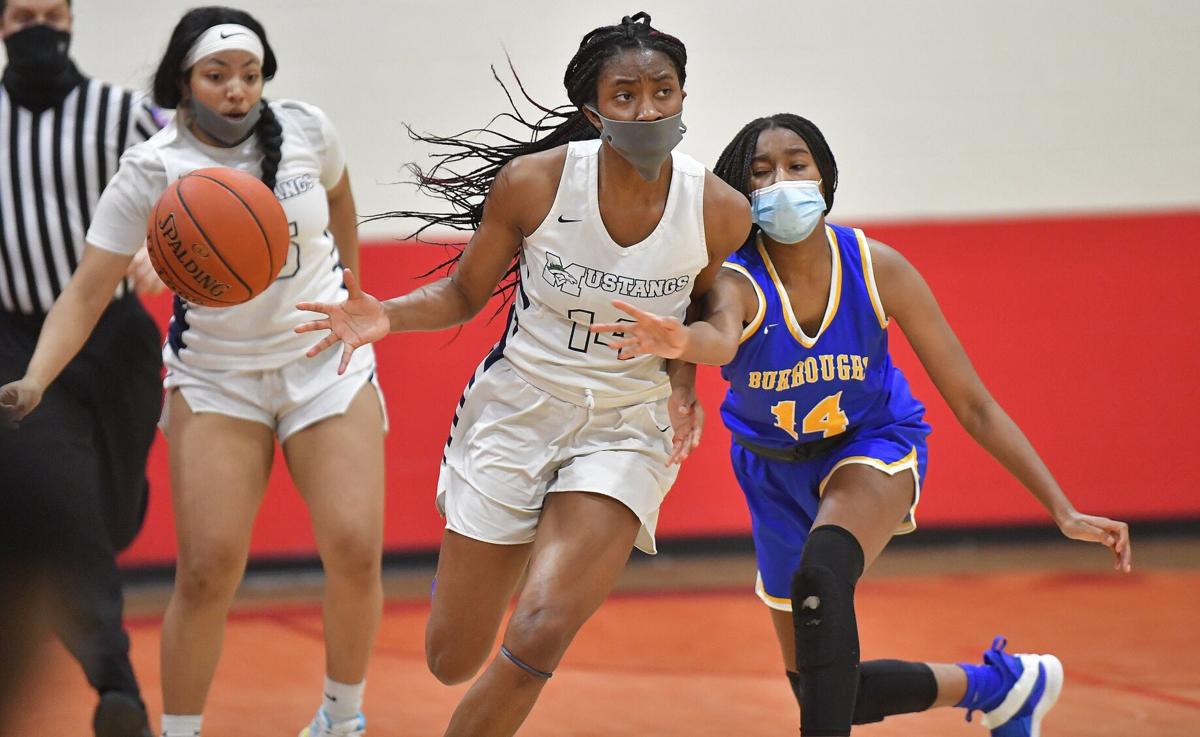 TOWN AND COUNTRY — Peyton Starks found joy in the smallest of victories Saturday.
Because of COVID-19 restrictions, Starks and her John Burroughs girls basketball teammates were the only ones who hadn't played a game before Saturday's opening round of the 46th annual Visitation Christmas Tournament.
Even though Marquette rallied past John Burroughs for a 68-56 win, Starks had a smile on her face in the aftermath of the Bombers' belated season opener.
"We've been playing against each other for the past couple of months, so we're really excited to play other people," Starks said. "We really competed and that's all that matters at the end of the day. We were really excited and we came out hot. We really just need to work on finishing better."
The hot start for John Burroughs included a 10-point first quarter lead that ended with a 21-13 lead.
Marquette coach Tim Bowdern said John Burroughs' situation had Marquette (7-1, No. 7 in the STLhighschoolsports.com large-schools rankings) at something of a disadvantage.
"We didn't have anything on them because there was nothing to have," Bowdern said. "I was looking at tape from last season just to try and get an idea of what we needed to do."
In the second quarter, Marquette settled in, played its game and took over.
Junior forwards Katie Baumgartner and Ally Fitzgerald and senior forward Kennedi Watkins, who has signed to play Division I basketball at Southeast Missouri, each tallied at least five points in the quarter as the Mustangs led 35-31 at halftime.
The lead only grew from there as it was 58-41 Marquette after three quarters before Burroughs managed to cut into the lead.
"Even though we went in not knowing what to expect, we know who we are and we knew what we had to do," Watkins said. "The biggest thing we had to do, not having film on them, was to trust our fundamentals and play our game."
Baumgartner and Watkins scored 19 points apiece to lead Marquette.
Starks and freshman Allie Turner led Burroughs with 15 points apiece.
"It takes time, the season's a marathon, not a sprint, we know that," John Burroughs coach Lindsay Carlile said. "Marquette is a really strong team. They've gotten better as their season's gone on from competing. That's just a solid team right there. The fact that we were able to hang with them is encouraging to us and, I think, is a reflection of these girls and their work ethic."
Marquette will continue the team's first Visitation Tournament experience playing a team it will get to know quite well in the coming days as top-seeded Incarnate Word (5-0, No. 1 small schools) awaits the Mustangs for a quarterfinal date at 5:30 p.m. Dec. 26 before the teams meet again for a regular season game Jan. 5 at Marquette.
"We just really wanted to go right in this tournament, this is our first experience here," said Bowdern of moving to the right, or winner's side, of the bracket. "We want to be in the position to get better so when we're near the end of the season, at districts, we know how to close out a game. You want to play the best to help with that and it's doesn't get any better than Incarnate."