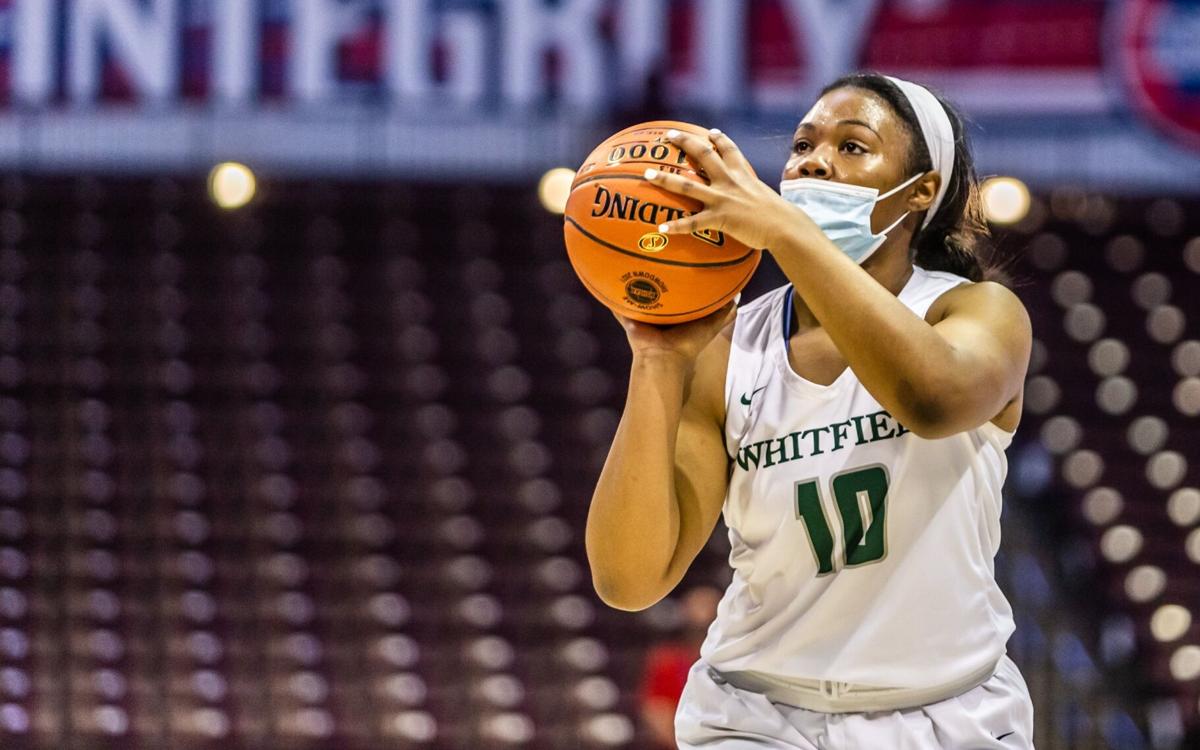 SPRINGFIELD, Mo. — Whitfield girls basketball coach Mike Slater heard the rumors.
So weeks before St. Louis County officials decided what high school basketball would look like during a coronavirus pandemic, Slater had his players mask up.
"Early on, the rule was that any time they were exerting themselves, they didn't have to wear it, but we started to hear that the rule might get changed and be stricter, so I said, 'Let's get used to it now,' " Slater said.
The first team to mask up became the last team standing in Class 5 on Friday as Whitfield won the first girls basketball state championship in school history, defeating unmasked William Chrisman in the semifinals and West Plains in the title game.
The Warriors were just one of several St. Louis area teams that had historic seasons despite the most stringent coronavirus standards in the state and the looming fear of forced quarantines and season cancellation.
Whitfield senior Kelsey Blakemore remembered those early masked practices.
"We got tired faster, we weren't getting as much breath as we normally would, but after a while we got used to them," Blakemore said.
Cardinal Ritter, which won the Class 5 boys state title, tested players for COVID-19 every two weeks during the season and had no positive tests throughout the year thanks in part to what coach Ryan Johnson called "a process."
"I had to buy compartments, buy everybody a towel, buy everybody a water bottle, every time we took a break we sanitized, we sprayed down balls after every practice," Johnson said. "To go through something as unpredictable as COVID and have success is a statement in itself."
A senior-laden Lutheran South boys basketball team advanced to its first state semifinal since 1973 during this unpredictable season — a season coach Brian Lind did not think would reach its conclusion in Springfield.
"To start the year, we thought if we just get anything, six or seven games, any season at all, this is going to be a home run," Lind said. "I just wanted our seniors to be able to play, so to be (in Springfield) is like finding money, it's like winning the lottery."
Lind found that during the season he not only had to draw up plays but also change the terminology he used in calling them out.
"We had to change play names to numbers because players couldn't hear what coaches were saying, so you had to make adjustments," Lind said. "You're nervous the whole time, after every game you have 48 hours where you're like, 'We haven't heard from anybody yet, so I guess we're going to keep on playing.' "
Vashon boys coach Tony Irons won his third successive championship with the Wolverines when they defeated Westminster 55-46 in the Class 4 championship on Saturday. With what his team endured, this title holds a special place.
"This was a year unlike any other year. We got hit with a quarantine situation and I had to hold Zoom meetings with them just to be able to talk to them," Irons said. "It was easy for them to get frustrated and just give in to all of the adversity we faced and none of them wanted to do that."
The Vashon girls team enjoyed its best season in school history with an 18-2 record and a third- place finish at state.
Despite losing to Vashon on Saturday, the Westminster boys basketball team earned its highest finish in school history as state runner-up after it was granted a semifinal victory over Barstow, which withdrew from the state tournament Wednesday.
"I'm sure Barstow is very disappointed, and we feel for their families, their players and their team because I know they wanted to be here, but at the same time, we wanted to play (the semifinal) too," Westminster coach Dale Ribble said.
Westminster endured its own quarantine situation earlier in the season.
"We understand it. It happened all year long, we were on quarantine once," Ribble said. "It was something you had to deal with the best you could just knowing that sometimes our plans don't always turn out the way we want them."
Chaminade, which finished with a 22-2 record and a third-place state finish, wore masks in both its semifinal and third-place games despite not having that requirement in Springfield.
"To be honest, we've been (wearing masks) all year, but it might have looked a little weird to some," Chaminade coach Frank Bennett said. "We just had to roll with the punches with trying to play with a mask on and hand sanitizer all over the place, but we're just thankful and appreciative that we could play a season."
After playing the semifinal in masks, the Whitfield girls team was given the option by Slater, with permission from their parents, to decide if they wanted to play the state championship game in masks.
"We came to the conclusion that we didn't want to wear the masks," Blakemore said.
Whitfield won the title with a convincing 50-34 victory over West Plains, but if the Warriors would have fallen behind by double digits, would Slater have asked the players to find their trusted face coverings one more time?
"I just might have," Slater said. "I am a creature of habit."