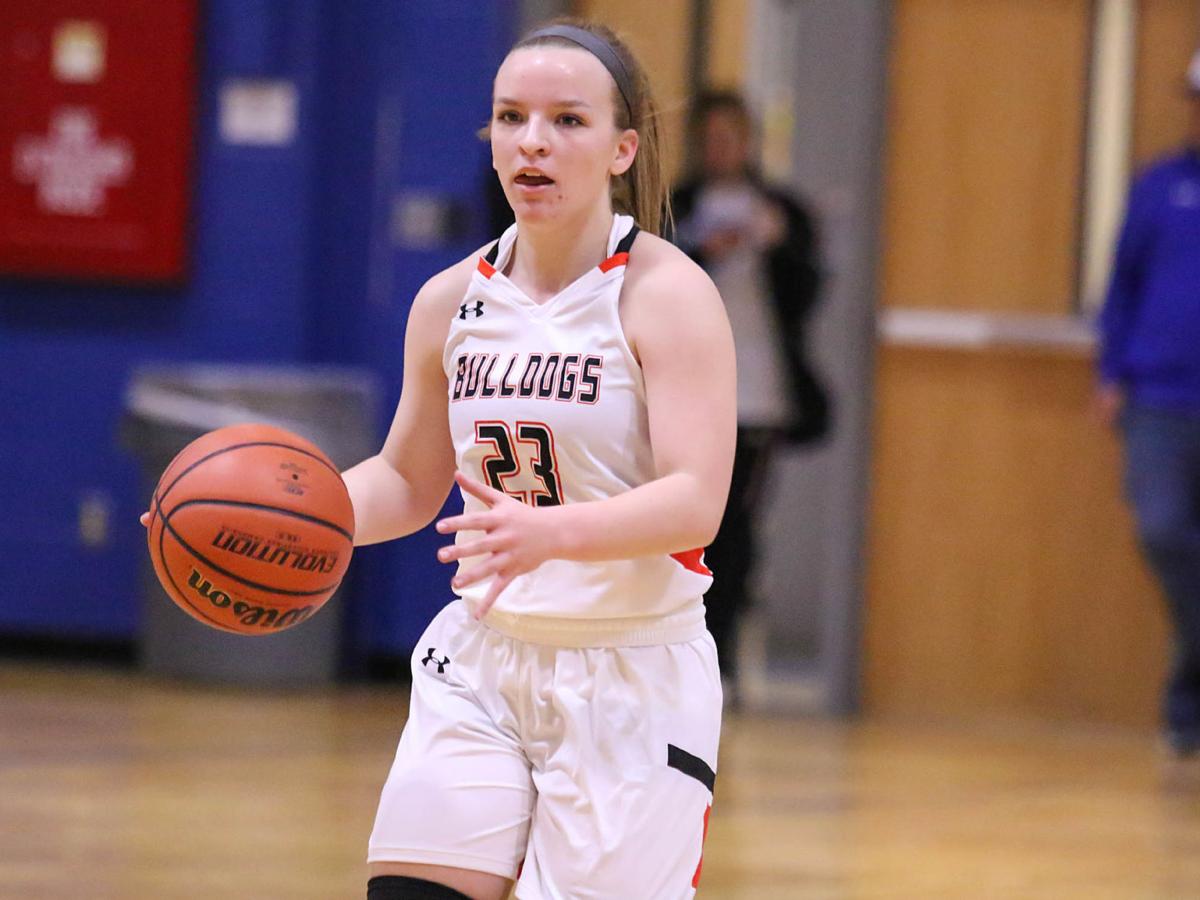 When it comes to knocking down a long-range shot, Waterloo senior guard Aubrey Hubbard has been leading the way in the area this season.
Hubbard's 46 3-point goals are the most of any player in the area, and she also owns a 45.5 percent success rate. 
"You can never practice enough on your shot," Hubbard said. "I've put in lots of time to work on a quicker release and my form. As I've matured I've realized all the things my coaches growing up used to teach me about spacing and muscle memory. So now every time I have the ball, I try to use that to my advantage."
Hubbard averages a team-best 10.9 points per game for the Bulldogs (6-8). Of her 153 points, only 15 (five 2-pointers and five free throws) have come from inside the arc.
She has three performances of 20 points or better this season.
"Aubrey has a beautiful shot that you can tell when it leaves her hand it's going in," Waterloo coach Tim Augustine said. "We are lucky to have her."
Augustine said Hubbard joined the program after moving to Waterloo from Tennessee. She averaged 10.1 points as a junior.
"She has always worked hard on her game to better herself and the team," Augustine said. "During the offseason, she worked harder than anyone coming in to shoot and work on her individual game. Her desire to get better and lead as our captain is what makes her so special for us."
EUREKA DUO ACHIEVE MILESTONE
Within the 51 points scored by the pair was the fact that each hit the 1,000-career point mark during the game.
"Annika and I had talked about it jokingly before, hitting the mark on the same night, a couple weeks ago, and how crazy it would be if it happened," Hillyer said. "We didn't actually think it would happen, so when it did, it was a big deal for us."
Something of a harmonic convergence happened to allow the dual feats to happen, Herbert said.
After a slow start, she got going offensively while Hillyer was on fire all night. Both hit the mark during the second half.
"I, honestly, didn't expect either to happen Friday because I had 17 points to go and she had 30," Herbert said. "We didn't know that it was going to happen, but it was really cool. I had a slow first half, but in the third quarter I hit two threes and got going. I had 12 points after that and I felt like I could get it. I was on the bench (later, after achieving the feat) and I knew Kate was two away and she was shooting free throws, so she was going to do it also."
Eureka coach James Alsup said that another special touch to the night came in the fact that former player of his, Allie Boedeker, was paroling the other sideline as the coach at West.
"It was great to have her there, willing to help us out," Alsup said. "It's always fun to have that (chance to coach against a former player). When she got the job at West, I made sure to get her on the schedule. It was great."
While Eureka (6-3) got the chance to mark the special occasion, Hillyer said that it's now over and the team has to get back to work.
She said that three straight wins do a lot to get the team back on the right foot. While Hillyer is averaging 14.4 points a game and Herbert 13.5, the team is gearing up for a big finish.
"Everyone is really playing their role this year and it's really special," Hillyer said. "We have everyone contributing big things to our team and there are big things lying ahead of us, I believe."
ST. CLAIR OFF TO SOLID START
St. Clair is off to its best start in 10 seasons.
Gracie Sohn led four players in double figures with 25 points.
"This team consists of a good group of girls," St. Clair coach Travis Johnson said. "This year's team is a hungry group that wants to win. They are very talented and athletic. They play very hard. This is one of the fastest teams to come through the school. They love to play basketball. They are all very unselfish and put the team first. They enjoy playing with each other."
Sohn (17.3 points, 9.9 rebounds per game), senior Alana Hinson (15.7 PPG) and junior Alohilani Bursey (14.4 PPG, 12.9 RPG) all average in double figures for St. Clair.
After playing in the Union Tournament next week, St. Clair hosts Hermann Jam. 20 and at Jefferson City Jan. 23 in a couple of challenging games to come.
• Hancock senior post player Mariah Stewart is off to a big start for the Tigers (7-1). She leads the area with 15.8 rebounds and 5.3 blocks per game. She also is scoring 14.3 points per game, which includes a season-high 29 points in a win over North Tech Dec. 26.
• There are a pair shootout events Saturday. Greenville plays at Highland at 8:30 a.m. Saturday to start the Highland Shootout. At St. Joseph's there are six games. The schedule includes: Borgia vs. St. Joseph's at 10 a.m.; Parkway Central vs. Jackson at 11:30; Belleville East vs. Incarnate Word at 1 p.m.; Hazelwood Central vs. Whitfield at 2:30; Parkway North vs. Edwardsville at 4 p.m. and Cardinal Ritter vs. Kirkwood at 5:30.
• The 40th annual Union Tournament will be played next week. The tournament runs Monday through Saturday and features KIPP St. Louis. St. Clair, St. Charles West, Borgia, Jefferson City, Webster Groves, Sullivan and Union. The championship game is slated for 5:30 p.m. Saturday.