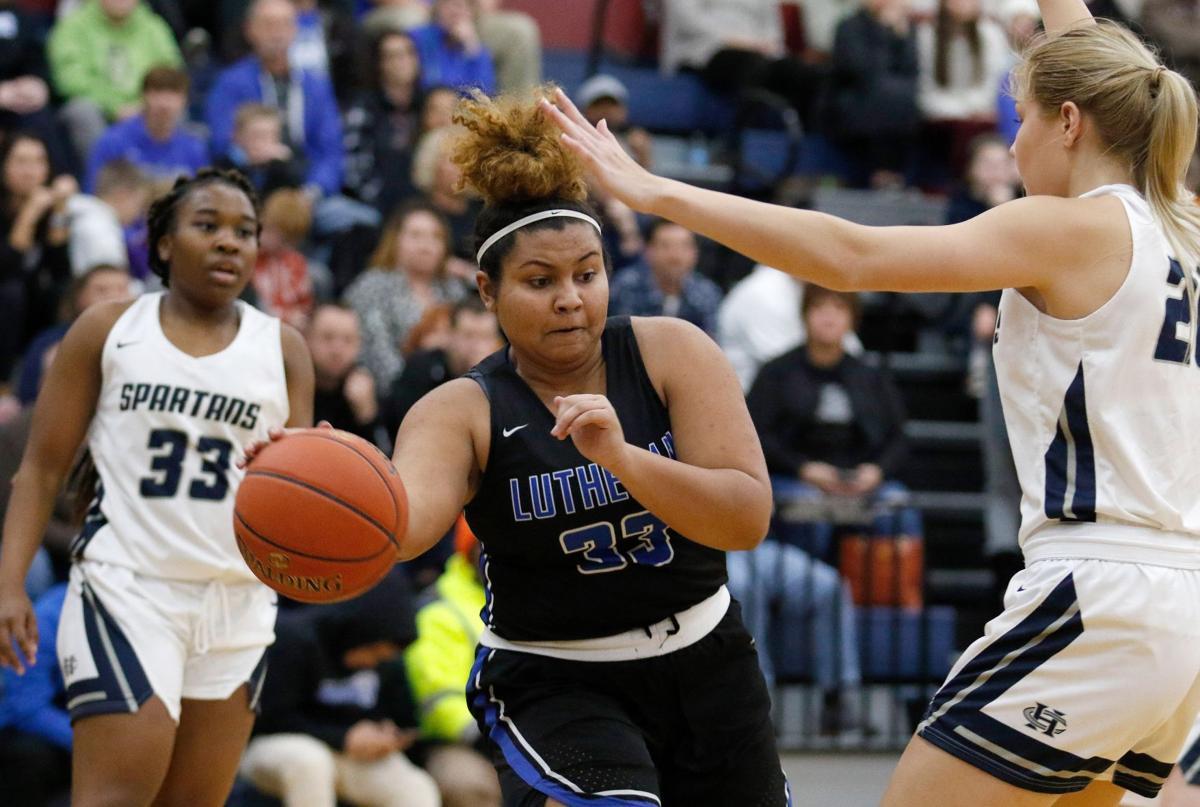 While the Cougars (9-3, No. 4 in the STLhighschoolsports.com small-schools rankings) have won only 75 percent of their games, all three of their losses have been to one opponent — Francis Howell Central, and all three have come in tournament championship games.
STLhighschoolSPORTS.com rankings - 1/13/2020 Large school rankingsLast Week1. Francis Howell Central (13-0)12. Edwardsville (16-1)23. Kirkwood…
Lutheran St. Charles lost by one point in its own tournament final to the Spartans, then by three points at Fort Zumwalt North and by 25 points in the St. Dominic final.
"Our coach (Erin Luttschwager) has emphasized about preparing now for what the future brings," Lutheran St. Charles senior guard Mackenzie Coleman said. "The losses to Howell Central have taught us to take pride in our defense, finish plays, and perform with high intensity — no matter the opponent."
Those lessons learned run deeper than just the losses, though.
"The key for us was that we got better playing a lot of those larger schools like we did in the tournaments," Luttschwager said. "I feel like we're playing well and we're continuing to prepare ourselves for games we've got coming up."
The Cougars dive into the thick of their Archdiocesan Athletics Association Division II schedule in the coming days against Trinity, Duchesne and Rosati-Kain.
While the Cougars have hung their hat on defense, allowing only 34.5 points per game, their offense also is doing a solid job. It has been led by sophomore guard Mahya Lindesmith (10.4 points per game), who has stepped right in to a starting role and has excelled.
Her efforts have proven to be a nice addition to the work of established scoring threats in her sister, senior guard Jada Lindesmith (9.0 points per game), and senior post Jenna Grzeskowiak (10.1 points and 7.1 rebounds per game).
"She's really kind of found herself," Luttschwager said of Mahya Lindesmith. "She's been a huge boost for us. She does a lot of other things well for us. She's just been a huge addition to the starting lineup this year, offensively and defensively."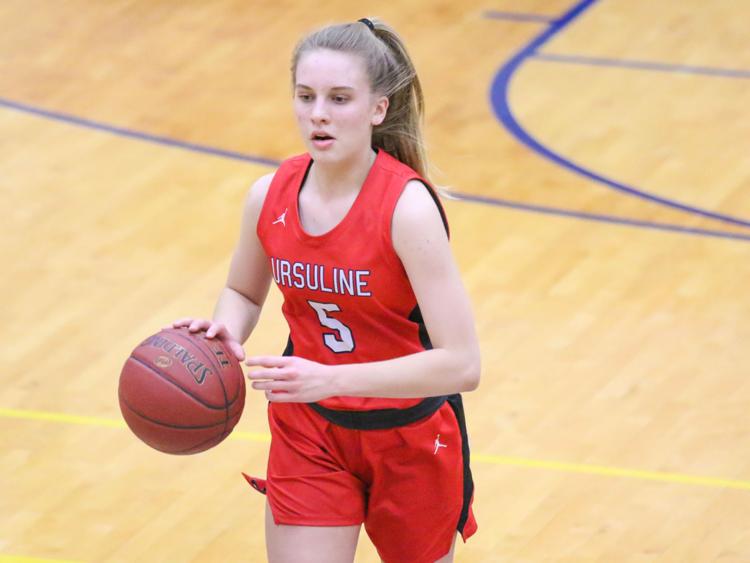 SCHERZINGER'S GROWTH HELPS URSULINE FIND SUCCESS
For the second time this season, Scherzinger tallied 33 points in a game as the Bears knocked off Principia to open up play Jan. 6 in the John Burroughs Tournament. The total matches the career-high output she had Dec. 27 in a win over Hazelwood East at the Duchesne Holiday Tournament.
"I really think a lot of it has to do with the fact that I've started to attack the basket more this season," Scherzinger said. "I feel a lot more confident. It is a team effort, though. We're really sharing the ball well and that helps me but it also helps everyone within the offense."
Through nine games for Ursuline (6-3), Scherzinger is averaging 19.4 points per game, which is not only up from the 11.2 she averaged as a sophomore but also puts her with the seventh-best scoring average throughout the metropolitan area.
While she has made 36 percent of her 3-pointers, Scherzinger also is excelling from inside the arc (48 percent) and at the free-throw line (75.6 percent).
Bears coach Jeff Stevens said he could see glimpses of Scherzinger's capabilities during the end of her sophomore campaign when she scored in double figures in 10 of her final 13 games.
"She really puts in the extra time to improve during the season and offseason," Stevens said. "Whether it is completing our 10,000 shots program or watching hours of film during the week, she is always striving for improvement."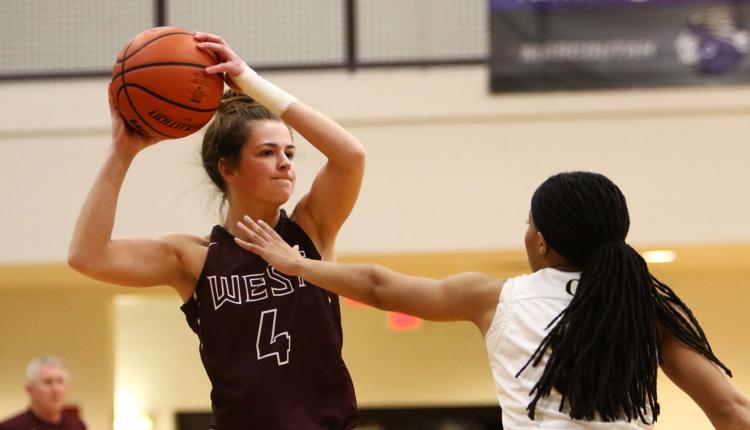 MAROONS HAVE MOST COMPETITION SEEING RED
In the always-tough Southwestern conference,Belleville West is making its mark under coach Clayton Fisher.
Aside from two recent losses to O'Fallon and a December defeat to Edwardsville, the Maroons (12-5 overall, 2-2 in the Southwestern Conference) have been playing some strong basketball.
Other than conference losses to the top two teams and a second, non-conference loss, to O'Fallon in the Mascoutah Holiday Tournament, West has won its other nine games, dating back to a win over Freeburg Dec. 5 to start its successful streak.
West is averaging 53.8 points per game without having a single player averaging in double figures.
Leading the way for the offense has been sophomore guard Reese Bennett (9.7 PPG).
In total, nine players average 3.0 points per game or more for the team.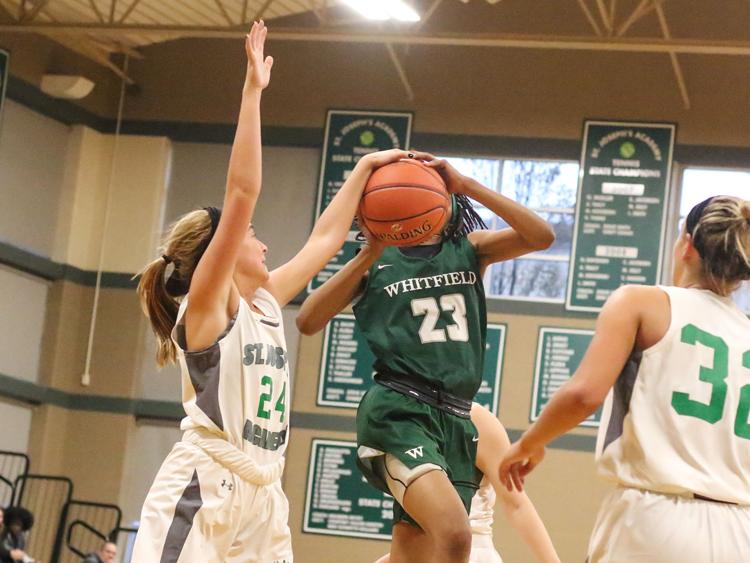 • St. Joseph's junior guard Emily Lally had a big day Saturday in the St. Joseph's Shootout. In the Angels' 50-39 win over Borgia, she poured in 27 points — including seven 3-pointers. Lally leads St. Joseph's (7-4), averaging 13.3 points per game.
• The annual MLK Showcase is set to take place this weekend at Miller Career. The eight-game event will take place Sunday and Monday with games running from 11 a.m. through a 3:30 p.m. start. Teams at the event are: KIPP St. Louis, Cahokia, Springfield Southeast, Lincoln College Prep, Huntsville (Ala.) Lee, Cardinal Ritter, Gateway Legacy Christian, Gateway STEM, Vashon and Miller Career.
• There will be a trio of girls games at the Missouri Sports Hall of Fame Basketball Classic on Saturday at Danis Fieldhouse on the campus of St. Louis University High. At 11 a.m., Francis Howell Central will play Hazelwood Central, at 12:30 p.m., Whitfield will play Barstow and at 3:30 p.m., Fort Zumwalt South will square off with Eureka.
• A quartet of tournaments start this week as events are scheduled to take place at Warrenton, Union, South Callaway and Highland. The Warrenton championship game is Friday night while finals at Union and South Callaway take place Saturday. The first round of the Highland Tournament, which runs through Jan. 25 will be Saturday.