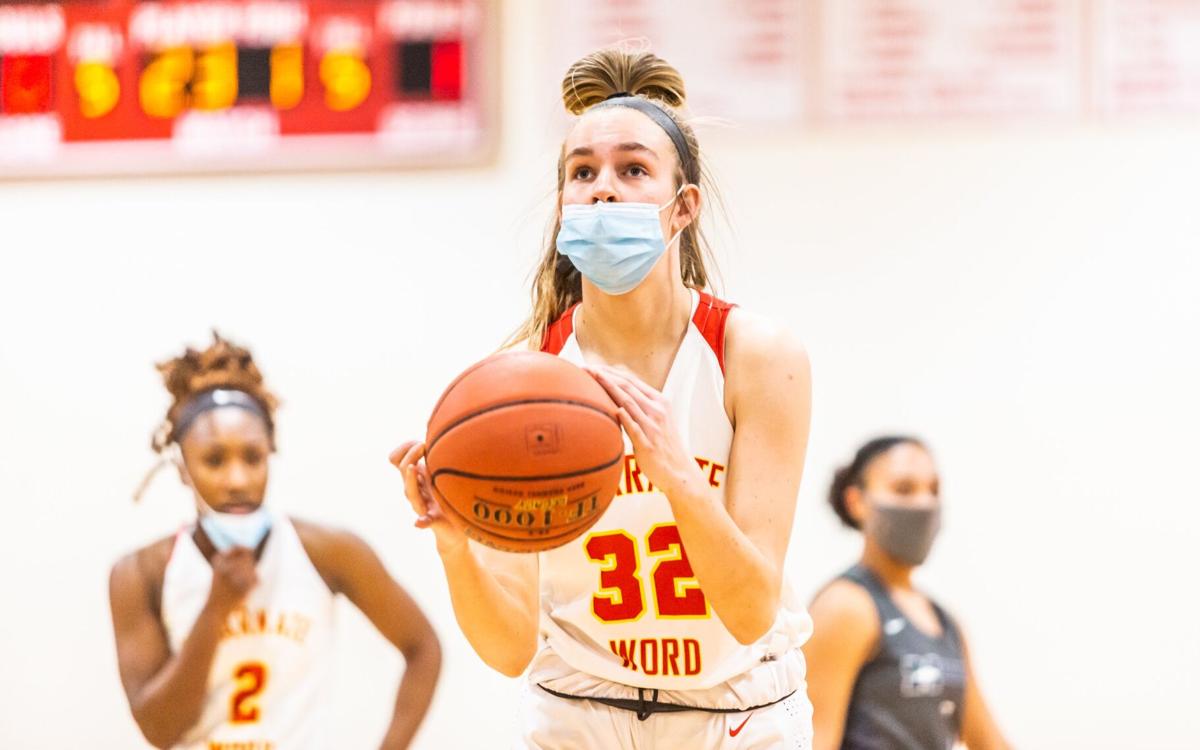 WEBSTER GROVES — Natalie Potts put herself in some good company Saturday.
After the Red Knights' 61-50 win over host Webster Groves in the championship game of the 13th annual Webster Winter Challenge, the Incarnate Word sophomore forward joined six other former players in the program to be named the event's Most Valuable Player.
She scored 23 points as Incarnate rolled out to a big lead and then cruised to victory in the fourth quarter. The effort came three nights after the broke the tournament's single-game scoring record with 40 points in a quarterfinal win.
The top spot, which has gone to Napheesa Collier, twice, Marisa Warren, Nakayla Jackson-Morris, Sonya Morris, Nakia Bell and Jazmin Hitchens in years past, belongs to Potts, who made the all-tournament team as a freshman as Incarnate took second last year.
"Honestly, it awesome to do all this, just for a sophomore," Potts said. "I've worked all my life to be in the spot I am today. We lost here last year and I wanted to make sure we came back this year and won it all. I just wanted the team to win and, for me, whatever happened, happened. I just have so much fun playing this sport and it means a lot to be able to help us win. We're all working on playing a full game, no mistake and just improving. That's the goal every time out."
In addition to breaking the event's single-game record, Potts finished second all-time for scoring in a single tournament as her 82 points trailed only KK Rodriguez's 89 points for Webster Groves in 2018.
Incarnate coach Dan Rolfes said that Potts, who had 17 of her points in the first three quarters as Incarnate (19-0, No. 1 in the STLhighschoolsports.com small-schools rankings) won the event for an eighth time, was instrumental to the team's success in every facet of the game.
"Natalie just does a ton for us with her length, with how she plays on defense and how active she is," Rolfes said. "She's just so important besides just the points for us. We did enough and I was pretty happy with the first three quarters."
The fourth quarter wasn't a pretty for Incarnate.
A 55-31 lead was cut sharply as Webster Groves (13-5, No. 4 large schools) outscored Incarnate 19-6. Statesmen coach Josh Spuhl said that junior guard Ellie Paloucek, who had eight points in the final quarter, and the rest of her teammates made a key adjustment.
"Our kids were just finally like 'we've got to play,'" Spuhl said. "The fact that we didn't quit says something. That game could have turned real ugly. Incarnate's one heck of a team and I think this is really good for us right now. We were missing Eliza Maupin, she would have helped a lot. We get back to full strength, hopefully we can make a little noise."
After Potts, junior guard Saniah Tyler, who was also named to the all-tournament team, added 10 points in the win. Sophomore guard Olivia Hahn was also named to the all-tournament team.
Senior guard Ja'Mise Bailey, who made the all-tournament team, led Webster with 20 points while fellow selection Paloucek added 17. Senior guard Gabriela Moore was the third member of the Statesmen to make the team.
Much like the first three quarters Saturday, the series between the teams since the 2000-01 season has been completely one-sided.
Incarnate Word now owns a 15-0 advantage during that time. The closest games the teams have played was a 9-point spread. That came in Feb. of 2002 when Incarnate beat visiting Webster 52-43.
Things don't figure to get easier for Incarnate Word as fellow Metro Womens rival Whitfield (18-3, No. 2 small-schools) will visit Incarnate Tuesday.
"This time of year we need to play just to keep going and get into a groove," Rolfes said. "They're a very good team and we can't take anybody for granted at this point."