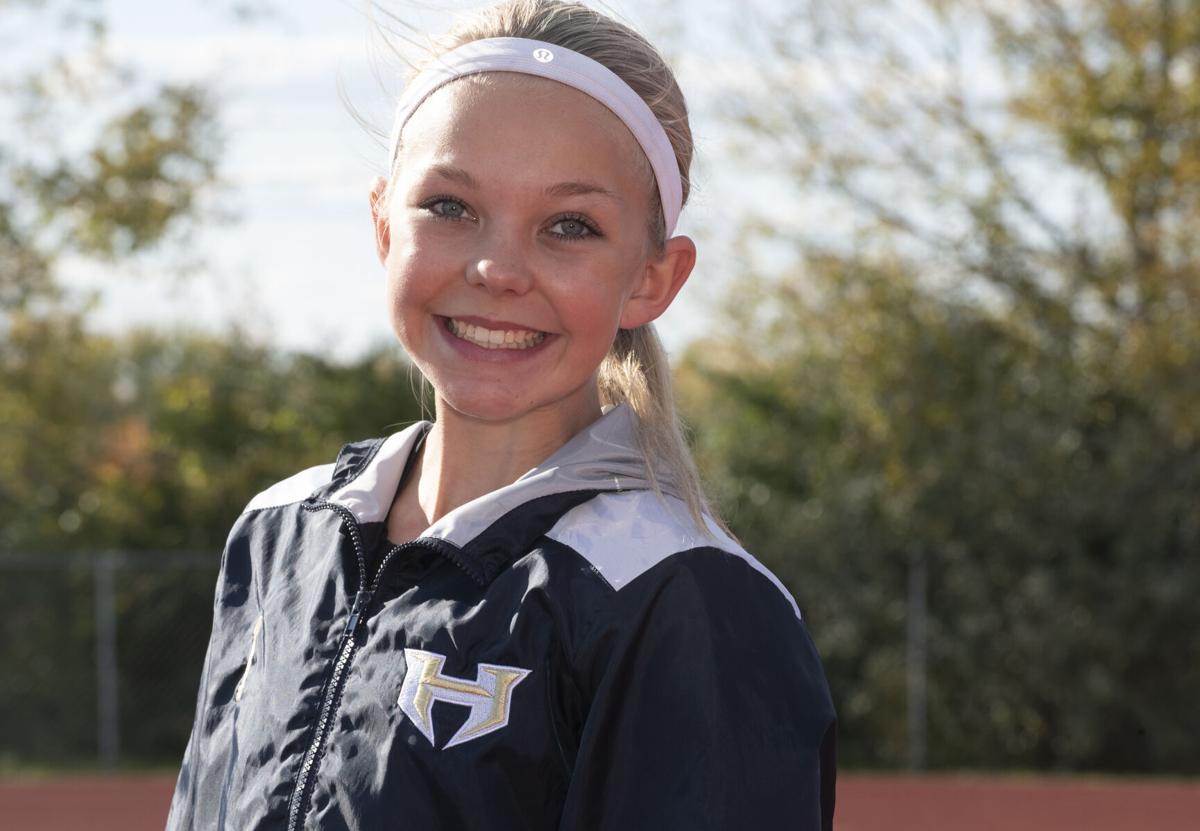 Kayley Russell is a two-time girls cross country state qualifier. 
But the Holt sophomore's debut at Gans Creek Cross Country Course in Columbia was canceled last year when she was forced to quarantine by COVID-19 protocols. She missed out on her chance to race for a state medal as a freshman.
"I was pretty upset," Russell said. "I felt like I worked so hard for it and it went down the drain. I got to see the video and cheer my teammates on."
At noon Friday, the gifted Holt runner will make her long-awaited debut in Missouri's Class 5 state championship meet.
A ball of limitless energy contained in a small frame, Russell heads to Gans Creek after winning the Class 5 District 3 title Saturday in Washington with a time of 19 minutes and 34 seconds on the 5-kilometer Big Driver course.
"I'm pretty nervous, but I'm hoping I'll be confident in myself when I get up there and that will help with the nerves," Russell said.
At district, Russell won by a little more than a second over Pattonville's Keliah Wilkes (19:34.10) and also defeated defending Class 5 state champion Ally Kruger (19:41.50).
Russell was a Post-Dispatch All-Metro third-team selection last season. She won two races, including her conference meet, and was a district runner-up.
"When she ran with us over the summer before her freshman year, I knew she'd be good," Holt coach Craig Kinnary said. "I didn't realize just how good she'd be until we ran at McNair last year. I told her that if she pushed herself, she could break 19 minutes."
Holt teammate Megan Kinnary hasn't been surprised at how Russell has performed. She saw Russell sail past challengers in junior high.
"From the beginning it was obvious," Kinnary said. "In eighth grade, she was way ahead of everyone. Even in track, she's way out in front of everyone."
Missing out on a chance to compete at state as a freshman may have bothered Russell at the time, but the optimistic sophomore has moved past it and is ready for a chance to line up with some of the best in Missouri.
She's already tangled with them throughout the season and believes that has helped her prepare for Friday.
"I kind of know what I'll have to deal with," Russell said. "I know how hard and how much I'll have to push myself. It's kind of a mindset thing to help me."
Lining up with Russell at the starting line Friday will be teammate and fellow sophomore Elizabeth Shaw, who finished 78th last season at state as a freshman.
"I had to do it alone without her last year and that was hard because she's so supportive during warmups and right before we start," Shaw said. 
Coming off her district victory, Russell figures to be one of the frontrunners and should be in the running for an all-state finish. The top 25 individuals in each state race earn all-state status.
Gracyn Pietrusinski was Holt's last all-state runner, finishing 14th in 2019 at Gans Creek.
"I just want to do the best I can do," Russell said. "I don't want to be upset with where I place. I just want to do the best I can do for myself."