COLUMBIA, Mo. — St. Charles West junior Lily Jackson used to feel nerves before every big race.
"I would tell my dad in years past how nervous I was," Jackson said. "But he would be like, 'Why? There's no reason to be.' This year I was like, 'Wait, why am I nervous? This is fun.' "
Jackson made school history Friday morning by winning the Class 4 girls cross country individual state championship with a time of 18 minutes and 21.6 seconds on the 5-kilometer Gans Creek Cross Country Course.
She became St. Charles West's first girls cross country state champion by pulling away from Smithton senior Olivia Littleton, the runner-up in 18:30.1.
"Lily is the hardest-working athlete I've ever worked with," St. Charles West coach William Rohlfing said. "My goal this year was to keep her level-headed and stay in the moment."
Jackson ran out ahead of the pack at the start of the race, expecting to be joined by Littleton.
But Littleton got boxed in early, so Jackson settled in with three West Plains runners before powering ahead.
"I got out in front and nobody was taking the lead, so I was a bit confused," Jackson said. "I took the lead because the pace seemed a little slow, but (Littleton) ended up catching me. I ended up slowing down and letting her take the lead."
But Jackson was close the entire way. Then at the final turn, she took off and cruised ahead of Littleton for the title.
The gap to the third-place runner was more than 20 seconds.
"I made that move then and it was all guts," Jackson said. "I didn't have anything left in the tank."
Jackson finished second in Class 3 last season and was fifth as a freshman.
Because of the Missouri State High School Activities Association adding an additional class, St. Charles West was in Class 4 — the state's second-biggest for cross country — after being in Class 3 in previous seasons.
Her winning time of 18:21.6 lowered her school record and was 18 seconds faster than her runner-up time last season. Plus, her younger sister — freshman Avery Jackson — also was in the race and finished 122nd.
"It was a lot of fun," Jackson said. "I was really happy to run with my sister. I was so happy to see my family get to race day. I heard them throughout the whole race and it made me really excited."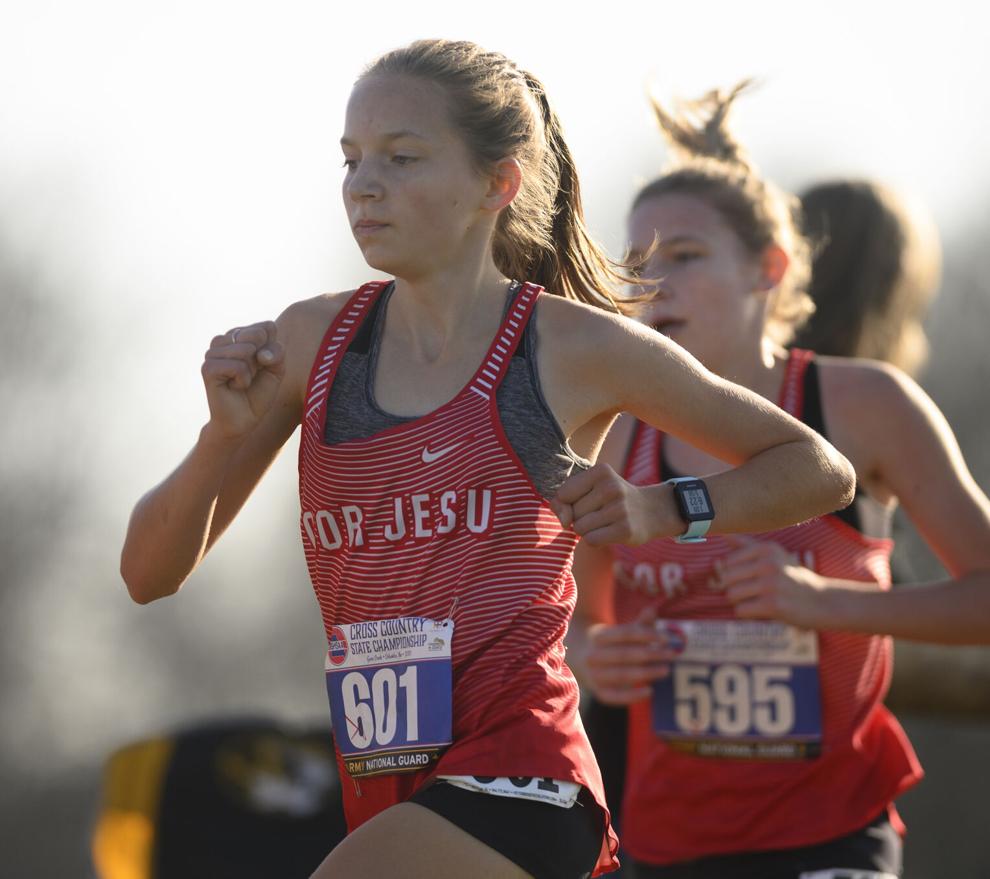 COR JESU RUNNER-UP IN CLASS 4 TEAM RACE
The Chargers earned the first state cross country trophy in school history by finishing second in the Class 4 team standings.
West Plains captured its state-record 13th championship — though first since 2008 — with 53 team points.
Cor Jesu finished second with 75, edging St. Teresa's (80) for the runner-up position.
"We really wanted to see what we could do," Cor Jesu coach Katie Helbig said. "I'm really proud of the girls and they raced with a ton of heart."
The Chargers' previous best team finish was seventh last year.
Cor Jesu was led by junior Frances Luna (18:56.4) and sophomore Adrienne Luna (18:58.0), who were fourth and fifth individually, while freshman Maria Luna (19:29.4) finished 14th.
Sophomore Eva Morrie crossed in 33rd with a performance of 20:11.4 and sophomore Anna Stirton recovered after collapsing nearly 100 meters from the finish line to cross 38th with a time of 20:14.6.
"(Stirton) stood up and crossed the finish line and that secured us second place," Helbig said. "I'm just super proud of her to get up and finish."