COLUMBIA, Mo. — The wait for another state championship for the Herculaneum boys ended Saturday afternoon in the Missouri Class 3 boys cross country state championship meet at Gans Creek Cross Country Course.
The Blackcats had 95 points for a comfortable winning margin over runner-up Maryville (122) to win their first state title since 2011.
The championship was No. 1 for coach Kyle Davis and 13th for the storied program. Herculaneum's 13th title ties West Plains for Missouri's all-time boys championship record.
"It is a monkey off my back," he said. "When you go to a program that has 12 (boys) state championships and 11 girls state championships, you want to win a state championship. That monkey had been growing for the last decade. We've had great performances and great kids, but it didn't happen. I think we've had better teams than we did today, but today was our day."
The Blackcats had only one all-state runner — junior Keith Vance finished 11th — but had five runners in the top 40. Less than 42 seconds separated those five runners' times.
Sophomore Sam Vaughn was 26th and finished the first spot outside the all-state cut.
Herculaneum appears set up for a title run again next year with six of its top seven runners back.
"We haven't won in 10 years, but it is nice to be part of starting the tradition back up," Vance said.
St. Charles West and Lutheran South each had two all-state runners but finished seventh and eighth, respectively, in the team hunt.
James Wortham was third and Jacob Blassingame was seventh for St. Charles West. Wortham was 33rd last year in Class 4.
"I didn't do very well last year and it was hot and my first trip here so I was nervous," he said. "This year, I was not as nervous. I was focusing on the competition rather than the time. I had a lot of people close to my time. I really wanted all-state this year and I made a big jump."
Junior twin brothers Adam Snoke and Andrew Snoke finished fourth and fifth individually for Lutheran South.
"It is a pretty big difference than last year," said Adam Snoke, who was 26th and missed out on an all-state medal in 2020. "I have a lot to improve on for next year, too."
On the girls side, St. Charles West finished second in the team standings – only the third team trophy in school history.
Lily Jackson finished second individually but was unable to repeat as a state champion – albeit in a smaller class. Last year Jackson won Class 4 in 18:21.6 and took second this year behind Tolton's Elyse Wilmes.
"I have mixed emotions," Jackson said. "It was really nerve-racking having that title last year and wanting to redo it, but honestly all year, I thought I wanted to have the confidence in myself, but I realized I have to have confidence in God. I did my best so that is all I can ask. I know whatever happened, it's God's plan and I'm excited for the future."
Teammate Genevieve Wacker, a freshman, was sixth to earn an all-state medal. St. Charles West had 113 points and took second by winning a tiebreaker over Lutheran South, which was led by sophomore Reese Schelp, who earned her second all-state medal by taking 22nd.
Lutheran St. Charles' Grace Schaff was ninth, Dali Al-Sagr of Whitfield took 18th and Metro's Yuri Malone was 25th to earn all-state medals.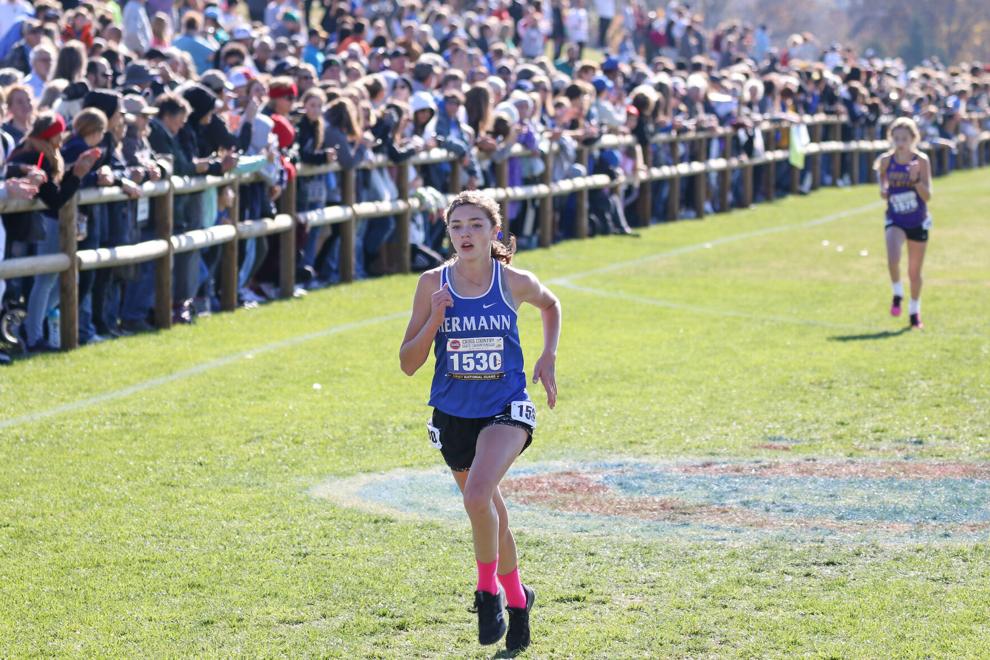 Hermann girls win Class 2 title
The Hermann girls, behind three all-state runners, claimed the school's first state championship — or state trophy of any kind. The Bearcats had 71 points and rallied past Summit Christian for the Class 2 title.
Hermann didn't lock up the win until Alaina Worland, the fifth runner, crossed in 56th place. That pushed the Bearcats from second behind Summit Christian to first place.
"Our coach wouldn't let us see the results so I wasn't sure we won," said sophomore Amelia Uthlau, who was third after missing out on state last year because of a stress fracture.
Senior Morgan Miller (eighth) and junior Katy Menke (13th) were other all-staters for Hermann.
"I didn't want them to see the results (during the race), I felt it was a distraction," Hermann coach Josh Morris said. "They had done such a great job racing together as a team and not worrying about the outcome. It worked all year and this was just another race, so why change it up now?"
O'Fallon Christian had two all-staters, Josie Villard (10th) on the girls side and Ronan Hardwicke (12th) on the boys.
Principia's boys finished second in their first year in Class 2 after taking third last year in Class 1. Rex Heath was third for the second year in a row, running 16:24.2 — the same spot he was seeded to finish heading into the race.
"I crossed and I saw I was in 40th or something atrocious and I thought that's kind of weird so I figured I had to move up," Heath said. "I feel fine, but kind of a bummer I didn't do better since it was my senior year."
Senior Zachery Proctor was 12th for the Panthers, who had 107 points. Stockton won the title with 87.
New Haven girls fourth in Class 1
Three runners earned all-state honors in Class 1 to help New Haven earn a team trophy.
The Shamrocks placed fourth with 154 points, led by all-stater Gracie Steele. The sophomore ran 21:45.3 to finish 23rd, while freshman Janelle Cronin (36th) was the only other Shamrock in the top 50.
Near the top of the standings was junior Lauren Hartman of Crystal City, who placed sixth (20:39.6) to earn her first all-state medal.
Katherine Doyle picked up her second straight seventh-place finish for The Fulton School at St. Albans in 20:46.3 — a drop of 35 seconds from last year's time.
"I was really excited, I improved a lot over the season," Doyle said. "My dad helped me to get faster so we could peak at state. I dropped a lot of time from last year. We went to the track to work on the pacing this past week. I'm very happy with the results."