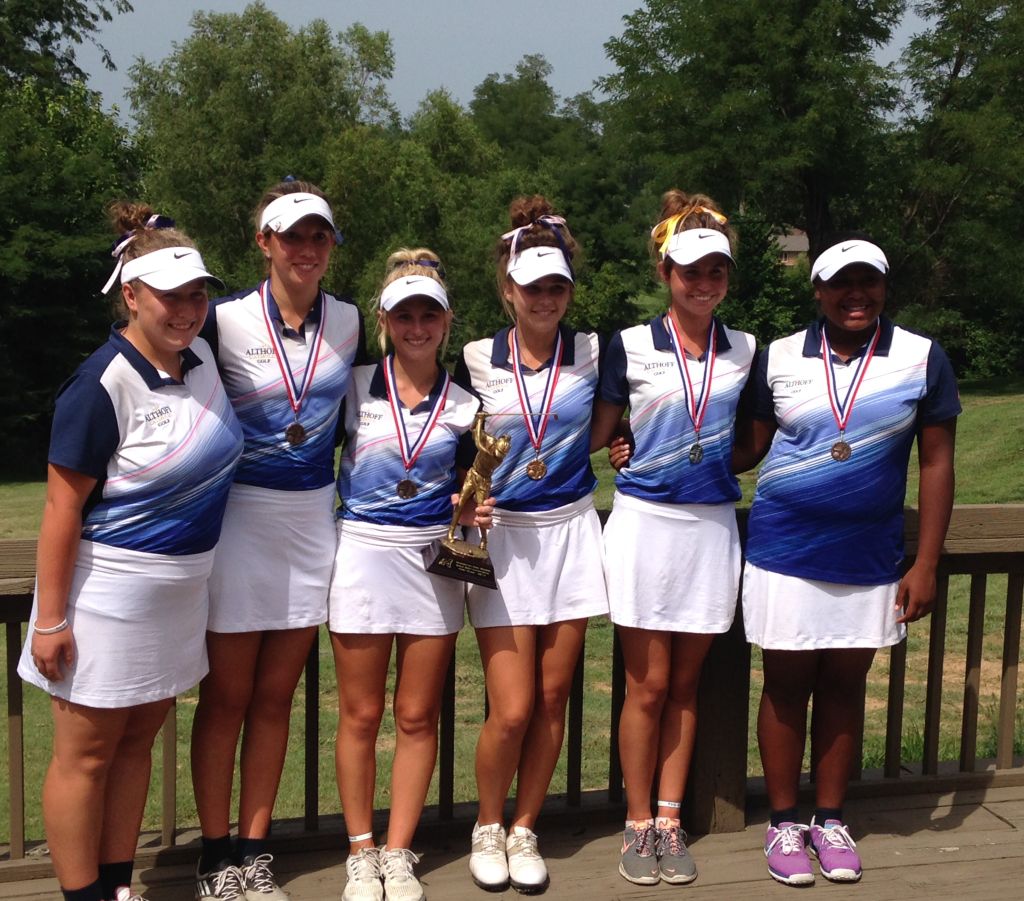 The Althoff girls golf team got a boost from the lower part of its lineup Wednesday and continued what has been a remarkable season by winning the 1A Regional at Stonewolf Golf Club in Fairview Heights.
The Crusaders shot a 352 to win for the sixth time in six 18-hole tournaments this season while advancing to play Monday in the Zeigler Sectional at Franklin Country Club in West Frankfort.
"We didn't do our best," Althoff coach Tim Gehrs said, "But we did good enough to win."
The depth of Althoff's lineup also was evident as junior Alaina Irwin, who plays in the No. 4 position, fired an 81 that led the Crusaders and was second overall individually in the tournament behind Waterloo's Haley Faus (80).
Gabby David followed with an 87, Tia Kimbrough had a 91 and Abigail Irwin shot 93 to round out Althoff's balanced team score.
"We've done pretty good this year and it's due to the girls," Gehrs said. "They work very hard and do an excellent job."
Waterloo was second in the team standings with a 382 and defending !A state champ Nashville was third at 386 to round out the teams advancing to the sectional level.
The top three teams at the sectional tournament qualify for the 1A State Championships on Oct. 17-18 at Red Tail Run Golf Course in Decatur.
Althoff has not made the state tournament since 2010, which is the lone appearance in program history.
Alton's Tori Hays won the medalist title of the 2A Springfield Regional at Lincoln Greens Golf Course.
Hays shot a 75, which was good for a four-shot victory over a 79 by Meghan Kramp of team champion Springfield Sacred Heart-Griffin.
Alton finished second in the team standings at 344 behind Sacred Heart-Griffin's 335. Both teams, along with Chatham Glenwood, advanced to play Saturday in the 2A Champaign Sectional.
The Redbirds' team score was rounded out by Natalie Long (83), Courtney Hachmann (85) and Samantha Patton (101).
Edwardsville began its postseason bid for a fourth consecutive trip to the 2A State Championships on Wednesday by edging O'Fallon for the regional team title.
The Tigers shot a team score of 359 for a five-shot victory over the Panthers at Hickory Ridge Golf Course in Carbondale.
Kayla Weinacht's 86 led Edwardsville and tied for second individually in the tournament with Belleville West's Mikaela Hickey.
Also for Edwardsville, Samantha Doak shot 87 while Megan Quick and Kiley Reeder both fired 93.
O'Fallon (364) and Belleville West (377) also advanced as teams to play Saturday in the 2A Champaign Sectional at the University of Illinois Orange Course in Savoy.
Madison Harris and Emily Marrs both shot 89 to lead O'Fallon's effort.