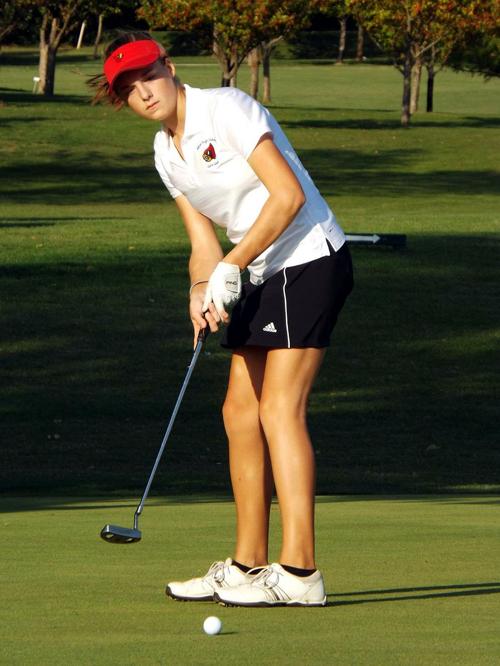 With girls golf heavyweights like Edwardsville, O'Fallon, Sacred Heart-Griffin and Normal University all in the same sectional, Alton was a bit of an underdog.
On Saturday at the University of Illinois Orange course in Savoy for the Champaign Class 2A Sectional, the underdog awoke and took the sectional title.
"I wouldn't say I was surprised," Alton coach Carey Cappel said. "I know the potential of these girls. Going in we were looking to finish third place and just qualify. We were just looking to advance."
The top three finishers qualified for the 2A state championship, which begins Oct. 17 at Hickory Point Golf Club in Decatur.
The Redbirds won with a team score of 334, beating Sacred Heart-Griffin of Springfield (335) by one stroke. Normal University was third with a 343, edging O'Fallon (344) for the sectional's final team berth to state.
Edwardsville was seventh (373), marking only the third time in 11 years the Tigers failed to move onto state as a team. Belleville West was 12th with a 411. 
Individually, senior Courtney Hachmann led Alton with a 6-over 78 and was third overall individually. Junior Amanda Greenan of Bartonville Limestone was the medalist, shooting a 77.
Following Hachmann for Alton were senior Natalie Long (80), senior Tori Hays (81), while seniors Ashley Orr and Samantha Patton both shot 95. Freshman Morgan Bemis shot a 103.
"It was so overwhelming when we found out we won," Cappel said. "The Sacred Heart-Griffin coach came up and congratulated me and I thought we must have snuck into third. Then a little while later we were getting more congratulations and we just looked each other. Then we found out we won. These girls are a force to reckon with and I always thought they were the top team in the area. (Saturday) they went out and proved it. They've worked so hard for this they deserve it."
While the Redbirds were the only team to qualify, two other area individuals also qualified — O'Fallon's Sophine Lang with an 80 and Belleville West's Mikaela Hickey with an 82.
Hickey survived a three-player playoff for two state berths, advancing along with Pekin's Madison Hill.