Cor Jesu sophomore Claire Huether is excited about adding to her school's athletic history.
"We're famous for field hockey — and soccer," she said. "That's about it."
Thanks in part to Huether, that narrative is on the verge of changing.
Huether is part of Cor Jesu's girls golf team, which will make history of its own Monday and Tuesday by posting a team score in the state tournament for the first time since 2006.
The Chargers will play in the Class 3 tournament, a two-day, 36-hole affair that begins Monday at Twin Hills Golf Course in Joplin.
They advanced four players Oct. 12 from the District 1 Tournament in Farmington. The top 18 individuals and ties from each of four districts advanced to play at state. In a change from previous seasons, teams did not advance but teams like Cor Jesu that advanced at least four individuals get to compete in the state tournament's team standings.
The Cor Jesu players entered district play cautiously optimistic partly due to the lack of postseason success in the past. Veteran coach Mark Tueth tried to instill confidence in his group.
"He kept telling us, 'You guys can actually make it,' " Huether said. "But, I didn't think it could really happen."
It did, thanks to a courageous effort across the board, led by freshman Paige Dolrenry, who paced a balanced attack with an 85.
Huether said the golf program is not well-known — even in the halls of the campus located in south St. Louis on Gravois Road.
"When I tell people I play golf, some of them are like, 'I didn't know we had a golf team,' " Huether said. "This should get our name out there."
Sophomore G.G. Rogers, who plays out of the No. 1 spot in the lineup, agreed, "Normally, golf is pretty far down on the list. But not this week."
Dolrenry, considered the No. 5 player on the balanced squad, finished in a tie for eighth place in the 51-player district field. It was the first time she led her team this season.
"I surprised myself by not being too nervous," Dolrenry said.
Dolrenry recorded a birdie on a long par-5 hole.
"I think we all knew what she was capable of doing," said Tueth, who is in his 16th year with the program.
Huether was one shot back at 86 to finish 10th overall. Rogers, who plays out of the No. 1 spot, added an 87 and junior Ainsley Burns finished 12th with an 88.
"We know that anyone can finish with the top score on this team at any time," Huether said. "That's what makes being a part of this so fun."
This group is looking to blaze a path for the future.
"Hopefully, eighth graders and even younger, will look at this and want to come and be part of what we're doing," Rogers said.
Cor Jesu had a successful regular season, playing mostly in nine-hole matches. They compiled a 5-1 record, placing second to four-time defending state champion St. Joseph's in a three-team affair Sept. 23.
Rogers and Burns both grabbed two medalist titles during the regular campaign.
"I knew coming into the season that we had a strong — but young — team," Tueth said. "These are hungry golfers. I was looking forward to seeing what they can do. So, far, I'm really happy."
Cor Jesu will be joined by Summit, St. Dominic, Kearney, St. Teresa's Academy, Glendale and Platte County at the state tournament.
At district, Cor Jesu's four-player score of 346 was second behind Summit's 320.
The Chargers head to Joplin with modest goals.
"We just want to have fun and do the best we can," Huether said.
Added Rogers, "We're pretty confident right now."
AREA QUALIFIERS
Class 4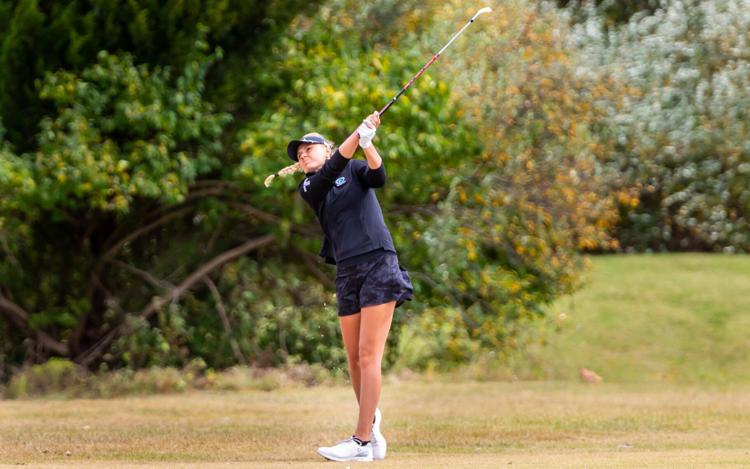 (Monday-Tuesday, 36 holes)
At Dalhousie Golf Club, Cape Girardeau
Area teams
Eureka: Emma Parker, Sarah Biscan, Grace Schlabach, Nicole Shirley
Lafayette: Brooke Biermann, Caroline Boyette, Katherine Worley, Grace Stafford
St. Joseph's: Mia Rallo, Nicole Rallo, Izzy Arro, Drew Nienhaus, Rylie Andrews
Area individuals
Fox: Amelia Chapman
Fort Zumwalt West: Ryen Tindall, Laura Arand, Mackenzie Christen
Francis Howell: Hannah Inchiostro, Kylee Hormuth
Holt: Viviana Boix, Alex Hiebert
Kirkwood: Morgan Gindler, Riley Forinash
Lindbergh: Sofia Gamayo
Marquette: Peyton Cusick, Catherine Cronin, Skylar Goring
MICDS: Kate Mikulec
Northwest-Cedar Hill: Annaston Reitz,
Timberland: Gabi Rettinghaus, Lucy Porzenski
Class 3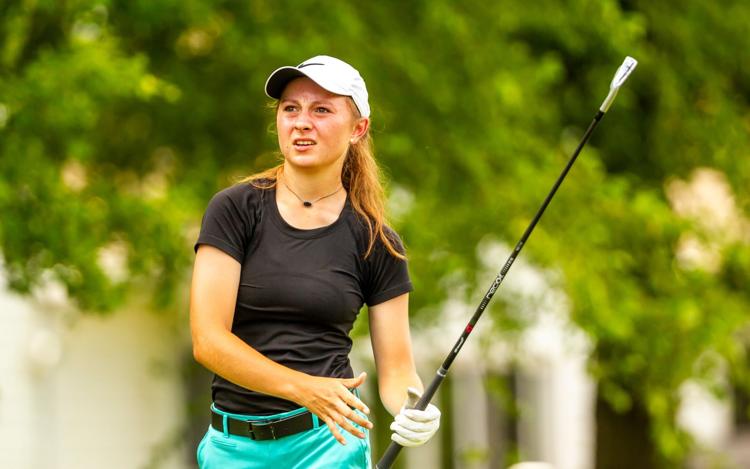 (Monday-Tuesday, 36 holes)
At Twin Hills Golf & Country Club, Joplin
Area teams
Cor Jesu: Paige Dolreny, Claire Huether, G.G. Rogers, Ainsley Burns
St. Dominic: Kennedy Mueller, Madeline Kennedy, Emily Baird, Jenna Rankey
Summit: Katherine Schreiner, Danika Stilwell, Isabelle Thrall, Maurissa Thrall
Area individuals
Fort Zumwalt North: Elizabeth Bigler
Fort Zumwalt South: Ava LaPosha, Sophia Welch
Ladue: Lindsey Byer, Grace Claney, Meera Upadhyay
Liberty: Kelly Karre, Kyndall Stubblefield, Madalyn Breckenridge
Parkway Central: Campbell Marino, Amelia Marino
Parkway West: Kylie Secrest
Washington: Mia Lanemann
Webster Groves: Jenna Clark, Sarah Ewing
Class 2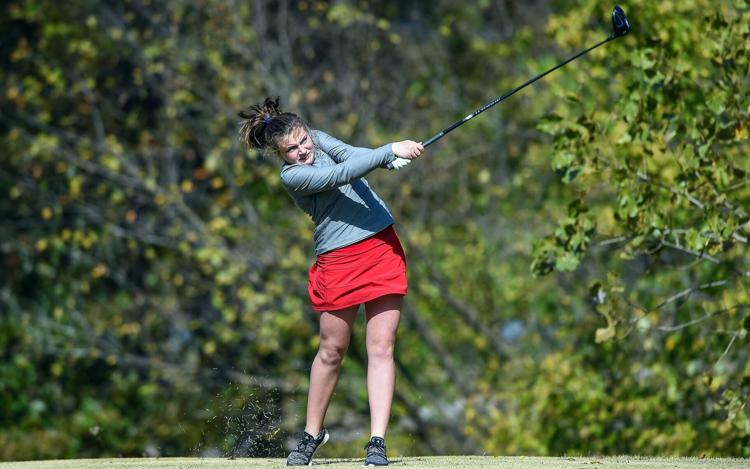 (Monday-Tuesday, 36 holes)
At Meadow Lake Acres, New Bloomfield
Area teams
Incarante Word: Emalie Neise, Morgan Dwyer, Grace Henenheimer, Grace Wilkinson
Tolton: Audrey Rischer, Jayden Berrey, Madeline Fallis, Sidney Fessler
Urusline: Erin Fagan, Molly Fagan, Olivia Clough, Grace Theiss
Visitation: Grace Fagan, Ava Sanford, Lucy Trover, Olga Forshaw, Emma Winter
Area individuals
Borgia: Natalie Alferman
Clayton: Sophia Thompson, Natalie Noonan
Notre Dame: Sarah Appelbaum
St. Clair: Anna Conner
Warrenton: Samantha Butkovich
Westminster: Ellie Johnson, Morgan McKee
Class 1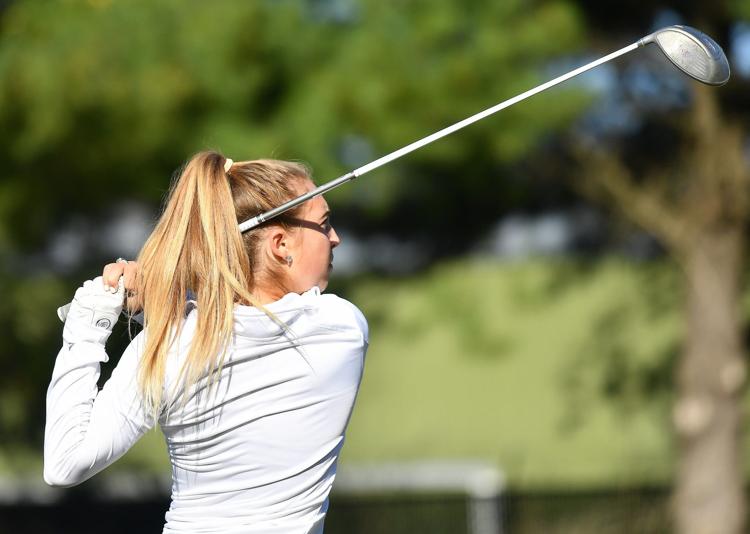 (Monday-Tuesday, 36 holes)
At Paradise Pointe Golf Complex, Smithville
Area individuals
Duchesne: Molly Knobbe, Emily Norviel, Megan Wiseman
Lutheran South: Jordan Braunschweig, Loreli Fronabarger, Elizabeth Saitz
Lutheran St. Charles: Abby Boettler
Villa Duchesne: Kathryn Fesler, Louisa Klebe
STLHighSchoolSports.com is the most comprehensive source of stats, scores and stories from any and all area high schools.