The usually-stoic Briana McMinn let her emotions take over minutes after her final hole at the Class 2A state golf tournament on Saturday.
"I cried a little," admitted the O'Fallon High senior. "But they were happy tears."
McMinn, the undisputed team leader, helped the Panthers to a strong sixth-place showing during the two-day affair at Hickory Point Golf Club in Decatur.
O'Fallon posted a 36-hole team score of 646 — a school record at state — to finish three shots ahead of fifth-place Naperville North.
Stevenson grabbed the team crown with a 601.
As usual, the Panthers used a balanced attack to get the job done. McMinn led the way with a 14-over-158, good enough for 28th place in the individual race. Junior Chloe Davidson fired a 163 and finished 47th. Senior Elizabeth Henken and junior Dylan Kirchoff each carded a 166 to round out the attack. Freshman Reagan Martin came in with a 167.
O'Fallon was making its third state team appearance after placing seventh in 2017 and 12th in 2002.
"For us, it almost feels like we finished first," Davidson said. "We're that happy with it."
The Panthers were consistent all season long, winning the Mascoutah Regional and placing second in their own sectional. They also won the Southwestern Conference team crown in addition to the Metro East Shootout, Pekin Lady Dragon Classic and Gary Bair Invitational.
"This whole season is a huge accomplishment," Davidson said.
McMinn fired a 5-over-par 77 on the final day and shaved four strokes off her total from Friday.
Davidson said the team felt some pressure on the first day to make the cut. The first eight teams advanced to the second day.
"After that, we just decided to go out and have some fun with it," Davidson. "We were more relaxed."
Edwardsville sophomore Riley Lewis claimed the top finish among area golfers with a 153, good enough for 15th place overall. She placed six shots behind medalist Mara Janess of Barrington, who bested Maria Perakis of Glenbrook South on the first extra hole of a playoff.
Lewis fired a 168 last season at the state tournament and finished 53rd.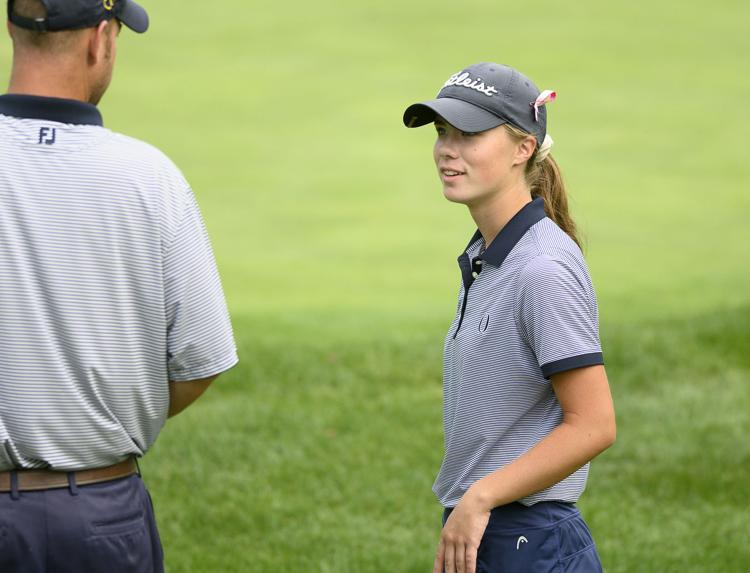 PIAR COMES UP BIG FOR ALTON MARQUETTE
Marquette sophomore Gracie Piar fired a 12-over-par 156 to place 17th in the Class 1A Tournament at Red Tail Run Golf Course outside of Decatur.
"She struck the ball real well," Explorers coach Deb Walsh said. "She just couldn't get a putt to drop."
Walsh was pleased with the effort.
"Just incredible for her age," Walsh said. "She's got a bright future."
Columbia High senior Casey Wagner finished 26th with a 162.
Piar's teammate, sophomore Audrey Cain, placed 37th with a 166.
Sophomore Allison Pacocha of Eureka, Illinois took medalist honors with a 2-under 142.
Normal University grabbed the team crown with a 619 — 22 shots ahead of second place Mt. Carmel.