Brooke Biermann did not pick up a golf club Sunday.
The recent Lafayette High graduate earned that rare day of rest by fulfilling a "lifelong dream" last week.
Biermann helped lead the East team to a win over the West in the Wyndham Cup, played July 7-9 at Bulls Bay Golf Club in Awendaw, South Carolina.
The prestigious team match play affair featured the top 10 female and male players in the American Junior Golf Association rankings from each region.
Biermann was 3-0 in doubles matches and recorded a singles tie in the event, which featured a Ryder Cup-like format.
"It was the coolest, most awesome thing I've done in golf so far," said Biermann, who is 10th in the Rolex AJGA rankings.
The three-time Post-Dispatch All-Metro girls golfer of the year has built up an impressive resume, including an individual high school state championship in 2019.
Her red-hot performance against some of the best junior players in the country last week punctuated a stretch that was filled with one highlight effort after another.
Biermann began Wyndham Cup play by winning a two-player, four-ball match July 7 with partner Amanda Sambach of Charlotte, N.C., by a 1 up score. Biermann returned and recorded a win in an alternate shot foursome match later that day, teaming with Casey Weidenfeld of Pembroke Pines, Florida, to win 5 and 3.
On July 8, Biermann banded with Caleb Surrat, of Trail, North Carolina, to post an alternate shot win 4 and 3 in a mixed contest.
Biermann capped off her week by battling to a hard-fought tie with Sophie Zhang-Murphy of Sarasota, California, to capture a half point that helped the East team to its 29.5-20.5 win. Biermann recorded seven birdies in that match and finished with a 67, the second-lowest tournament score of her career. Given the last-day pressure — the East clung to a 16-14 team lead going into the singles matches — and the difficulty of the course, Biermann didn't hesitate to call it the best round of her life.
"Any junior golfer that's ever played dreamed of being a part of this," she said. "It's a great accomplishment just to be out there with the best golfers in the country. I didn't know what to expect. You're not really playing for yourself but playing for your teammates. That's what made it so special."
Biermann, who chose Michigan State over dozens of other big-time offers, said the Wyndham Cup helped get her ready for her upcoming college career.
"It was just fun to be a part of golfing for a team," she said. "I love it."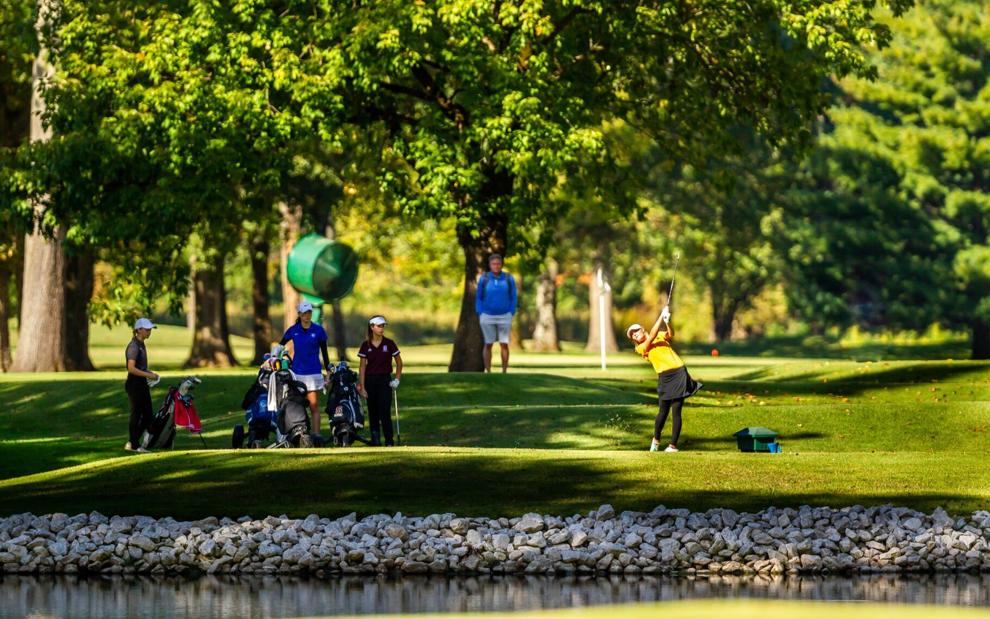 The Wyndham Cup began in 1990 and has a deep history. Biermann now has her named engraved on a trophy along with golfers like Tiger Woods.
Winning the title is the highlight of a busy summer for Biermann. She has played in a tournament or practiced every single day since graduating in early June.
With the exception of the Fourth of July — and Sunday, her rare day off.
"My dad always tells me to take a break, do normal things that don't have anything to do with golf," she said. "This is a good time for that."
Biermann spent part of her Sunday off hanging out by a pool in her neighborhood. She also spent time with her little sister Ashleigh, who is a big part of Brooke's life.
"Sometimes, you've just got to tell (Brooke) to slow down a little," said her father, Bill.
Brooke is on a serious roll this calendar year. She has played in some of the biggest tournaments in the country on some of the top courses.
"I feel blessed just to be able to see some of this places," Biermann said.
@Brooke_biermann continues to win at the AJGA Wyndham Cup. Today was mixed foursomes, Brooke & her partner won 4 & 3. Singles matches coming up for tomorrow. The East team is leading the West by 2 points.

— Spartan Women's Golf (@msuwomensgolf) July 9, 2021
Biermann finished third June 28-July 2 in the Polo Junior Golf Classic at Liberty National Golf Club in Jersey City, New Jersey. She also tied for third June 24 at Belle Meade in Nashville in a qualifier for the United States Women's Amateur and narrowly missed advancing to the main event.
Plus, Biermann turned in a second-place showing March 15-16 at the Kathy Whitworth Invitational in Fort Worth. There, she finished two shots off the pace of winner Bailey Shoemaker of West Edmeston, New York, in a talent-rich 70-player field.
For now, Biermann is enjoying a rare week of rest before she ramps up her schedule with two more important tournaments this summer. She has qualified to play July 19-24 in the Women's Western Amateur Tournament at Park Ridge Country Club in Park Ridge, Illinois.
Biermann follows that up July 27-30 by playing in the PGA Girls Junior Championship in Louisville, Kentucky, at Valhalla Golf Club, the site of Rory McIlroy's win in the 2014 PGA championship.
Then it's on to East Lansing to begin a college career she hopes will lead her to a spot on the LPGA Tour. Biermann chose Michigan State partly because it has served to launch the careers of more than 15 LPGA players.
"It's been a great summer and I just want to keep playing well," she said.