Sixty percent of the starting lineup for the four-time defending Class 2 girls golf champions have made the all-important decision about the next step in their careers.
St. Joseph's juniors Drew Nienhaus (Penn State) and Nicole Rallo (Central Missouri) recently made their college commitments to join teammate Grace Aromando, who just completed her senior year and will play at Seminole State of Florida next season.
"There are many college scholarships available at all the different levels," Angels coach Carol Fromuth said. "Grace fits Seminole State perfectly. Drew was interested in a big school. And the coach attracted Nicole to Central Missouri."
The Angels' top three players from the past couple seasons are each going to play at a different level, but each are happy with their decisions and are equally thrilled for each other.
"We're all going three different paths and I'm very happy for those two," Nienhaus said. "They've done so well and have succeeded so much."
Added Rallo, "Three girls of the same caliber of play and it's like hit or miss on who actually wins and we're all going three different paths. I think it shows it doesn't matter where you end up, it's where you're comfortable."
Added Aromando, "We're taking three different paths, but I think we're all doing what we're meant to do. The fact I know they are going to proceed makes me so happy because I know they're going to do so well. I think it's really interesting that we're all going to be able to go do what we want."
Aromando helped St. Joseph's capture four consecutive state titles, making her the first Angels golfer to do so. She had top-10 individual finishes each of the last three seasons, including a tie for fourth place as both a junior and senior.
Seminole State, which is located in Sanford, Fla., won the National Junior College Athletic Association (NJCAA) women's national championship in 2019.
"I had the aspirations of going to play golf in college since I was tiny, but I always had the notion that I was going to go to a big D-I school or something," Aromando said. "But, as I got farther into the search, I liked the idea of feeling like I could get better if I had a little more time."
Aromando's swing coach, Susan Fromuth-Bachowski, who helped all three in the recruiting process, told her about Seminole State coach Christa Teno, a former LPGA Tour player who was named the 2018 LPGA National coach of the year and was inducted into the NJCAA Women's Golf Hall of Fame in 2017.
"I was iffy because I had never even considered going to a juco just because it was totally different than what my plan was," Aromando said. "When I went down there, I was a little on edge, but I love Christa so much and I feel like she's going to help me a lot. I know going to Seminole State is the answer for me because sometimes people just need that little extra help, that little extra nudge."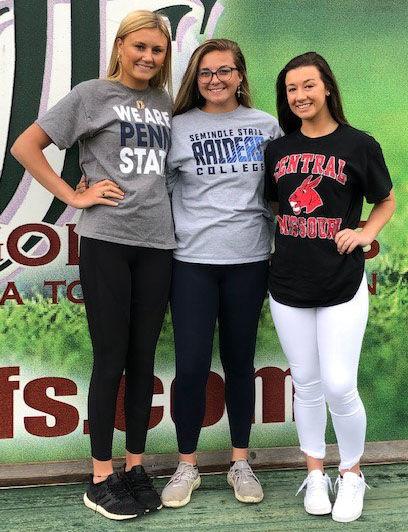 Nienhaus capped a strong summer and fall by tying Aromando for fourth at the Class 2 state meet and soon found herself working on deciding where her next stop would be in the fall of 2021.
"After high school season was done, I was getting calls from some colleges saying to come visit, so I realized I had to start my process," she said. "I was slowly going to quite a few schools and loving those schools and then on Feb. 8-9, I had my official visit to Penn State."
For Nienhaus, it was love at first sight in Happy Valley.
"I went there and just fell in love with the school," she said. "I went to a basketball game, I love the environment and the Happy Valley experience was amazing. I got to meet all the girls and the golf courses and facilities were amazing. I just knew that it was the place for me."
Rallo, who finished sixth and eighth, respectively, at the last two Class 2 state tournaments, agreed with Fromuth about Central Missouri coach Chris Port being a huge reason she wanted to play in Warrensburg.
"I just love the way that he interacts with the girls and how straight up he is about winning," Rallo said. "He plays to win and that's something that really caught my eye."
What also caught Rallo's eye was how much the Jennies remind her of the Angels.
"The team dynamic is amazing. It reminds me a lot of my high school team," she said. "Very, very close competition within the team. It worked great for all of us and that's something I was really into."
Rallo said the NCAA Division II level should be a perfect fit for her.
"My whole college recruiting process, I was never really worried about going D-II, D-I, juco. It never really mattered," she said. "The whole thing in general just felt like the best fit for me. It was a place I can really see myself being successful."
All three players have experience playing in events outside of high school, including the Accelerated Golf Tour, which Fromuth started in 2001, and is the tour administrator.
"They all have played in that and it's just very beneficial for your resume that you have played in two-day tournaments at good courses," Fromuth said. "In the summertime is when you become a golfer, not during your season. You can really make a huge change in your ability because you only have yourself to worry about and you need to really bear down and practice."
Fromuth said the AGT is still planning on playing its seven-event schedule this summer, starting June 24-25, at Aberdeen Golf Club in Eureka.
Beyond the summer, Nienhaus and Rallo still have one piece of business to try and finish this fall — joining Aromando in the four-title club at St. Joseph's. If they do, however, it won't be in Class 2, as Missouri will move to four girls golf classifications this fall.
"Nicole and I have one more task before we graduate and it's definitely going to be an exciting one because senior year is different than any other year," Nienhaus said.
Even though she'll be a college freshman 1,000 miles away in central Florida, Aromando will still be keeping tabs on the Angels' progress toward a possible five-peat.
"Those girls are my little sisters," she said. "I'm going to be on them so much."
STLHighSchoolSports.com is the most comprehensive source of stats, scores and stories from any and all area high schools.