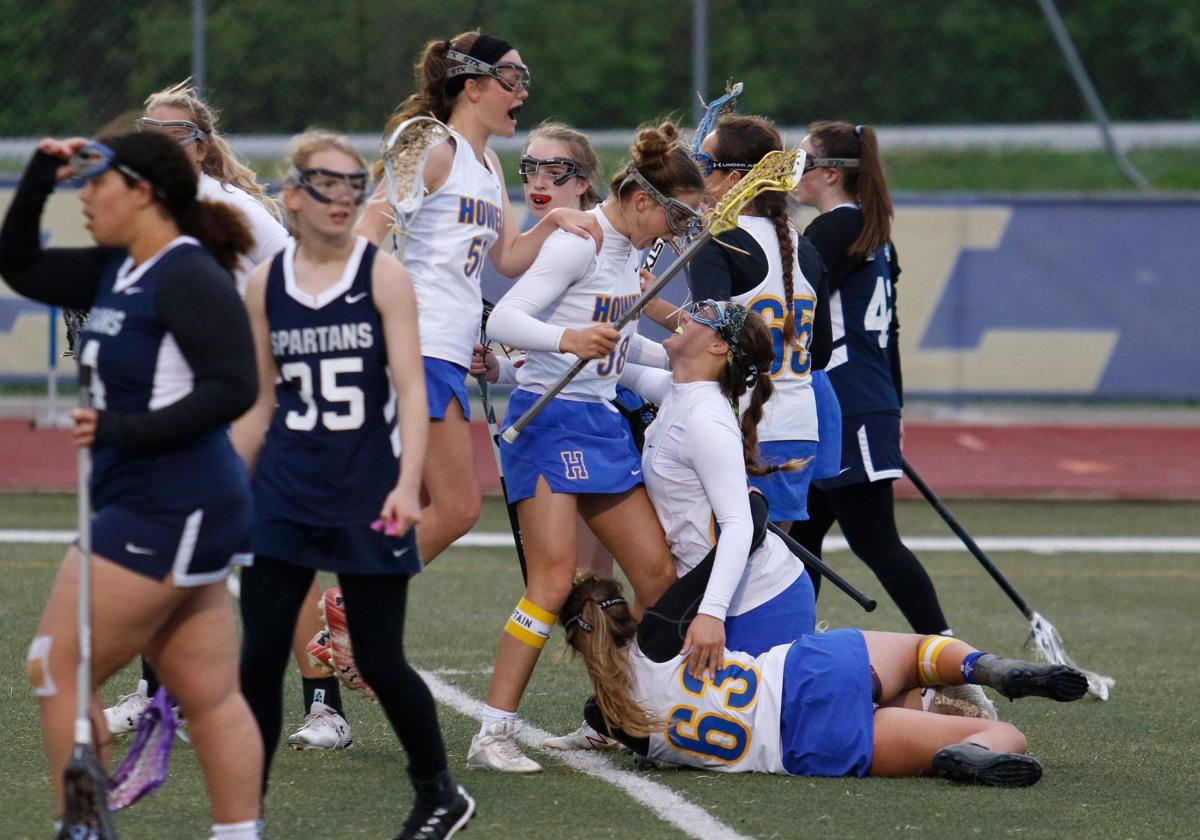 Francis Howell junior Tatum Kaup was not ready to say goodbye to her girls lacrosse teammates.
After the coronavirus pandemic brought a temporary halt to both the school year and the high school sports season, Kaup began thinking of ways to stay connected to her teammates. Each day she posts a photo on Twitter of a different Francis Howell girls lacrosse player, along with an uplifting message about the unique skills that player possesses.
"We are a very close-knit team and this has been hard on all of us. I wanted to do something to stay in touch and keep us thinking positive," Kaup said.
From player profiles to creative videos to virtual yoga sessions, high school players and coaches are finding innovative ways to stay connected during this time of social distancing.
Area girls soccer teams including St. Joseph's, Nerinx Hall and Notre Dame have been producing creative videos of their teammates having a socially-distant kickaround. A player standing in one house accepts a pass from outside the frame of the camera, displays some fancy footwork, and then kicks the ball out of the frame where it magically reappears on the foot of another teammate standing in a different house.
Varsity Soccer 2020 💙 Thanks for challenging us @nerinxhall You're up next @ursulinestl @uastl_athletics — can't wait to see how your spring sports teams are #stilltogether while apart! https://t.co/XDi4Gjazku

— Notre Dame HS - STL (@notredameSTL) March 31, 2020
The Eureka girls lacrosse team produced a similar video, but juggled and passed a cherished roll of toilet paper instead of a lacrosse ball. The video went viral.
"I can't imagine the feeling of losing out on games as an athlete, especially for the seniors," Eureka girls lacrosse coach Melissa Menchella said. "I wanted to do something that would create some unity with the team in this time where we can't be together and do something that would lift their spirits."
Natalie Archambault is one of 11 seniors on the Eureka roster and has been instrumental in promoting team unity through this difficult time. Despite not being on the field with her teammates, she hopes her leadership can still have an impact on the future of the program.
"We have stayed connected virtually, motivating each other to do more and work harder," Archambault said. "Even without practices or games, the seniors are working hard to impact our program at Eureka so we are able to leave it in good hands."
Vianney boys lacrosse senior Jordon Celeslie also took to social media to post a video of advice for younger players. Celeslie challenged them to use their non-dominant hand while brushing their teeth and when using a fork as ways to improve total body dexterity. 
After posting their videos, both the Nerinx Hall soccer team and the Eureka girls lacrosse team challenged other teams to produce their own pass-the-ball videos, encouraging the entire spring sports community to stay connected in a time of forced isolation.
"The St. Louis lacrosse community is tight-knit, and a lot of us know players beyond our own teams so it's important we remain unified in this time," Menchella said. "I told the girls that, in posting our "Pass the Toilet Paper" video, the main goal was not only to promote togetherness, but also to spread cheer to the lacrosse community."
The Cor Jesu, Westminster and Marquette girls lacrosse teams accepted the challenge and have created or are in the process of creating their own #PassTheToiletPaper videos.
@EHSwlax Challenge accepted! Thanks for the nomination! 💚🥍💙 pic.twitter.com/uNKNroImIz

— Mustang Girls LAX (@MHS_LAX) April 3, 2020
"I think this time has the potential to bring us closer as a lacrosse community," Cor Jesu junior captain Grace Hibey said. "Some things are much bigger than on-the-field rivalries and now is a time to unite."
For Westminster, junior captain Nicki Mabry has been leading the effort of promoting team unity for her lacrosse teammates, which has included weekly Zoom meetings and a virtual yoga session.
"In a time where we can't physically be there for each other, it's important to stay connected any way we can just to reaffirm to our teammates that we are still a team and in this together," Mabry said.
For these teams and many others across the area, the coronavirus pandemic may be putting games on hold, but it is not infecting a key aspect of playing the sport — team unity.
"It is difficult to build team skills when we can't be together, but it is a great chance to improve team culture and show how much we care for each other," Mabry said.
STLHighSchoolSports.com is the most comprehensive source of stats, scores and stories from any and all area high schools.