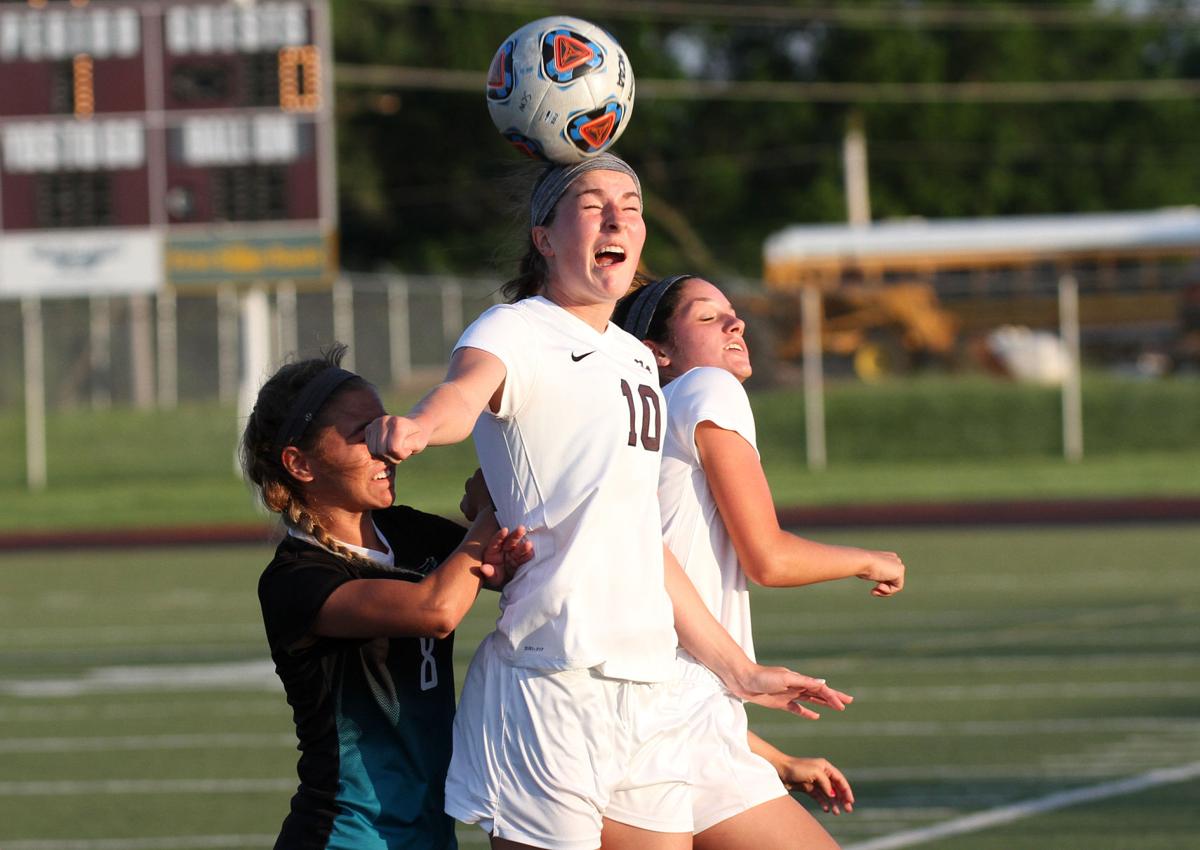 The St. Charles West girls soccer team earned a Class 2 sectional victory against Borgia for the third consecutive season, winning 3-0 at home Saturday.
The Warriors (17-2, No. 6 in STLhighschoolsports.com small-schools rankings) advanced to play in the quarterfinal round Wednesday against either four-time defending state champion Duchesne or Lutheran North. Those teams will play at 4 p.m. Monday at Lutheran North after postponing Saturday because of a waterlogged pitch.
Maggie Miller, Megan Keeven and Courtney Schreiber all scored for the Warriors, who led 2-0 at halftime.
"We were all so prepared for this game and we put in a lot of work to get ready," Warriors senior Audrey Andrzejeweski said. "I think we played real well and worked as a team to get the job done."
West coach Matt Dwyer said he was pleased with the team's defensive effort, led by the goalkeeping shutout from Savannah Gilblair.
"We limited them to one or two shots on our goal the whole game," Dwyer said. "Our defense has done such a great job all season and these girls don't get enough credit. We've given up nine goals all season, that's really something. It's a testament to the hard work these girls are putting in every day."
As far as a potential matchup with Duchesne goes, Dwyer said the Warriors hope another shot is in the cards after a pair of 4-2 losses the last two years in the quarterfinals.
"I think the girls would be excited for another shot," Dwyer said. "I also think that if we could go up against them and beat them this year, it would really boost our confidence the last two (state) games."
Cape Notre Dame 3, Lutheran South 2 • Kristen Tarno and Megen Heisserer staked the Bulldogs to a two-goal lead in the first 11 minutes of a Class 2 sectional victory.
"We just didn't play like we were ready at the beginning," Lutheran South coach Kent Hediger said. "We settled in and played well but that start hurt us."
Kaylee Freihaut scored a second half penalty kick to pull Lutheran South within 2-1.
After Heisserer scored with six minutes left, South made it 3-2 on a goal by freshman Kenzie Arnold with 36 seconds left. But by then, it was too late.
"Cape Notre Dame is a quality team," Hediger said. "We started a lot of freshmen and sophomores this year. I think that means good things for the future."
Cape Notre Dame will play Rosati-Kain in a quarterfinal game Wednesday at a time and place to be determined.