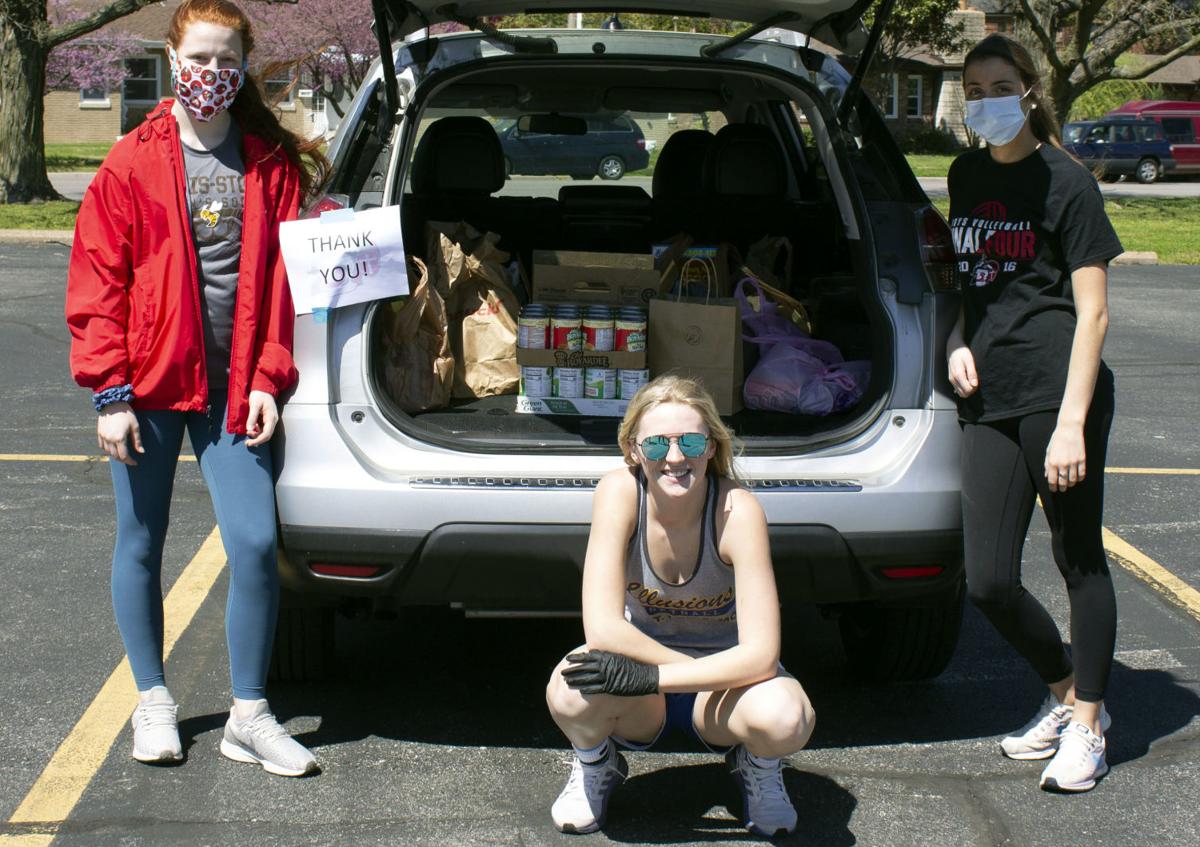 In her final season with the DuBourg girls soccer team, Maddi Galczynski was ready to lead a charge.
But before she even got a chance to suit up for the Cavaliers, the spring season was canceled by the Missouri State High School Activities Association due to the coronavirus pandemic. 
A senior forward and captain for DuBourg, Galczynski found a new way to lead away from the pitch and give back to her community in a time of need.
Clad in gloves and face masks while practicing good social distancing, Galczynski, along with some of her teammates and classmates, collected 1,533 food and personal care items for the Affton Christian Food Pantry on Tuesday.
The students started with a collection at DuBourg High. People from all over the community drove up to the school to drop off items — enough to fill four cars. From there, they drove their collection to the Affton Christian Food Pantry and spent the afternoon stocking the pantry.
Started in 2004, the Affton Christian Food Pantry provides food and assistance to the hungry in the community. It is maintaining that mission even during the pandemic with "drive-up" service to those in need. 
"Personally, it felt touching," said Galczynski, who led DuBourg with eight goals last season. "During this time, people are struggling with no income so it makes you feel really good to help others that are struggling."
Galczynski and the Cavaliers, who went 6-11-1 a season ago, came up with several ideas before deciding to help out the food pantry.
"We had a lot of people drive up with items and we took them to the Affton Food Pantry and helped them sort the items. We had to sort and count everything and put it in boxes and do all that stuff," Galczynski said. "People brought everything. There were diapers, baby food and food and personal care items."
Not only did Galczynski and her teammates get to give back with an impromptu service project, they also were able to reestablish personal connections with classmates and teachers they may have not seen otherwise since schools across the state are closed for the remainder of the school year.
"It was fun to see teachers drive by and drop things off," Galczynski said. "We've been able to see teachers through a computer screen, but it isn't the same. It was great to see them and catch up with them."
DuBourg soccer coach and athletics director Steve Bettlach said seeing his players step up in a time of need was enriching.
"School's motto is faith in Christ and service to others," Bettlach said. "So we are always trying to incorporate that into any and all situations. The girls on the team all were looking to help and looking to have some sort of project, and this became a way to put everything together."
STLHighSchoolSports.com is the most comprehensive source of stats, scores and stories from any and all area high schools.