Over the last several decades, girls interested in playing spring sports for Wright City have only had one option.
Whether it was throwing shot put, running sprints or landing jumps, the choices were slim.
That's not the case anymore.
For the first time in school history, the Warren County high school has a girls soccer program.
The buzz around the new program has elated many, including junior midfielder Azucena Hernandez.
"It's something everyone's been excited about since the day we heard our school would have a team," Hernandez said. "At first, soccer was just something new I wanted to try but all of us on the team have created a bond that has changed the way I value and view it. This year I hope to improve in any way I can, and to see my team grow over the next couple months."
Wright City coach Devin Raney, who grew up and played soccer in North County, said the level of interest was so great the program will field a varsity and junior varsity team in its inaugural season. Wright City also added girls wrestling in the winter. 
"We brought it to the board in the middle of last year, it was the brainchild of our athletics director, David Evans," Raney said. "He wanted to introduce it and wrestling to expand our sports. He brought it to me to see if I was interested. I grew up playing CYC soccer. I've been coaching football the last three years, so I jumped at the chance. We're at 25 to 26 girls now, so we're going to run a varsity and a swing."
For senior midfielder Elizabeth Lopez-Mora, the chance to play a new sport was too good to pass up.
"I love trying new things and being apart of this soccer team that is 100-percent something new for me," Lopez-Mora said. "It is awesome feeling to be apart of this season right before graduation. I got lucky enough to play even if it's just for a year. I want to make it count and I'm sure everyone else does too, and after last night, we are all just super excited to see how our first year of soccer goes for us."
Wright City's varsity squad will play a 15-game schedule and one in-season tournament, prior to the start of the Class 2 District 8 Tournament at Southern Boone with Fulton and Mexico.
"Our goal is really to work hard, have fun and get better every day," Raney said. "This is new for all of us, so we're going to do our best to accomplish those things."
BROWN HAS EUREKA READY TO RELOAD
On the verge of winning back-to-back state titles, the Eureka girls soccer team found out first-hand how hard it is to repeat as champions.
After winning the Class 4 title in 2017, the Wildcats finished 20-6-1 last season and took third in Class 4 after falling 3-2 to Lee's Summit West in penalties in a state semifinal.
Junior Audrey Brown believes the Wildcats' dominant 4-0 win over Jackson for third place taught the team a thing or two.
"I think last year we were all proud that we came back and got third place after losing in the semis, but we were also really disappointed because we fell just short of winning state again," Brown said. "I wish that the results would have been different because we came so close and worked hard all season, and all it came down to was penalty kicks.
Losing eight seniors will take its toll on Eureka, but the return of Brown, who scored 13 goals and added six assists, to go along with Sam Courtois' 13 goals and 12 assists, will give Eureka plenty to look forward to.
"We lost a lot of talented seniors last year, so this season I think we all just want to prove ourselves and show that we are still a good team," Brown said. "It will take a lot of work but hopefully by May we are fully prepared and can get the results we want."
Proving themselves starts with Brown, who Eureka coach Gary Schneider expects the Wildcats to lean on in the attack.
"Audrey is a player that just leads by example," Schneider said. "She's not going to be a loud demanding player on the field.  She's going to play hard and try to put the ball in the back of the net. She really has a knack for being in the right spot at the right time, she just finds the ball on the attack."
FAMILIAR FACE RETURNS TO LEAD COLLINSVILLE
After four consecutive trips to the IHSA Class 3A state semifinals, the Collinsville girls soccer team finished 12-10-3 last season in former coach Clay Smith's final season.
The Kahoks went 138-44-14 in eight years under Smith, who is now the school's athletics director.
Smith's ascent in the athletics office has made way for a familiar face to take over the program.
Chris Digirolamo, who coached the Collinsville boys from 2001 to 2010, was named the new girls coach earlier this year.
"It's a good feeling, it just kind of reminds me of everything I was doing when I got out at that time," Digirolamo said. "When you have your regular job duties during the day and you're trying to find that balance to work with your team and find that balance with your family, it's a little overwhelming. We're getting acclimated again."
A plethora of returning juniors, including midfielders Destiny Johnson (10 goals, four assists) and Faith Liljegren (5 goals, 7 assists), are helping Digirolamo settle in.
"Last year, I think, we finished with a less than stellar record after four consecutive trips to the state tournament," Digirolamo said. "I know Clay did a wonderful job. We're hoping to build from that. We've got a good group this year. It's a good junior class and we'll see where it takes us."
ALTHOFF AIMS TO RETURN TO STATE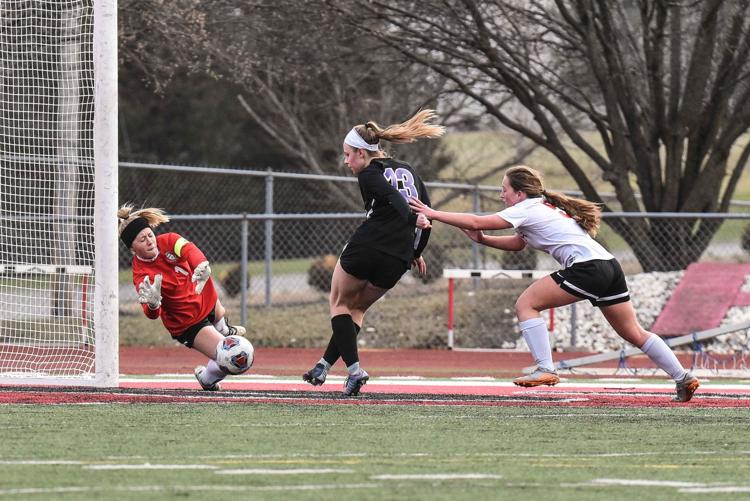 The Althoff girls soccer team is on the cusp of greatness.
There is plenty of reason for optimism for the Crusaders, who return plenty of firepower, including four of their top five scorers.
THREE TEAMS CROWNED BRACKET CHAMPIONS AT METRO CUP
The annual Metro Cup wrapped up Saturday with three teams winning titles in their respective brackets.
O'Fallon (4-0) won all four of its games in the Adidas bracket, beating Rochester 1-0 in the title game on a first-half goal by Avery Christopher. The Panthers also defeated Mater Dei, Alton and Carbondale. Christopher was named the bracket MVP.
In the Nike bracket, Columbia avenged last season's postseason loss to Althoff with a 2-0 victory on goals from Haley Glover and Kennedy Jones. The Eagles (4-0) also beat Triad, Springfield and Edwardsville to take the title. Glover was named the bracket MVP.
Wesclin (4-0) won the Puma bracket title, shutting out Civic Memorial 2-0 behind goals from Tori Calvert and Galena Stewart. The Warriors also beat Harrisburg, Jerseyville and Mount Vernon. Calvert was named bracket MVP.