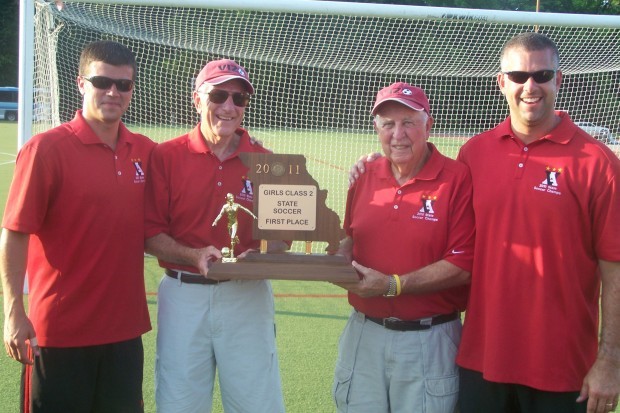 Longtime St. Louis high school and college soccer coach Val Pelizzaro died Saturday morning. He was 88.
Pelizzaro began coaching high school soccer at Visitation in 1994 with Tommy Fernandez. When Dick Westbrook was brought on in 1998 to coach the junior varsity team, it didn't take the pair long to find success.
The duo took over the varsity program in 2003 and won the state title a year later, stunning defending champion John Burroughs in a quarterfinal. They added three more championships over seven seasons, including two in Class 2.
"The thing that always struck me about Val was that he was just always such the consummate gentleman," Visitation athletics director Paul Stoecklin said. "The kids really responded to him. The kids really looked up to him because of his past and his soccer knowledge. He was a big part of our soccer program. When I arrived at Viz, we'd won one state championship and (before Pelizzaro retired in 2012), we won four."
Pelizzaro's first foray into coaching turned out to be as successful as his playing days. When Harry Keough took over Saint Louis University's men's team in 1967, he asked Pelizzaro to join his staff. They worked together until Keough left SLU in 1982 with five national titles.
Pelizzaro remained on staff at SLU for head coach Joe Clarke until 1997, when Clarke took the same position at Washington University. Pelizzaro followed Clarke to Wash U. and continued coaching the Vivettes during the college offseason in the spring. He retired from coaching college soccer in 2009 and capped his high school coaching career with the Class 2 title in 2011 before retiring for good in April 2012.
He was inducted into the St. Louis Soccer Hall of Fame in 1984, St. Mary's Hall of Fame in 1993 and SLU's Hall of Fame in 2003. He was given the Golden Boot Award by the CYC in 2012 for his longtime service to soccer.
Fellow St. Louis Soccer Hall of Fame coach Vince Drake said Pelizzaro made everyone better from behind the scenes.
"Val was an unsung hero of high school and college soccer in St. Louis. "Drake said. "He was always in the background and I think he enjoyed being in the background as an assistant coach. Val was always a very kind and gentle man. He had such a passion for the game of soccer."
A St. Mary's graduate (class of 1951), Pelizzaro grew up playing soccer in St. Louis's golden age.
A midfielder for the powerhouse Kutis S.C. program, Pelizzaro helped his club win six Amateur Cup national championships from 1956 to 1961. In 1957, Kutis won the Amateur Cup and the Open Cup, a tournament that included professional teams. Those rosters were made up with local legends including Keough and Bill Eppy. The members of that team went on to represent the United States in World Cup and Olympic qualifiers.
Pelizzaro never went to college. Instead, he landed a job with the Postal Service. He carried letters for 39 years in south St. Louis city.
He also served two years in the military during the Korean War.