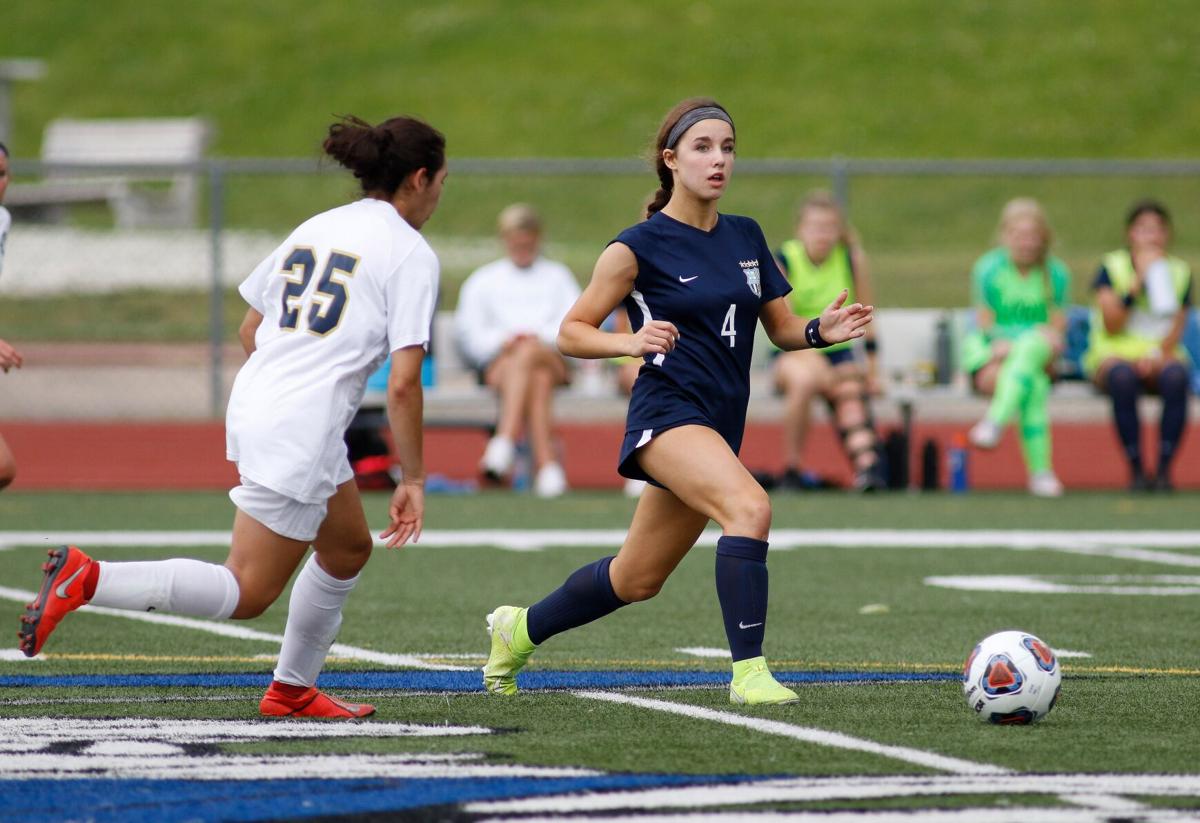 O'FALLON, Mo. — Kaleigh McPherson is a pure playmaker, and her goal-scoring St. Dominic teammates are happy she's on their side.
"She can find someone's foot no matter how far away she is from them," Crusaders junior Grace Bindbeutel said. "She's a very accurate passer. She helps us out so much. She makes so many plays happen."
McPherson, a freshman midfielder, picked up two big assists in the first eight minutes of action Tuesday night to help lead St. Dominic to a 4-0 win over Holt in a Class 4 girls soccer sectional at St. Dominic's Crusader Stadium.
"I love running at them and I like to create the plays," McPherson said. "I love feeding them the balls and when they finish it's the best thing."
McPherson now has 10 assists to go along with 12 goals for a total of 34 points in her freshman campaign.
"She's a player beyond her years that's sought after and being tracked by a lot of schools already," Crusaders coach Greg Koeller said. "She has a natural talent. She's creative and she loves running at defenses. That's where she's the most dangerous. And she does other little things that really help us out."
St. Dominic (22-0), which has now won 28 straight games since a May 10, 2019 loss to Quincy Notre Dame, advances to play at Francis Howell (19-2) in a Class 4 quarterfinal game at noon Saturday.
The Crusaders are the defending Class 3 champions and are ranked No. 1 in both the STLhighschoolsports.com small-schools rankings and the Missouri High School Soccer Coaches Association rankings, while the Vikings are the No. 5 large school and the No. 13 team in Class 4. The two teams haven't met on the pitch since 2014.
"It's going to be a fun game. This is what you dream about as a high school player," Koeller said. "We had a great crowd this evening and I'm sure Saturday between both schools it's going to be entertaining for the crowd."
The Crusaders wasted little time getting on the board with two goals in the first eight minutes and three before the first half was halfway over.
In the fourth minute, McPherson picked up her first assist when she sent a perfect through pass to Bindbeutel, who sent a shot past Holt goalkeeper Sara Sanabria for a 1-0 lead.
The goal was Bindbeutel's 21st of the season, which is second on the team behind the 29 goals by Jessica Larson, a junior who has already committed to Mizzou but is out for the season with a knee injury she suffered three games ago.
"We always talk about first 10, go forward as quick as we can," Bindbeutel said. "When I have people like Kaleigh and people in the midfield playing me balls like that, it's perfect. I don't have to do anything else but slot it in the corner."
McPherson was at it again just four minutes later when she picked up her second helper of the game on a cross pass to Camryn Collier to make it 2-0.
"Overall, Kaleigh is a really important part of our team. She'll get a ball to you wherever you are on the field," Collier said. "On that goal, she did all the work. I was just there to slide it in."
St. Dominic took a 3-0 lead on a set piece when Gabby Hennessy sent a corner kick toward the goal line, where it was deflected in by Macie Begley in the 20th minute.
Still leading 3-0 early in the second half, McPherson almost picked up what is termed a "hockey assist" when she thread another great through pass to Sophia Green, who then sent a cross pass into the box to Bindbeutel, but her blast was thwarted by a diving save by Sanabria.
Hennessy scored on a rocket from the top of the box with 16 minutes, 30 seconds left to play, but the goal was nullified by an offside call.
The Crusaders did finally get their fourth goal with 30 seconds left when Green headed in a rebound of a shot by Hennessy to put a big exclamation point on the win.
Holt (8-11), which had just two seniors this year, including Sanabria and starting midfielder Paige Sunneberg, struggled to a 2-7 start to the season, but rebounded to win six of its last 10 games, including winning a district title as a No. 2 seed.
"I think you could kind of see (the youth) in our results. Early on in the year, we were pretty terrible, and then we improved every game," said Indians coach Greg Schroeder, who is leaving Holt to become the first coach at the new North Point High School. "You can't give up three against a team like that and come back from it. But, I was happy with our effort second half. I think we left it all on the field second half and that's all you can ask for."