Breaking long winless streaks is getting to be a habit this season for the Belleville East girls soccer team.
Junior forward Gracie English scored four goals Thursday as the Lancers beat Belleville West 6-1 to snap a seven-game winless streak in the series dating to their 2-1 victory against the Maroons on April 25, 2012.
STLhighschoolsports.com rankings - 4/8/2019 Large school sLast Week1. St. Joseph's (6-0)32. Parkway West (6-0)63. Nerinx Hall (4-0-2)24. Eurek…
"It was a big deal coming out and playing as a team and beating them," said English, a St. Louis University recruit. "It was a great feeling for me because I'd never really scored that many goals in a game before. Overall, it was a good experience for me."
English leads all Southwestern Conference players with 14 goals and five assists for Belleville East (7-5 overall, 3-1 conference), which has won three consecutive games after losing five of seven.
Junior midfielder Ally Thomas also scored two goals for Belleville East against Belleville West in a game that was tied 1-1 at halftime.
The Lancers tied the Maroons last season but were 1-11-1 in the series since a 2-1 win April 23, 2008.
"Any time you can beat your crosstown rival, whether it's West or Althoff, it's always big because of the rivalry," Lancers coach James Chambers said. "We tried not to dwell on (the winless streak), but it was one of those things we brought up to the girls after the fact."
Chambers also noted Belleville East's 1-0 victory March 21 against Collinsville, which ended a 13-game winless run in that conference series. East last had beaten Collinsville 1-0 on March 30, 2010, and this season's victory was just the third for East against Collinsville in the last 32 meetings.
"It's a great feeling because we lost some games at the beginning of the season," English said. "Conference games started and we just started to play together and get used to each other."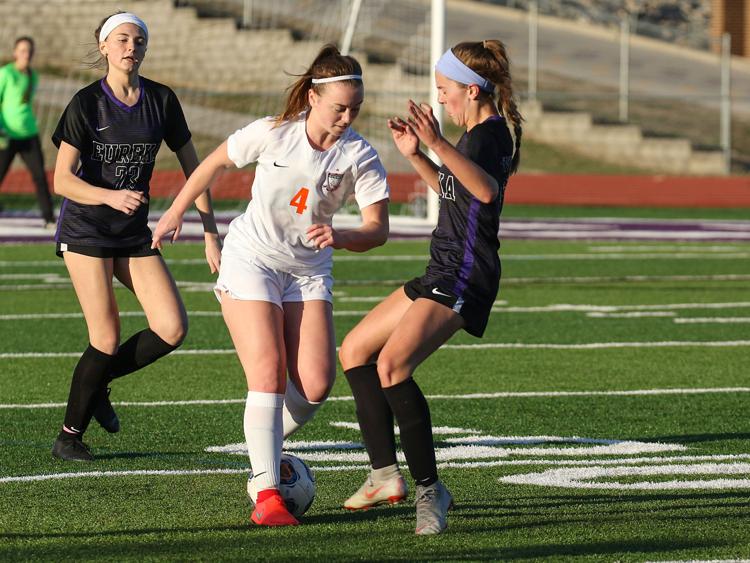 SUMMIT, EUREKA GO UNBEATEN IN ALABAMA
It was a good weekend for teams from the Rockwood school district at the Southern Coast Cup in Alabama.
The Falcons won their pool with victories over Chelsea, Fairhope and Montgomery Academy — all from Alabama.
Falcons coach Eric Hill credited the team's defense, which allowed one goal in the three games. He noted juniors Julia Martens and Sara Lawler for marking Montgomery Academy senior forward Tara Katz, a Tennessee signee, during a 3-0 victory.
"While many players stood out, I tip my cap to our back line for only giving up one goal in the tournament," Hill said.
Falcons freshman Riley Vancardo scored a team-high three goals in the tournament. Overall, six different Falcons players found the net.
Now back home, Hill said Summit is ready to resume its tough schedule against local competition.
The Falcons play host to Webster Groves at 6 p.m. Tuesday and play at Marquette at 6 p.m. Thursday in a pair of Suburban Conference Yellow Pool games.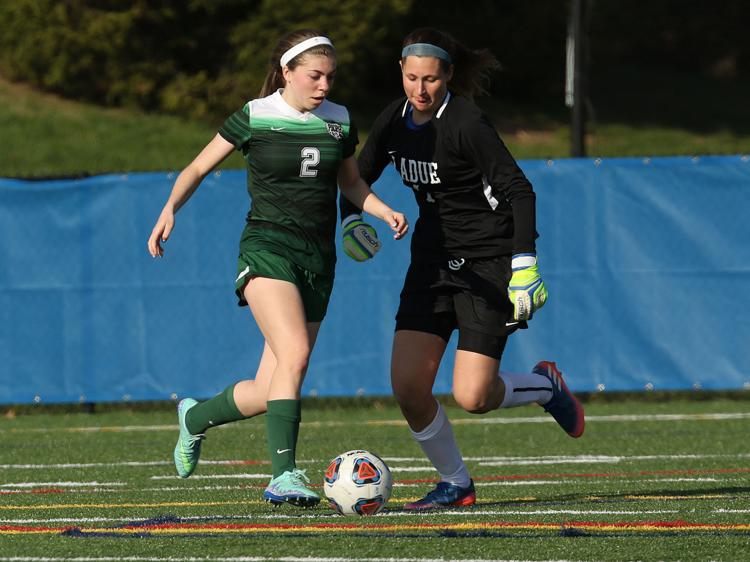 BENEDICT'S TOUGHNESS HELPS PATTONVILLE TO STRONG START
"I hated the fact that I would possibly have to sit out because I don't like watching my team fight to win while I sit helplessly on the bench," Benedict said. "Although I would have to be careful, once I got cleared by the doctor, the trainer and my coaches, I was ready to get back on the field."
Benedict (six goals, five assists) has led the offense for Pattonville (5-2-1).
Pirates coach Jason Sellers said Benedict, who scored 11 goals and added 10 assists as a freshman, has served as an inspiration for her teammates.
"We were putting some motivational signs in our locker room," Sellers said. "(They are) about success, work ethic, determination, etc., with famous quotes. As I read them, I think, 'That's Kaeli … so is that … that's her, too. Yep, that's Kaeli.'
"Kaeli is the total package — skill, grit, leadership, mental toughness, passion for the game and drive for success," Sellers added. "She's the real deal. And she cares about her teammates. When she took the elbow to her lip, she was mashed open. But she's like a hockey player — wanted to get stitched up and head back out. She just has a will and quiet determination. A few stitches later and that evening, I get word she plans to play in the next game. Sure enough, she does. Didn't miss a second. She's a beast."
The work Benedict has put in has led the Pirates to three wins and a tie in their last four games.
While Benedict's numbers have been strong, she said she feels the team's success has come from a strong bond formed by everyone on the squad.
"I believe that the biggest reason that we had a good start to our season is because of our team chemistry and the whole atmosphere," Benedict said. "For the first few weeks of the season, we had to practice inside because of the weather, but Sellers and (assistant coach) Tomi (Benney) made the best of it and pushed us to work hard, even (practicing) in a small classroom. Realizing our potential, they haven't asked for less than our best and it has brought us success. I also believe that our team bonded very quickly. We are a very young team, but our standards never dropped. Once we gelled together, great things happened."
COR JESU, ST. DOMINIC WIN ST. LOUIS SOCCER CLASSIC DIVISIONS
The annual St. Louis Soccer Classic last weekend at St. Joseph's saw one team win a division outright while a tiebreaker was needed to decide the other.
In the Green Division, Cor Jesu (5-3) won the group with 17 points. The Chargers beat Helias, Blue Valley Northwest and Granite City.
The White Division came down to a tiebreaker between St. Dominic and St. Joseph's, each with 30 points. Both teams got past Parkway South, Gibault and Oakville.
The 16 goals scored by St. Dominic, compared to the 12 by St. Joseph's, was the reason for the Crusaders taking the title.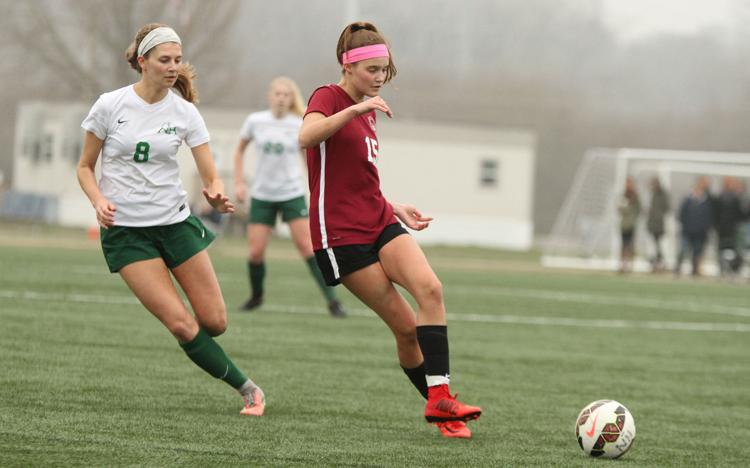 • Seckman earned the championship at the Windsor Tournament last week. The Jaguars (5-1-1) edged St. Vincent 1-0 in the title game Thursday. Junior defender Reese Wingbermuehle scored the game-winning goal and had three for the tournament.
• A big weekend by sophomore Emily Gaebe helped Union to a successful weekend in the Southwest Soccer Showdown in Springfield. The Wildcats defeated Northwest-Cedar Hill, Webb City and Glendale to win their pool. Gaebe, who has 22 goals to lead the area, scored five in Springfield.
• In a different Southwest Soccer Showdown pool, Villa Duchesne enjoyed an unbeaten weekend. The Saints played at Drury University and beat Lutheran St. Charles, Lebanon and Parkview. Katie Rodrigues scored four goals in the event.
• The Troy Tournament is being played this week. Troy, Holt, Liberty and Ursuline will play round-robin games at the Lincoln County school Monday, Wednesday and Thursday.