Duchesne's Class 1 girls soccer state championship May 30 was enjoyed by more than just the Duchesne school community.
The title also served as a final de facto championship for the soccer community of Kennedy High School, the Catholic school in western St. Louis County that closed after the 2017 school year.
Senior players Allison Seiler, Olivia Scheberle, and Lauren Reifsteck all transferred to Duchesne when Kennedy. The trio helped the Pioneers (13-8) claim their sixth state championship last week at Swope Soccer Village in Kansas City.
"Winning the title felt like one of the best feelings in the world, especially after what us players from Kennedy went through," Seiler said. "The whole situation with Kennedy closing and having to transfer was very hard, but I am so thankful to be at Duchesne now and I honestly can't imagine myself anywhere else, and I am so honored that I was able to be a part of this championship win for this amazing school and soccer program."
Seiler, a forward, was one of three Duchesne players who converted during the tiebreaker of a 2-1 penalty-kicks victory against St. Vincent in the Class 1 title game.
She and defender Scheberle started for the Pioneers in both the title game and a 2-1 state semifinal victory against Lone Jack in Kansas City. Reifsteck served as Duchesne's backup goalkeeper.
Duchesne coach Pat Turner said the Kennedy transfers were a welcome addition to the Pioneers program.
"The Celt family and Pioneer nation are cut from the same cloth," Turner said. "There is such a rich tradition with both schools. These three young ladies hit the ground running with our program, in terms of leadership and play on the field. I know the JFK community is extremely proud of them."
Seiler had a team-high seven assists her senior year for the Pioneers. She scored eight goals and had eight assists in her two Pioneers seasons.
Also, Seiler played softball as a junior and golf as a senior at Duchesne. She had played softball at Kennedy.
Scheberle, who scored one goal this season, said the smallest gestures helped the transition from Kennedy to Duchesne.
"Coach Pat gave Allison and me green captains bands as a symbol of our representation of our old school," Scheberle said, noting Kennedy's main uniform color. "Having a picture of the three captains, two of us with green arm bands, circulating in the newspaper and over the internet was awesome because it is a permanent reminder of the two teams being represented."
MSHSAA RETURNS GIRLS SOCCER FINALS TO GATEWAY CITY
Missouri's girls soccer state tournament is returning to Soccer Park in Fenton in 2021. A five-year contract to have the tournament at Swope Soccer Village in Kansas City ends next year.
The last time the girls soccer state tournament was at Soccer Park was in 2011. The boys soccer state tournament has been at Soccer Park since 2015 and has a renewed five-year pact from 2020-24.
"In looking at the proposals and crunching the numbers, it made more sense to move everything back to the Soccer Park in what they had to offer compared to what Swope offered," Missouri State High School Activities Association communications director Jason West said.
West said having multiple turf fields at Soccer Park could come in handy, especially if the number of classes would expand.
Girls and boys state tournaments have used different schedules since the 2015-16 school year. The girls tournaments have been played over four days in late May and early June — classes 1 and 2 played over two days, classes 3 and 4 following over two days. Boys tournaments have played successive weekends at Soccer Park, classes 1 and 2 one week, then classes 3 and 4 the following weekend.
Previously when Blue Springs and Blue Springs South hosted the tournaments, all were played at different sites over two days of each corresponding season.
"Swope Park has been a great venue, everyone there has done a great job," Summit coach Eric Hill said. "It'll be nice to see the tournament back in St. Louis, where there is a big fan base. I think it'll be easy to predict crowds (of St. Louisans) will be larger."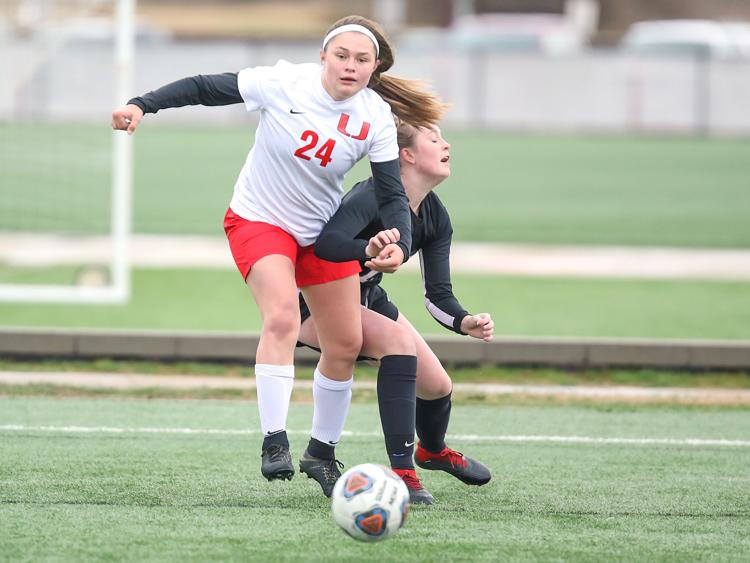 UNION'S GAEBE AIMS FOR HIGHER GOALS
Union settled for a second consecutive fourth-place showing in the Class 3 state tournament Saturday.
Wildcats sophomore forward Emily Gaebe finished with area-best totals of 51 goals and 120 points this season when she scored in 4-1 loss in the third-place game against Kearney.
"This was a vintage game from Emily," Union coach Matt Fennessey said. "She went up top and she got us those scoring chances. We're getting the kind of production we need from her."
Gaebe finished with four more goals and 11 more points than anyone else in the area. That followed a freshman season in which she tallied 62 goals and eight assists.
Union (26-3-1) fell 2-0 in the semifinals to Summit on a pair of second-half goals before losing to Kearney.
"You have just got to work hard," Gaebe said. "That's what I want. I want to be back here next year, working harder, getting further. Hopefully, we're in the championship game."