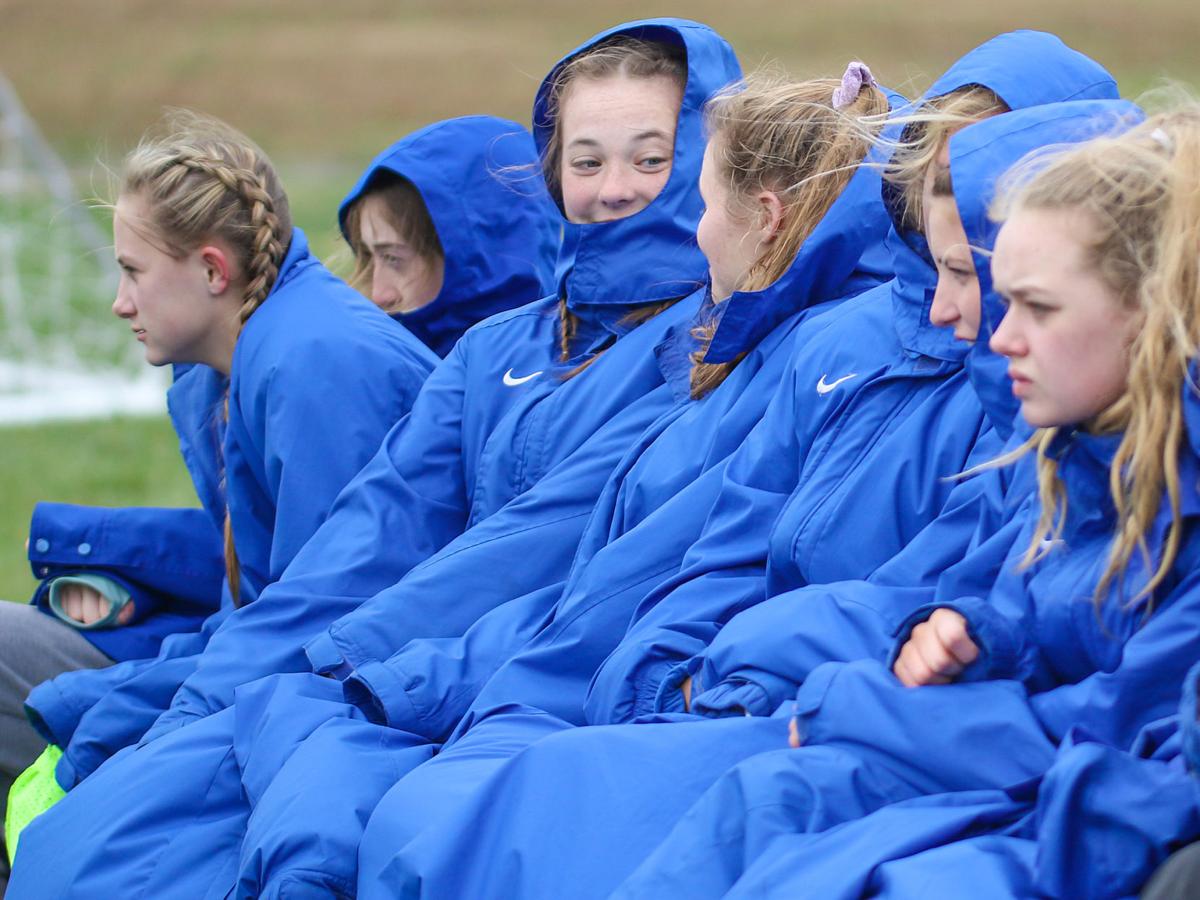 The second day of the 18th annual Parkway College Showcase at Lou Fusz Soccer Complex forced teams to deal with some pretty harrowing conditions.
A cold front moving through the area Saturday brought rain throughout the morning that turned into freezing rain, sleet and a chilly blast of wind by afternoon.
STLhighschoolsports.com rankings - 4/1/2019 Large schoolsLast Week1. Eureka (4-0)12. Nerinx Hall (1-0-1)23. St. Joseph's (2-0)44. O'Fallon (7-…
"I've played soccer in every condition, even snow, and this was the worst ever," Blue Jays senior defender Taylor Bauer said. "The wind and rain burned when it hit you. Every time you moved, it felt like you were moving in slow motion."
Rock Bridge beat Ursuline 4-1 behind a pair of Caroline Cole goals, but Bruins coach Scott Wittenborn agreed it was a rough afternoon on the road.
"The worst thing for us was with our goalie," Wittenborn said. "At halftime, she came over and she was shivering and her hands hurt so bad because they were frozen. At halftime, we talked about how it was cold for everybody and to just forget about it."
One problem the Bruins faced, Wittenborn said, was a lack of proper equipment for the frigid conditions.
Still, Rock Bridge did the best it could, beating both Seckman and Ursuline.
"It was in the 60s Friday and the weather report said 60 for Saturday, little did we know that the 60 was going to be just after midnight," Wittenborn said. "We had a bunch of girls that weren't really prepared. We had girls who didn't bring their heavy jackets. We kind of threw things together in a hodge-podge to get by. The one thing I liked was that the girls really came together and worked as a team to get through."

CONFERENCE RIVALS COME TOGETHER TO HONOR WOMEN
Ursuline celebrated March being Women's History Month with a special game against Metro Women's Athletics Association rival St. Joseph's.
In the Angels' 2-0 win March 27, players on both sides wore special jerseys with the names of women who have inspired them.
"I reached out to St. Joe's to see if they would be interested," Ursuline athletics director Jen Brooks said. "They jumped on board right away."
St. Joseph's junior Mallory Kimes said her selection was simple.
Kimes chose someone who has shown her how to live life to the fullest, she said.
"I picked my great aunt because she's 101 years old," Kimes said. "(She) inspires me everyday to live happy and play strong."
Names of those honored ranged from players' relatives to famous female soccer players to dignitaries outside of the game such as Serena Williams and Michelle Obama.
Ursuline junior Katie Higgins said her goal is to be more like the woman whose name adorned the back of her jersey.
"The person who is on the back of my jersey is my mom," Higgins said. "I chose her because she has really taught me to be the person I am today. Everyday I am learning new things about myself through my mom, and she has always taught me that. She is a loving, hardworking, and very positive person who I am trying each day to be like."
ONE-TWO PUNCH LEADS BREESE CENTRAL TO SOLID START
When you have the top goal scorer and goalkeeper in the area, you're gong to be very tough to beat.
That is the case for Breese Central headed into play this week as the Cougars (6-0) have the area's top goal scorer in freshman Ocean Reinhardt (15 goals) and top keeper in terms of goals against average in freshman Madison Ashford (6-0, 0.00 goals against average).
Ashford leads a group of goalkeepers who have played the equivalent of two games or more who all have a 0.00 goals against average. Hancock keeper Jayla Coleman (3-0-1) is next on the list with 325 minutes of shutout soccer.
Central, which finished 5-13 one season ago, has outscored the opposition 33-0 in wins over Greenville, Staunton, Salem, Metro-East Lutheran, Centralia and Gillespie.
Reinhardt isn't alone accounting for the Cougars' offense as freshman Rachel Beer and sophomore Alyssa Santel have six goals apiece.
Central's unbeaten streak will face a serious threat at 6 p.m. Tuesday it heads to Columbia for a Cahokia Conference game.
HANCOCK GOES UNBEATEN IN HOME TOURNAMENT BEHIND LICEA'S STRONG EFFORT
The Hancock Tournament helped the host school get off to a strong start this season.
After beating Medicine and Bioscience to start the season, the Tigers (3-0-1) earned wins over McCluer South-Berkeley and Bayless and played to a scoreless tie against McCluer.
Of the seven goals, four were scored by Nancy Licea as she tallied a pair in the wins over Berkeley and Bayless.
"She was a wrestler during the winter and has brought that bulldog, ultra competitive attitude to the soccer field," Hancock coach Bob Brotherton said. "Nancy got an opportunity in our third game, grabbed it, and has done well with it so far."
As strong as Licea has been, Hancock has had a strong performance by goalkeeper Jayla Coleman (3-0-1, 0.00 GAA, 16 saves).
• The Parkway College Showcase was chock full of outstanding performances. For a full leaderboard of statistics from the event as reported to STLhighschoolsports.com, click here.
• At least three tournaments take place in the area this week — Windsor (co-hosted by Seckman; championship game 6 p.m. Thursday at Windsor); Public High League (multiple sites; championship game 5 p.m. Friday at Gateway STEM); and St. Louis Soccer Classic (Friday and Saturday at St. Joseph's).
• Eureka and Summit will compete in the annual Southern Coast Cup in Foley, Ala., for the second consecutive season. Both teams play games Thursday, Friday and Saturday.