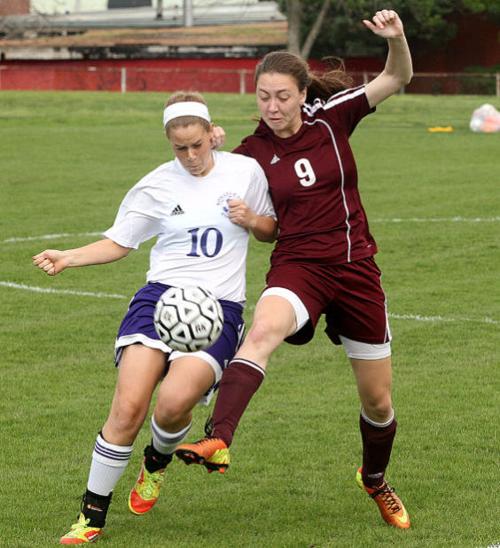 When the Missouri State High School Activities Association moved the soccer champions from Soccer Park across the state to Blue Springs, there was and continues to be plenty of grousing from the locals. Soccer folks in these parts are protective of the game, its heritage and what it means to St. Louis.
For all those that have crabbed about moving the championships, Rosati-Kain coach Bill Taylor is in the minority. He actually embraces the road trip.
"I like it," he said. "You don't get the draw and the fans. The crowd is mostly made up of friends and family, but there's no one else we'd rather play for."
Taylor and his team relish hitting the road and squeezing every last second out of their time together. If you're still practicing this week, you're on borrowed time. The only question is, what trophy are you going to bring home?
Last year, the Kougars (18-6-1, No. 9 small school in the STLhighschoolsports.com rankings) brought home the Class 2 runner-up trophy after falling 1-0 to St. Dominic.
This time around Rosati-Kain is dreaming bigger, and to make that dream a reality it will have to find its way past Helias (16-8) in a Class 2 semifinal at 2 p.m. Friday at Blue Springs High School. The Crusaders, like the Kougars, are making a return trip to state. They were beaten in the semifinals last season by St. Dominic.
Having been there and done this before, both teams can push the mystique of making it to state aside and go about their business.
"It's kind of like a dream," Rosati-Kain goalkeeper Katy Kessler said. "When you get there, you find out it's real and you have to go out and play the game like you know how."
This spring the Kougars have forged ahead with the mantra that they want another crack at the state title game. Everything they've done has been with that goal in mind. It's something that pushed them even when things weren't going so great to start the season. It's what kept them chugging along when the roster was being depleted day after day with one injury stacked on another.
"We were suffering from injuries," Taylor said. "We were down four starters at one point. We told them everything we were doing was in preparation to peak at the end of the year. Sometimes that means you go through rough patches so you can shine."
As the season progressed, the Kougars started looking less like a MASH unit and more like a futbol team. With each passing day, another body would be fit to play and begin the process of getting into game shape. Just as districts were about to start, the Kougars found their stride.
Rosati-Kain has won eight straight matches and is unbeaten in 16 of its last 18. Since the district tournament began, the Kougars have been suffocating defensively. They haven't allowed a goal in four win-or-go-home games and have scored 30 goals against their opponents.
"I love a shutout more than anything," Kessler said. "The defense has really come together."
Offensively Rosati-Kain relies on several players to push the attack. Chief among them is wing midfielder Kady Dieringer, who leads the team with 13 goals and is tied with Sarah Schott with a team-high 11 assists.
Dieringer said the strength of this team is its depth and trust in one another. Despite being the top scorer on the roster, she doesn't feel pressure to go get a goal when she has teammates who have proven, time and again, they can get the job done.
"We have plenty of people that can and have scored all year," she said.
This is an experienced group as it graduated four players from last year's runner-up team. Almost everyone else came back and got a taste of the big stage and the spotlight. Taylor said that these players feed off each other in a way that he finds endearing. It's one of the main reasons he doesn't mind going across the state to play in the state semifinals.
The girls are looking forward to it.
"These girls love being with each other and spending time together," he said. "The more they can spend time together and travel, the better off we are as a team."
STLHighSchoolSports.com is the most comprehensive source of stats, scores and stories from any and all area high schools.