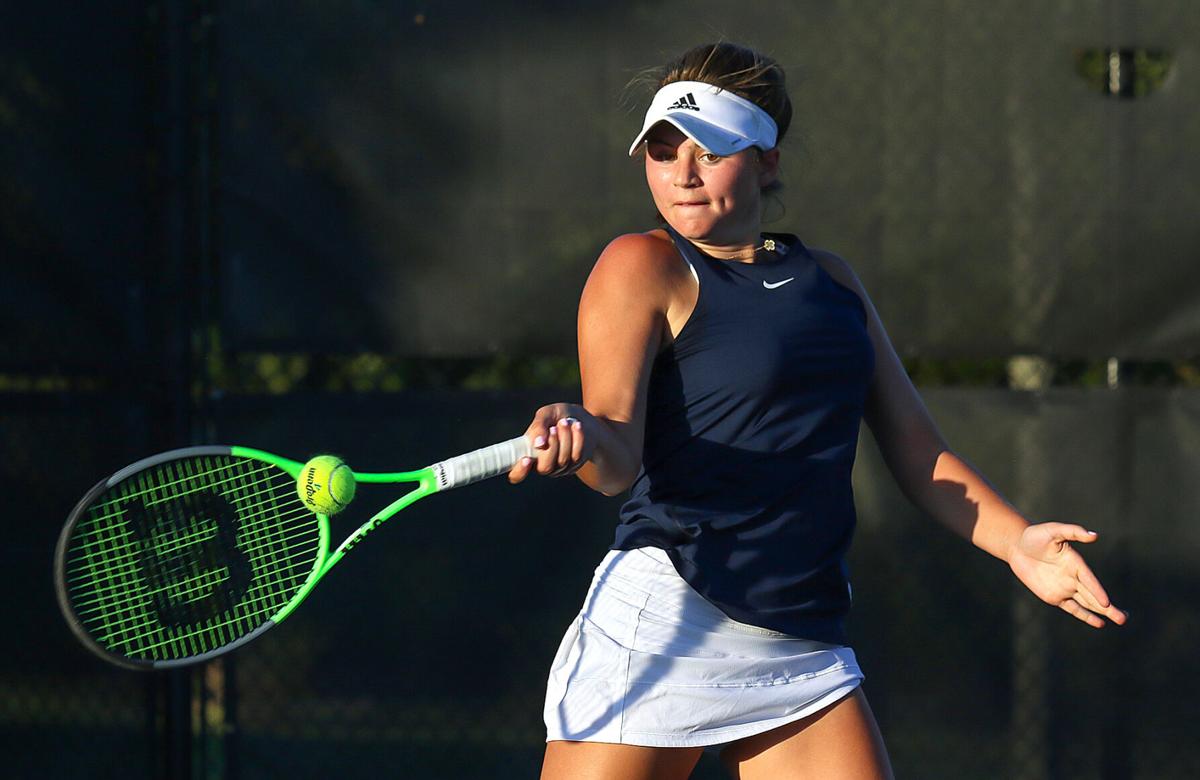 John Burroughs senior Emily Kantrovitz said she was happy with the rain — and more than happy with the results of her final high school tennis tournament.
All of the Class 3 and Class 2 matches in the Missouri girls tennis individual state tournament Thursday and Friday were played indoors at Cooper Tennis Complex in Springfield because of rain.
Kantrovitz took advantage of her favorite conditions and won the Class 3 singles championship Friday, defeating two area standouts.
"I love playing indoors," said Kantrovitz, who will be playing college tennis next year at Emory University in Atlanta. "I hit a flat and hard ball and it plays to my advantage to play with no wind."
Kantrovitz defeated St. Joseph's Academy's Abby Gaines 7-5, 6-1 in the semifinals Friday morning before topping Parkway South's Khayli Buckels 6-0, 6-4 in the championship match.
"Abby is a terrific player and I knew I would have to play my "A" game to beat her," Kantrovitz said. "I played my best tennis for sure in that match. It could have been difficult to play again coming off a match like that. But I knew it would be important to stay positive and focus on the mental side."
Kantrovitz carried over that momentum in the first set of the final against Buckels, who defeated Maggie Lin of Rock Bridge 6-2, 6-2 in her semifinal match. Kantrovitz won the first six games of the title match and then the last six.
Buckels led 4-0 and had a game point for a 5-0 lead. But Kantrovitz pulled out the game to avoid going down 5-0 rode that momentum to the title.
"I knew I had to refocus," Kantrovitz said. "I am not a fan of the 10-point tiebreaker."
Had Buckels split sets, a 10-point tiebreaker would have been used in place of a third set to determine the state champion.
Also in Class 3 singles, Sahana Madala of John Burroughs finished fifth, giving the area four of the top five finishers in that draw.
Kantrovitz was the only area player to win a state title in either Class 3 or Class 2.
St. Joseph's senior Ellie Choate fell one victory short of becoming the first player in state history to win four girls doubles championships. Choate and fellow Angels senior Bella Hong lost in the Class 3 doubles final 6-2, 6-0 to Aliya Rector and Leisana Rector of Lee's Summit West.
Mikaela Mikulec and Rachel Li of MICDS won the Class 3 girls doubles consolation title. A consolation title needs four victories, as many as a state champion. Mikulec and Li's only loss came to the state champion Rectors, 3-6, 6-4, 10-8. Mikulec and Li defeated Visitation's Suzanna McLellan and Flora Eidson in straight sets in the consolation final, 6-3, 6-3. St. Joseph's freshman Ashley Behan and Ali Kennedy earned medals, finishing seventh in Class 3 doubles.
Barstow swept the Class 2 singles and doubles championships. Sarena Biria lost just one game in her four state matches in capturing the singles title. Her sister, Aira Biria, teamed with Phoebe Martin to win in doubles.
Four players from four different area schools won medals in Class 2 singles: Ladue's Megan Ouyang (third); Cor Jesu's Elena Davis (fifth); Parkway Central's Emily Heller (sixth); and Parkway North's Yvonne Shannon (seventh).
In Class 2 doubles, Parkway Central's Chava Hahn and Hayley Lerner defeated teammates Brenna McLain and Maggie Huff in the third-place match. Katie Cooper and Katie Pekic gave Cor Jesu a sweep of the Class 2 consolation titles, and Cor Jesu's Maria Klevorn and Virginia Jost finished eighth.