JEFFERSON CITY — Brayanna Washington didn't get a chance to go to her graduation Thursday night.
She was too busy helping Cardinal Ritter win the Class 5 girls track and field team state championship at Jefferson City High School's Adkins Stadium.
"This was definitely worth it," Washington said.
Missouri track and field state meet scoreboard
The team championship was the first in program history for the Lions.
Cardinal Ritter won with 64 team points. Lee's Summit West (58), Blue Springs (43.5) and Rock Bridge (37) rounded out the top four teams. 
"It sounds really unbelievable," Cardinal Ritter coach Tiffany Spain said. "We've been working our behinds off all season, even before the season. We had a couple of hiccups (Thursday) morning, but it's so unbelievable. It all worked out."
Cardinal Ritter finished second in Class 3 in both 2017 and 2018 and then was fourth in 2019.
So Washington was glad the Lions earned the championship in her last act as a Cardinal Ritter student.
"To finally win as a senior, it's awesome," Washington said.
Cardinal Ritter won the 400- and 800-meter relays. Freshman Aniyah Brown won the 100-meter dash with a meet record time of 11.77, while Washington finished sixth with a 12.35. 
Brown also won the 200 in a class meet record of 24.08, while fellow freshman Brooklyn Brady finished fifth in 25.27. 
A nationally ranked runner, Brown performed just like that in her first state meet. She also was on the 800 relay.
"She doesn't know anything about state or being part of Class 3 or 5," Spain said. "This is just another day in the office for her."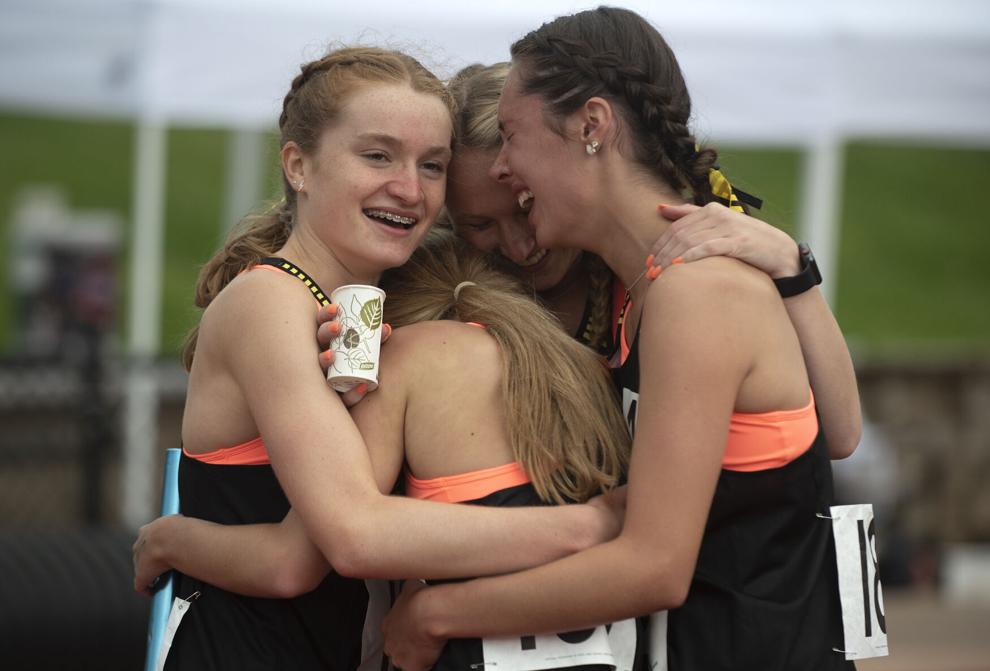 LAFAYETTE GETS A DISTANCE PAIR
The special black uniforms struck again for the Lafayette distance runners .
Sporting the uniforms they wore in November for the cross country state meet, Lafayette's 3200-meter relay team captured the championship with a time of 9:36.47.
"I think they hold that magic that no other uniform has," Lafayette senior Hope Ware said.
The Lancers wanted to keep up their standards after winning the team state championship in cross country.
"We used to the motto that pressure is a privilege," Ware said. "We knew we had a target on our backs this year, so we just worked hard and tried different things and all that hard work paid off."
Lafayette held a slim lead after the first two legs, and when Grace Tyson took the baton for the third leg, she shot out like a rocket. The speedy sophomore overtook the pack and put some distance on the rest of the field in no time.
"We had a goal for each leg to do something and that was my leg to get a lead and hand it off," Tyson said. "I needed to get out in the lead and that's what I did."
Senior Madison Slater held off a furious charge by Eureka to grab the state championship for the Lancers.
"The whole team did great to put me in a good spot, so I just had to bring it home," Slater said.
Tyson kicked off the meet by winning the individual 3200 race, holding off MICDS sophomore Julia Ray with a time of 10:41.08. Ray crossed in 10:41.12. 
"I'm so happy with how this race turned out," Tyson said. "I like going out that fast. I know some of the other girls aren't used to that but have a great kick, which is something I'm not good at. It's good to get a little lead to help me out in the end."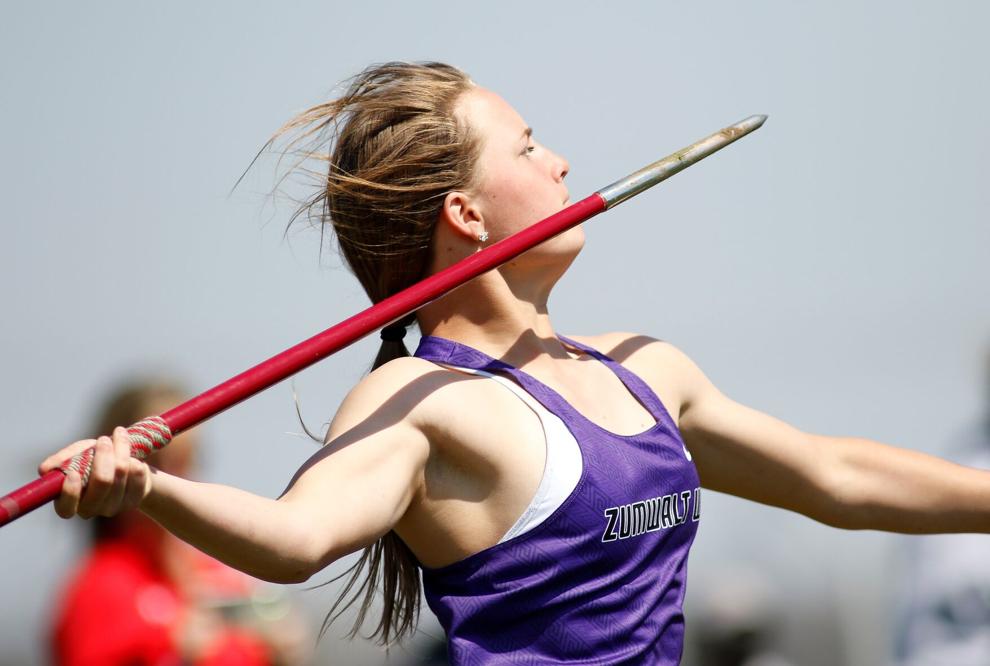 CRENSHAW BIDS JAVELIN ADIEU WITH A TITLE
Julia Crenshaw is used to throwing. The Fort Zumwalt West senior has done it all her life on the diamond as a standout softball player.
But for throwing a javelin, she admits that it's not the best.
"My arm just kind of whips it out there," Crenshaw said.
The form was good enough for Crenshaw as she captured the championship with a throw of 46.16 meters. 
"It felt great," Crenshaw said. "I knew coming in that I was ranked top, but I knew with the weather and that anything could happen."
Eureka senior Elizabeth Bailey was the runner-up with a throw of 40.98 meters.
During warmups, Crenshaw said she didn't feel her best. But she buckled down when it mattered most. 
Three years ago when she started throwing, it was a struggle with form and getting it to stick.
"I was really mad at myself when I started because I couldn't get it to stick," Crenshaw said. "Once I got it to stick, it was all downhill from there."
Crenshaw will be hanging up her javelin when she graduates before going off to the University of Missouri for softball.
"It was a great career at West, and I'm hoping to bring that success with me to Mizzou," Crenshaw said.
MAUPIN USES EXTRA TIME TO CAPTURE A STATE TITLE
She felt the fatigue as she lined up for her next jump.
But when lightning cracked across the sky, Eliza Maupin looked at it as a blessing. 
"It gave me a little rest because I was feeling a little sore," Maupin said.
The Webster Groves junior made the most of a two-hour lightning delay, capturing the championship in the high jump, setting a new meet record at 1.72 meters. 
"It's amazing. I love it," Maupin said. 
She admitted that even before the delay, it took her a few practice jumps to get into the groove. 
But once she got into the groove, she was never going to give it back. 
"I prepared myself a little bit more knowing there was a little bit of a gap. in between jumps," Maupin said.
While she's just a junior, Maupin hasn't thought too far forward about potentially repeating as state champion next season.