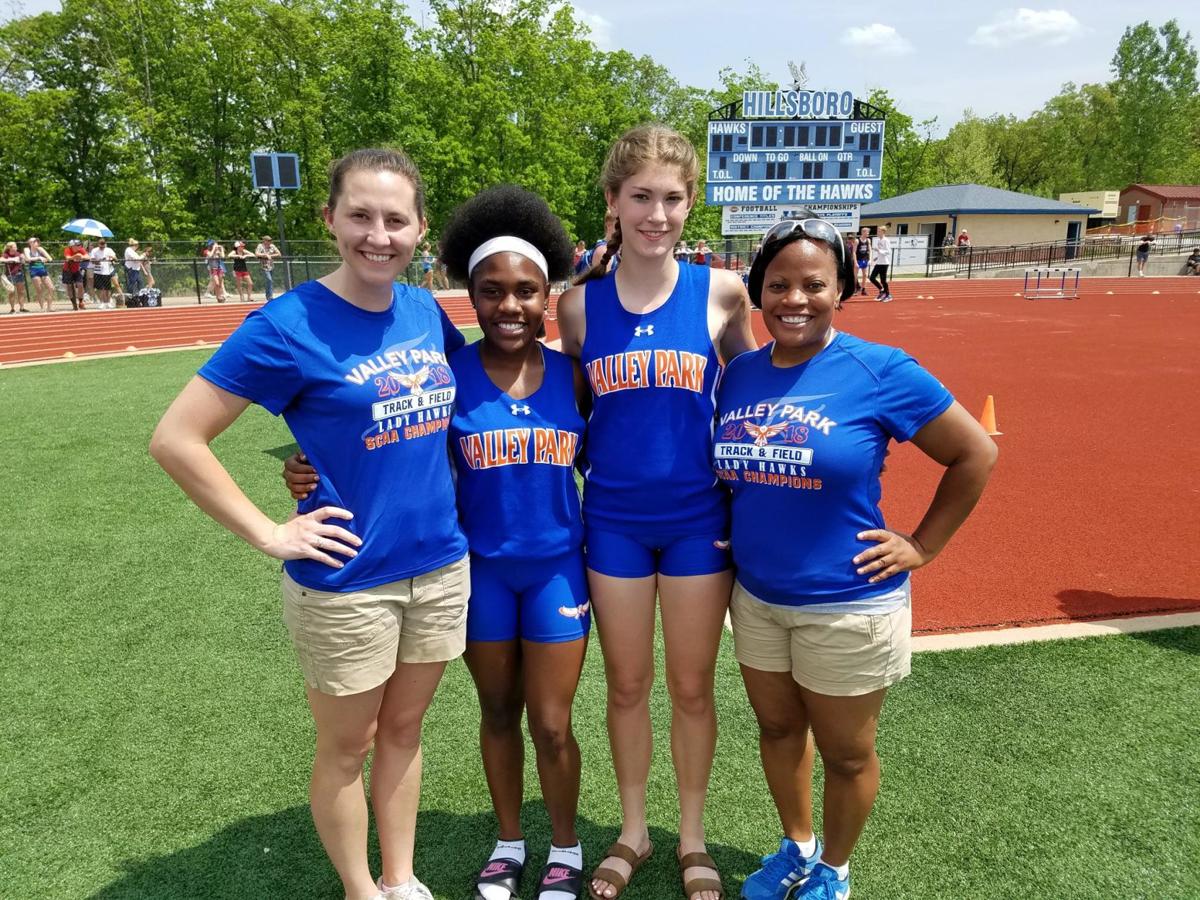 Latonya Davis saw four feet of hair and shook her head.
Standout junior sprinter Keosha Rogers arrived at practice with a long, luxurious and magnificent mane of braids that went all the way down her back.
The Valley Park boys and girls track and field coach, Davis' first thought was the heavy locks would affect the clock. Though pretty, the braids are heavy and that's not ideal for a sprinter.
"I didn't think they'd make me slow," Rogers said.
At the Hawks next meet, Rogers raced with the braids and took second in the 100 meter dash, her best event.
"She got second and she was mad she got second," Davis said.
So Davis made Rogers a deal.
"I said 'You take those out and I'll have my beautician style your hair after the season,'" Davis said.
Rogers gave up her braids and now she's in the mix to win a Class 2 state title Friday and Saturday at the championship meet at Jefferson City High School.
Rogers and high jumper Jilane Pederson, also a junior, will represent Valley Park at the state meet. That Valley Park has athletes at state is a testament to Davis. She founded the program in the spring of 2016 and began with 10 athletes. Last year the Hawks had eight athletes on the team. Pederson was the only girl.
This spring Valley Park's program exploded. Davis had 10 boys and a whopping seven girls. There were so many kids Davis asked the school administration for an assistant coach for the first time in program history.
"It's really exciting. Freshmen year there were a handful of us," Pederson said. "Sophomore year there was even less of us and now we have so many people. It almost made me cry."
The school purchased new sweat suits for the team as well as a tent to keep the athletes out of the elements at meets. Valley Park had a tent two years ago, but it wasn't in great condition and didn't make it through the first month. With so few athletes the Hawks usually made themselves at home in the bleachers at meets last season. When it rained, Davis said St. Vincent would often let the Hawks huddle under its tent.
But now Valley Park has the things that are standard for most programs.
"Our (school) board is pretty excited. Seeing how we've grown and developed over the years it's pretty darn cool," Davis said. "They recognize our track team because we've worked so hard to get where we are."
This season has been a banner one for Valley Park. The girls won the South Central Athletic Association meet to become conference champions one year after having just Pederson. Rogers, a junior, joined the team in the spring and has been sensational. She and freshman Kaylah Petty were a tough tandem to beat in the sprints and jumps.
"They both got a lot of points at the conference meet," Davis said. "We went from one girl to conference champs in one year."
Hair aside, Rogers has been a revelation. The 5-foot-4 speedster won the 100 at the sectional meet when she finished in a personal best 12.14, the top time in Class 2.
Rogers nipped Petty in the 200 at the district meet to finish fourth and grab the last qualifying spot for the sectional. She then took fourth at the sectional meet too and advanced to state in a personal best time of 26.83 seconds.
"I think track will get me somewhere in life because I'm good at it," Rogers said.
Rogers is now the first girl in program history to qualify in two events. Pederson is the first girl to qualify for state in back-to-back seasons after she took fourth in the high jump last year when she cleared 5 feet, 1 inch.
"I'm excited because I get the chance to break my record," Pederson said. "But it's also kind of nerve wracking because what if there's someone we don't know about who's better?"
Valley Park narrowly missed having another state qualifier. Junior Carson Sears finished fifth at sectional in the triple jump. He jumped a personal best 41 feet, 10 inches to narrowly finished behind Charleston's Jeremy Tucker, who won the fourth and final spot by going 41-11.75.
That Sears was that close is incredible when you consider Valley Park does not have a track or track specific facilities on its campus. The Hawks practice most days on the asphalt track at Rockwood South Middle School. Since the postseason began Summit has made room for the smaller Hawks on its state-of-the-art track, but most of their preparation comes in unconventional ways.
"Jilane qualified for districts in high jump and we don't have a high jump pit," Davis said. "Carson qualified in triple jump at districts, we don't have a triple jump pit. That says a lot."
Davis built the program and put it on the right path, but will not be around to see how it grows. She is moving to Florida this summer and leaving her position as a physical education instructor at Valley Park Middle School.
"It's time for a fresh start," Davis said.
Her newly hired assistant, Rachel Ross, said there is a possibility she could assume the top job. but that has not been determined.
"It's really hard to leave my baby," Davis said. "The hardest thing was to tell (the kids) that I was leaving."
LADUE'S LAST GASP LETS IT SPLIT DISTRICT TITLE
Nick Buckvar figured it would come at some point.
The Ladue High boys track and field coach, Buckvar has stressed to his team all season that the 1,600-meter relay would decide a meet. He just didn't know it'd be the district meet.
Ladue won the 1,600 relay to tie Parkway Central at 180 points and split the Class 4 District 3 championship Saturday at MICDS.
"I told our guys before the race that the district championship would be determined by the 4x4," Buckvar said.
The final event of each meet, the 1,600 relay is special to Buckvar who is a Ladue graduate and in his first season atop the track program. The race means so much to Buckvar that he had alternate jerseys made specifically for Ladue's 1,600 relay runners. The special uniforms are worn only by the four athletes competing in the 1,600 relay that meet.
Ladue's Dale Chesson, Collin Clark, Markeith Crawford and Mile Price finished in 3:26.41 to edge Riverview Gardens, which was the runner up in 3:26.55. The win gave the Rams 10 points while Parkway Central earned six by finishing third. It was enough to push Ladue into a tie.
"We weren't sure if we won by one point, lost by one point or tied," Buckvar said. "(My kids) were excited. We had some things not go our way, but we got points from all over the place."
Senior Matthew Shenouda finished fifth in the triple jump and did not advance to the sectional meet. But by finishing fifth he scored four points. Sophomore Ravon Brown made it over 5-10 on his final attempt in the high jump to score six points that Ladue wasn't expecting.
Senior thrower PJ Hensley won the discus with a personal best of 144-6 on his final attempt. Buckvar said it was eight feet better than his previous best throw. If Henlsey finishes closer to his previous mark of 136, he would have ended up either third or fourth and not picked up 10 points that proved crucial.
That the meet was held at MICDS may have helped the Rams. With its campus under construction, Ladue hasn't practiced at home since early April and instead has put its work in at MICDS which opened its facility to its neighbor and friendly rival.
"Our kids felt comfortable there," Buckvar said.
They'll be comfortable on Saturday, too as MICDS hosts the Class 4 Sectional 2 and the Class 5 Sectional 2 meets.
BELLEVILLE WEST ROLLS TO SECTIONAL TITLE
La'Qwasia Stepney dominated the 100- and 300-meter hurdles and Jessica Coughlin was strong in the 100-, 200- and 400-meter races as Belleville West won the Class 3A sectional at Danville last week and will send a healthy contingent to the state meet Thursday through Saturday at Eastern Illinois University in Charleston.
West scored 113 points followed by Belleville East (76), Danville (61) and Edwardsville (55). According to the IHSA website it's the second sectional title for Belleville West and the first since 2012 when the Maroons finished second in Class 3A.
Stepney, a junior, took sectional titles in the 100 hurdles (14.37), 300 hurdles (44.67) and qualified for state with a third-place finish in the triple jump (36-11).
The 100 hurdles remained one of the area's best events as West's Kelvi Searcy was the runner up (15.03) and Belleville East's Aaliah Thomas was third in 15.26.
Coughlin, a sophomore, won the 400 (57.11) while finishing third in the 200 (25.13) and fifth in the 100 (12.46).
Senior Brittany Walker qualified for state in the long jump with a third-place finish (17-9). Junior Kiyarah McMillian also made it to state with a sixth-place finish in the 100 (12.54). Senior Teonna Davis also qualified for state with a fifth-place showing in the 200 (25.88).
The Maroons won the 400 relay (48.18) and 800 relay (1:42). Belleville East was the runner up in both events.
DUPO'S GILL PUNCHES STATE TICKET
For the second consecutive season, Dupo will be represented at the state meet.
Dupo sophomore Annalese Gill took top honors in the shot put with a toss of 35 feet, 3.5 inches. She'll make the same trip Julie Snider did last season after she qualified for state in the discus.
Kenny Spisak and Bryce Chadduck made it to state on the boys side last season. Chadduck, now a junior, will try to make it back-to-back trips when he competes in the Chester sectional on Wednesday.
Tasha Crockett is the only girl to medal at the state meet for Dupo. She finished eighth in the high jump in 1994.
Matt McDonald was the last Tiger to medal at the state meet when he finished fifth in the high jump in 2012.