CHARLESTON, Ill. — Abby Venhaus wouldn't have had a disappointing career if she didn't become Columbia High School's first track and field state champion Saturday.
But the senior definitely felt a little urgency going into the 10th and final state event of her career.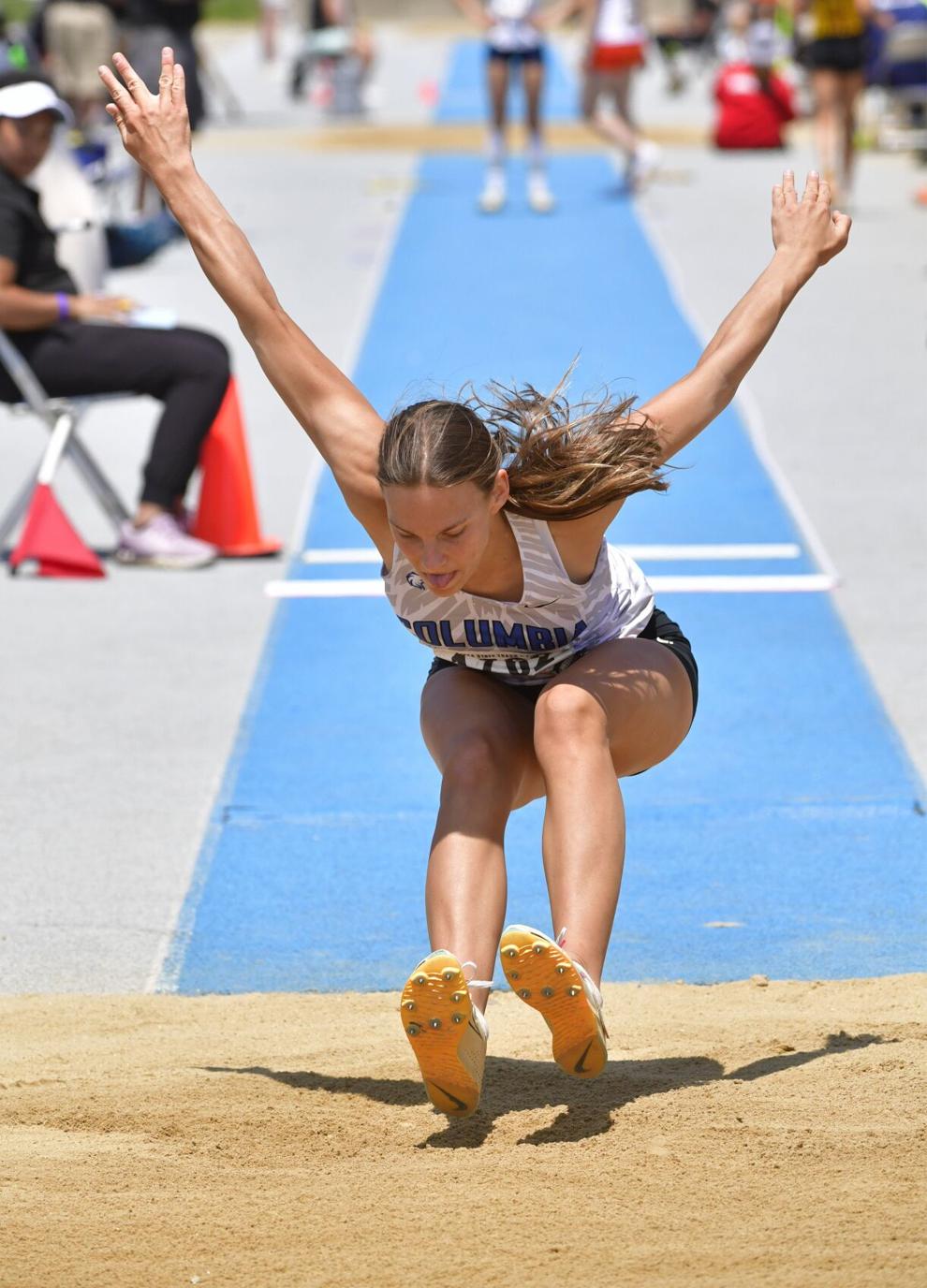 "Since this is my last high school meet, I couldn't sleep (Friday) night," Venhaus said. "My brain was just wired thinking about what I came to do, what I should do and how I should do it. I couldn't stop thinking about track last night."
Venhaus won the Class 2A triple jump crown in the Illinois girls state meet at Eastern Illinois University's O'Brien Field, where she will continue her career.
Sitting second after Friday's preliminaries, Venhaus took the lead on her first attempt with a jump of 11.56 meters that nearly equaled a personal-best 11.57 she set a week ago at a sectional meet.
The effort stood up and made Venhaus the Eagles' first track champ, be it in the girls or boys state meet.
"I've done track my sophomore, junior and senior years and made it to state for a variety of events, but I've never placed anything higher than fourth," Venhaus said. "I was stuck in this fourth loop for a couple of years, so this is nice."
Venhaus finished fourth in the long jump as a sophomore and junior and was sixth in triple jump last season.
She also finished seventh in the 100 meters as a sophomore.
The triple jump was the final chance for Venhaus in her final season. She finished eighth earlier Saturday in the long jump and did not advance from preliminaries Friday in the 100 and 200.
"We knew she was capable of it," Columbia coach Mike Hall said. "She's been up here every year. She's been coming up here, she's been in the finals every year. She's definitely a hard worker, she keeps her head on straight. She's just a wonderful person."
Venhaus was very consistent in her triple jump series in the finals, which was not how she performed in the prelims Friday.
She fouled two attempts but advanced by landing a jump of 11.06 meters.
On Saturday, she opened with her 11.56 and followed it up with marks of 11.47 and 11.46. Sterling senior Alice Sotelo, who led after prelims with an 11.37, finished as runner-up.
"This is all I could've asked for," Venhaus said.
Edwardsville's Morningstar does it again
Edwardsville High senior Kaitlyn Morningstar has stuck to a pretty logical formula for success at the state meet. She consistently has performed her best in the final event of the season.
Morningstar did it again Saturday and earned her third but best state medal by finishing third in the Class 3A discus, thanks to a personal-best throw of 43.79 meters.
"It was my best series (of throws) of the season by far," Morningstar said. "I had a 10-foot (personal record) and at sectionals I Pred, too. I had a really good series there, so I just continued that. To get even better at state when it really counts feels great. I PRed at all my state meets, so I'm really proud of that."
She was seventh as a sophomore and sixth as a junior before moving up the leaderboard to third.
Morningstar's 43.79 came on her opening attempt in Friday's prelims and placed her second going in Saturday's finals. She also had a 41.95 in the qualifying round.
On Saturday, the Tigers senior hit marks of 40.89 and 41.54 before a 35.51 to close her career.
"Coming into this season, definitely one of the goals was top three in state," Morningstar said. "And to be able to do that feels great."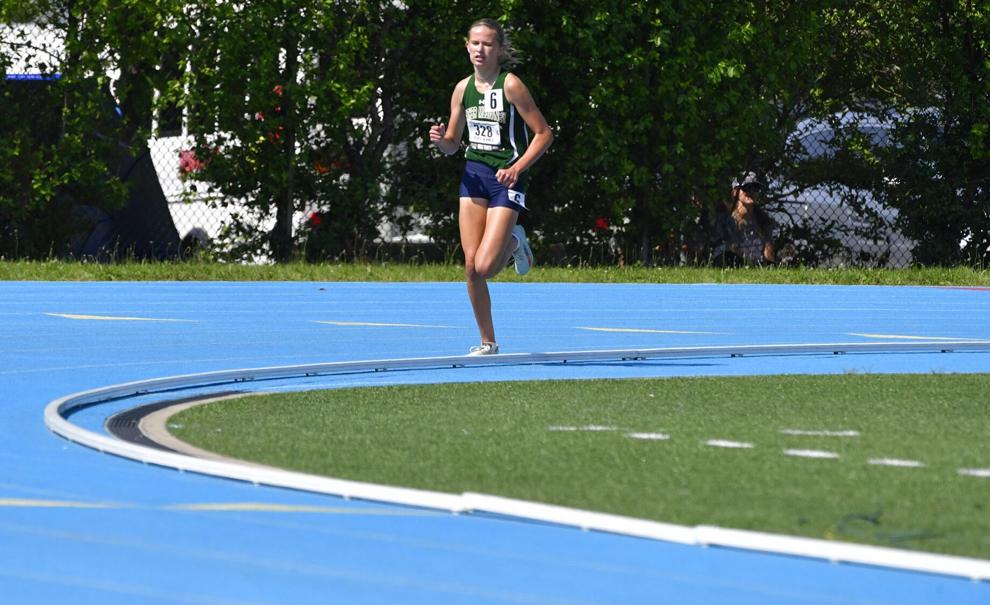 Rybak repeats to lead strong Father McGivney effort
Father McGivney junior Elena Rybak won the 1600-meter title in Class 1 for the second consecutive season.
She burst out early and dominated the race, winning with a time of 5 minutes, 3.7 seconds. Marshall's Molly Farrell was runner-up in 5:06.67.
Rybak was happy with the effort but just as excited about helping Father McGivney's 3200 relay finish second and its 1600 relay cross third.
"I mean, (the 1600) is real important to me. I wanted to go back to back," Rybak said. " But also the relays, our teams were really awesome and it was really fun to be a part of that, as well.
"We're a pretty young team. We've just got to keep going, we've got to keep working."
The Griffins fell just short of a team trophy, finishing fourth with 39 points behind third-place Tuscola's 43.
Winnebago won the 1A team crown with 50 points and Seneca was runner-up with 48.
Rybak was joined on both relays by three sophomores, Kaitlyn Hatley, Lilly Gilbertson and Jane Cummins.
Individually, Hatley was second in the 800 and Gilbertson was fourth in the 400.
Gillespie senior goes out with a smile, and tears
Emily Schoen's emotions Saturday weren't out of despair after her lowest finish of the season in a shot put competition.
The Gillespie High senior was beaming, in fact, through some tears.
Schoen finished fourth in the Class 1A shot put with a throw of 11.70 meters. It was a long way from where she was about a year ago during recovery from an ACL injury suffered during her junior volleyball season.
"I'm really proud, I'm really happy," Schoen said. "I didn't get to throw last year so this is just like real surreal. I'm just so happy right now."
Schoen's best throw of the competition came on her opening attempt in Thursday's preliminaries. She advanced as the No. 4 seed for the finals, and that's where she finished.
In Saturday's finals, Schoen fouled her first attempt and had marks of 10.91 and 11.15 meters.
Winnebago senior Amanda Gustafson, won the title with a throw of 12.05 on her final attempt.
Schoen, who won 11 titles this season, was thrilled to be competing with the state's best once again. She finished 13th as a sophomore and eagerly anticipating a return as a junior before her injury.
"After that, it was like, let's go," Schoen said. "My goal was to be on the podium and here I am (Saturday) on the podium, so I'm making myself proud."
Schoen's state performance wasn't far off her personal best of 11.84 meters from April 27 in a tri-meet. She also threw 11.77 to win the South Central Conference title and last week won the Carlinville Sectional title.
A four-year basketball player, three-year basketball player and three-year track and field athlete, Schoen's competitive athletics career ended in O'Brien Field's throwing ring.
She's planning to go to Lewis and Clark Community College to begin pursuit of a nursing degree.
Gillespie's valedictorian, Schoen was selected as her school's Post-Dispatch Scholar Athlete. She attended the Scholar Athlete ceremony Tuesday at Busch Stadium before the Cardinals' game against the Brewers.
"Oh, yeah, it was so cool," Schoen said. "To get to walk on the field and everything, that was really cool. I was really happy to go there, too. It's been such a fun week."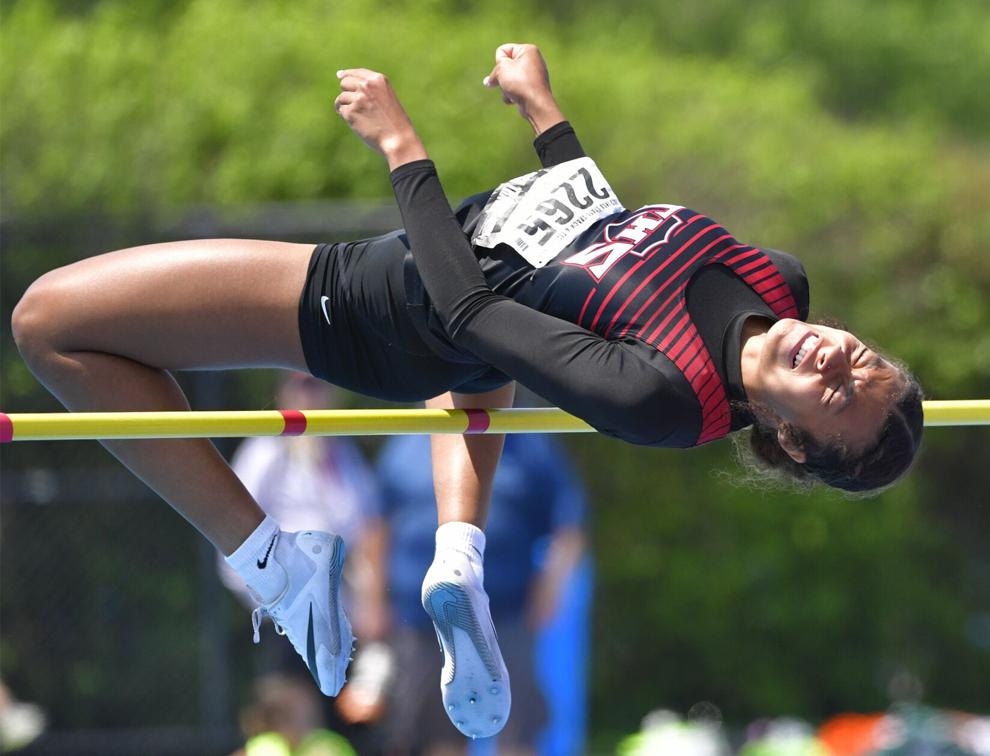 Triad's Witham is just getting started
Makenna Witham has a lot to learn about high jumping.
That could be a scary thought to other Class 2A athletes in Illinois.
A sophomore, Witham tied for second in the event with an effort of 1.66 meters.
Geneseo senior Annie Wirth won the crown with a clearance of 1.69. Witham tied with Rantoul's Brianna Dixon at 1.66 and Waterloo senior Molly Grohmann tied for fourth at 1.63.
"I wish I could've done better," Witham said. "But this year also is my first year of high jump and I'm kind of self taught at it, so I'm really proud of my results."
Witham also plays basketball said it was suggested she try to high jump since the skills might translate from sport to sport.
There have been good days and bad days, and finishing second in the state meet was something else entirely.
"(Saturday) was definitely a good day for me and I'm definitely excited," she said.