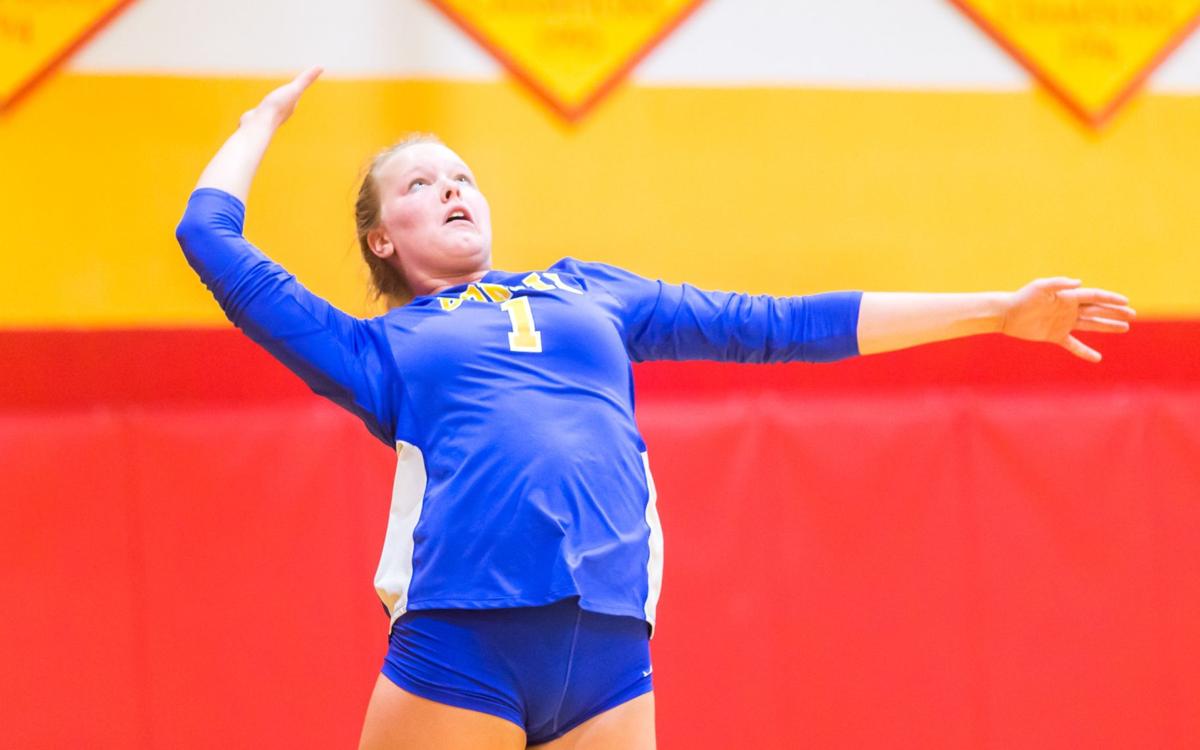 CAPE GIRARDEAU — Borgia senior Abby Lynn didn't need any more motivation, but she got it.
The setter remembered Logan-Rogersville celebrating the Class 3 state championship last season, while Borgia settled for third place. Lynn didn't have to wait for a chance at the defending champs as the two girls volleyball powers kicked off semifinal pool play against each other on Friday night.
"I wanted to win it against them so bad and I know they're a great team so I was ready to get after it," Lynn said.
Logan-Rogersville won the first set, but Borgia came roaring back in the second to earn an 18-25, 25-18 split. The teams will have an opportunity to break the tie in the Class 3 championship match at 7:30 p.m. Saturday at Show Me Center.
Knights coach C.J. Steiger liked his team's response after the Wildcats took it to them in the opener.
"I think it's big, but I don't think it's anything that's going to decide anything," Steiger said. "As far as a confidence builder it was a good step for us."
Kaitlyn Patke put down seven kills for Borgia (32-4-1) against Logan-Rogersville (35-4-1), while Lynn had 19 assists and Anne Arand put up nine digs.
"We need to play as we played against them in the second set," Lynn said. "We were dominating in everything. We served aggressively. Our energy was outstanding and we just played our game."
Borgia swept St. Michael the Archangel 25-23, 25-14 in its second match. Lynn led a balanced attack with 18 assists and three different Knights — Ella Brinkmann 14, Arand 12 and Lynn 10 — had double-digit digs.
"It's really nice," Arand said. "We're all just so scrappy and it really helps that our block is always set up so nicely that we can read off of them and then we just use the energy off of that."
The sweep over the Guardians allowed Borgia to control its own destiny heading into the final match of pool play against Windsor.
Borgia finally put away a plucky Owls squad with a late run in the first set. Brinkmann put down a pair of lasers, including the set winner.
"This year we really wanted to come out and bring as much as we could," Arand said. "These are the last games of our season. It's all about giving it all."
The Knights reeled off the first seven points of the second set behind Lynn's serve and never looked back in a 25-16, 25-15 sweep.
"I'm really proud of our defense," Steiger said. "We have a lot of good players who can pass and dig the ball extremely well for us and we'll need them tomorrow. Against Logan-Rogersville you definitely have to step up and bring your 'A' game."
Windsor (23-12-5) was swept by St. Michael 25-15, 25-13 in the first match of pool play. Abigail Bailey had four kills, Taylor Duncan had 11 assists and Ally Moore put up 17 digs for the Owls.
"The first game we were shell-shocked and were looking at the crowd and we played terrible," Windsor coach Stephany Dueker said. "The second and third games we did the best we could. Our third game, better, we started to play a little bit more like us."
Windsor fell to Logan-Rogersville in its second match 25-12, 25-8. The Owls will face St. Michael (22-11-2) in the third place match Saturday at 6 p.m.
"We're really small," Dueker said. "I have one girl at 5-foot-8 and the rest of them are at 5-foot-6 or below and I can't really say that about anyone else here so we're a little overmatched as far as the offense goes. But I'm hoping tomorrow to come out and play much better against St. Michael and hopefully compete for third."