OAKVILLE — Lafayette senior Brooke Borgmeyer was a game-time decision.
The 5-foot-9 outside hitter has been nursing a left knee injury since cutting it open while diving for a ball in a tournament during the regular season. Borgmeyer was held out of the Lancers' Class 4 sectional matchup with host Oakville on Saturday, but tried to test it out in warm-ups before taking on Cor Jesu in a quarterfinal a couple hours later.
"I knew I really wanted to go out and play," Borgmeyer said. "I knew it was going to be a really tough match."
The knee felt good in warm-ups and Borgmeyer was given the green light to play.
Borgmeyer blasted 11 kills to lead Lafayette to a 27-25, 25-21 sweep of Cor Jesu.
Lafayette (30-8) advanced to its eighth final four in the last nine years. The Lancers will begin pool play against Liberty KC (28-7) on Friday at the Show Me Center in Cape Girardeau. Nixa (34-4) and Francis Howell Central (19-5-2) will join the Lancers in the state tournament, which wraps up next Saturday.
"I think our kids have worked so hard the last three weeks to get to our highest level of play whatever that looks like," Lafayette coach Zach Young said. "They have really committed to getting better in the gym. We made a few switches in the lineup and everybody bought in. I though the selflessness and just the hard work gave us a chance today."
Allison Beaton and Morgan Isenberg each had four kills for the Lancers, while Allison Sink and Jordyn Lochmann each added three spikes. Shannon McLain had 21 assists with three aces and a pair of kills.
Jillian Mattingly put down eight kills, while Jennifer Nuelle and Kelsey Watson each had five spikes for Cor Jesu (23-6). Lillian Rogers had 17 assists with two kills and an ace.
Each team took turns swinging at the other in a back-and-forth first set that featured eight lead changes and 18 ties.
Mattingly, Watson and Jessica Smith each had three kills for Cor Jesu while Borgmeyer and Beaton combined for eight spikes for Lafayette.
"Shannon did an amazing job keeping the blockers guessing where to go and opening both Allison and I up and all the other hitters," Borgmeyer said.
A combination block from Lochmann and McLain for Lafayette evened the set at 25-all. Isenberg followed a Chargers' hitting error with a tip to clinch the opener for the Lancers.
Lafayette, paced by kills from Lochmann, Isenberg and Borgmeyer, went on a 5-0 run to take an 11-6 lead in the second set.
"Their middles were really big all game long so I was just trying to spread my people out," McLain said. "That was the majority of what I was trying to do the entire game."
Every time Cor Jesu started to chip away, Lafayette answered, especially on the defensive end. The Lancers back row, led by libero Maggie Rogan, was all over the court.
"It's got to start from the back row in and our blockers I thought did a great job on getting touches on some of those kids that are just amazing hitters for them," Young said. "Defense first and you've got a chance."
Kills by Nuelle brought Cor Jesu to within one at 19-18 and 20-19, but a Chargers hitting error and a Borgmeyer spike short-circuited the comeback.
"Overall I was pleased with the way we played," Cor Jesu coach Keith Price said. "I thought we were matching them. I guess the key was in the second set they got ahead of us three or four points and we could never draw even."
The backbreaker came on an out-of-system point after a McLain bump skimmed across the tape of the net and fell on the Chargers' side of the court to give Lafayette a 23-20 lead.
"I could feel it," McLain said. "I got chills."
Borgmeyer ended it with a laser two plays later.
In the sectional round, Lafayette beat Oakville 26-24, 25-14. Beaton had seven spikes and McLain had 18 assists for the Lancers. Emily Schellhase had 10 kills and Julia Klump had 17 assists for Oakville (29-3-1).
In the other sectional, Cor Jesu swept Jackson 25-10, 25-17. Mattingly had 11 kills and Rogers had 23 assists for the Chargers. The Indians ended their season at 28-9-3.
Price had to say goodbye to nine members of a special senior class at Cor Jesu.
"I've been very blessed to coach them," Price said. "They challenged our program to be a better program, they challenged our coaches to be better coaches and that's what you want from kids. They will leave a legacy."
Lafayette vs. Oakville volleyball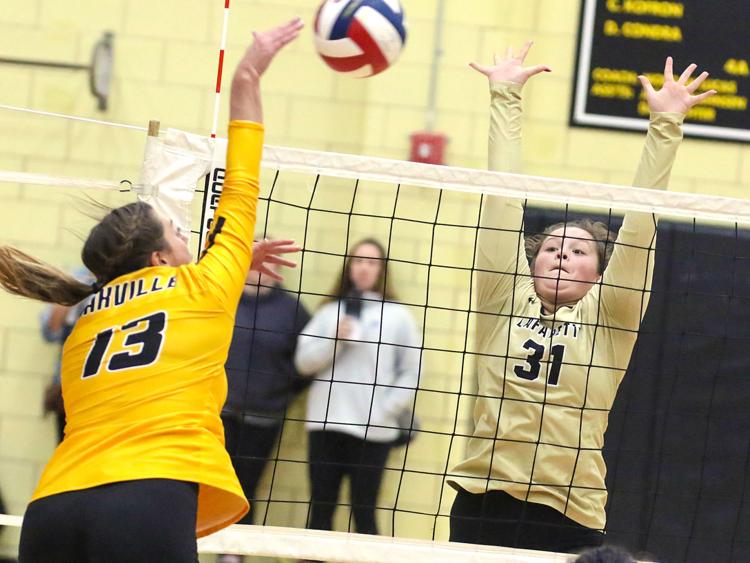 Lafayette vs. Oakville volleyball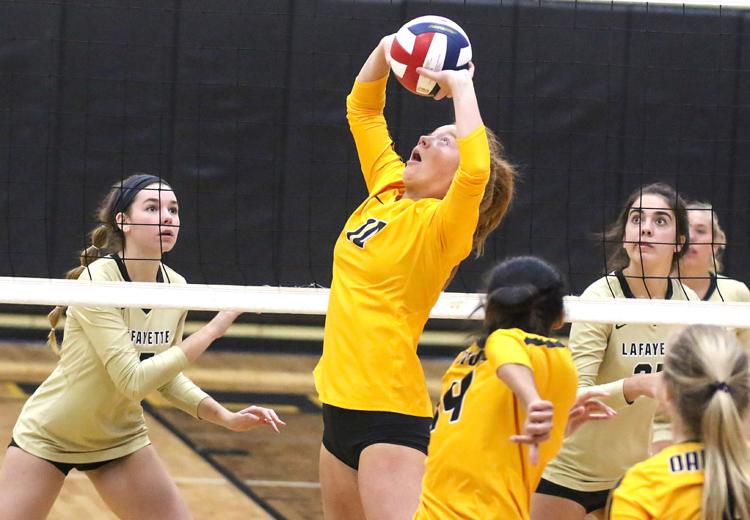 Lafayette vs. Oakville volleyball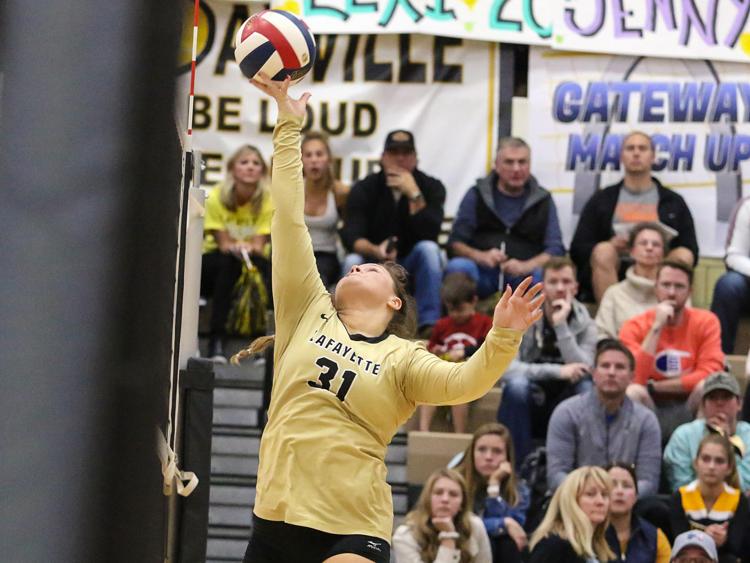 Lafayette vs. Oakville volleyball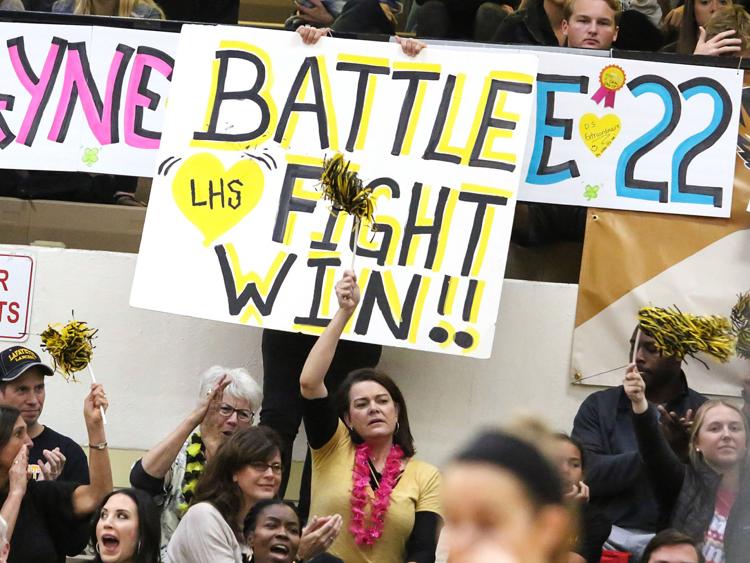 Lafayette vs. Oakville volleyball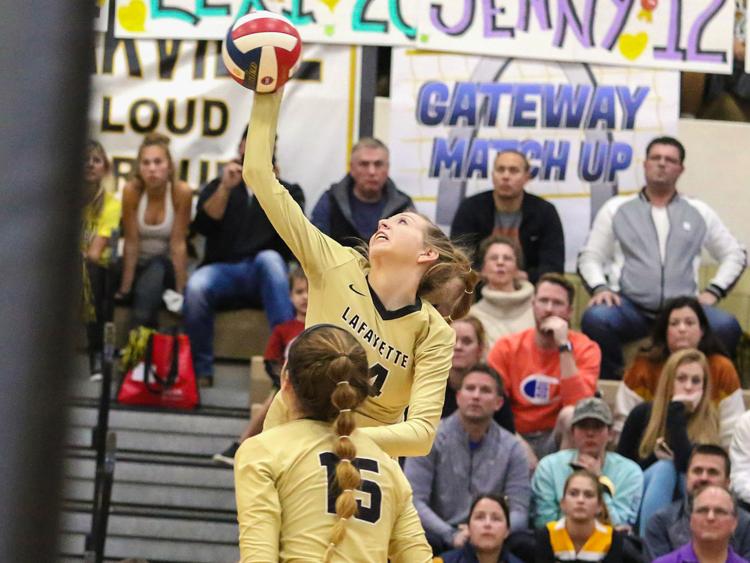 Lafayette vs. Oakville volleyball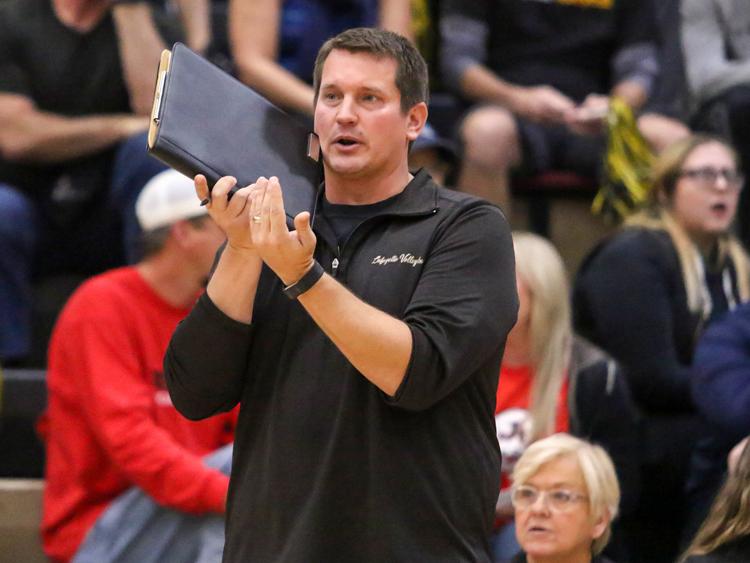 Lafayette vs. Oakville volleyball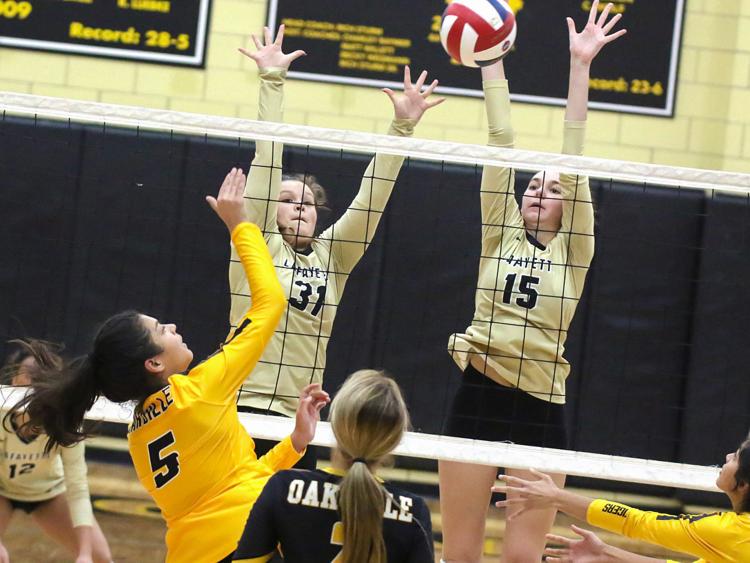 Lafayette vs. Oakville volleyball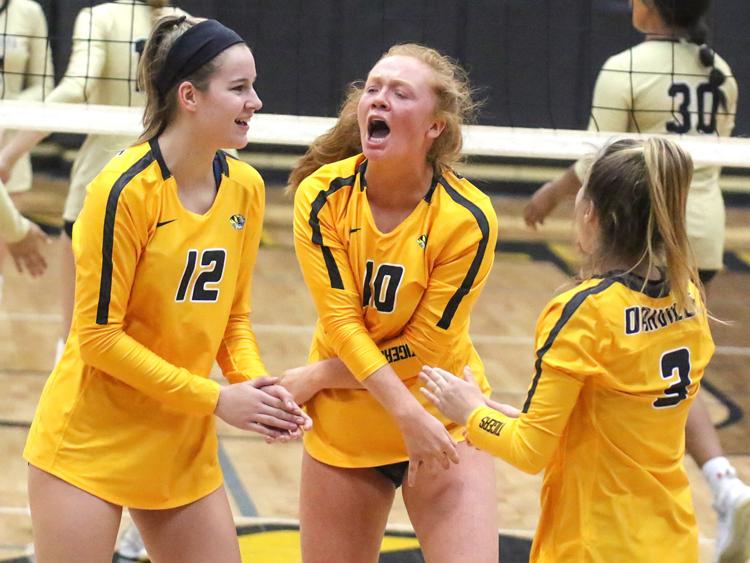 Lafayette vs. Oakville volleyball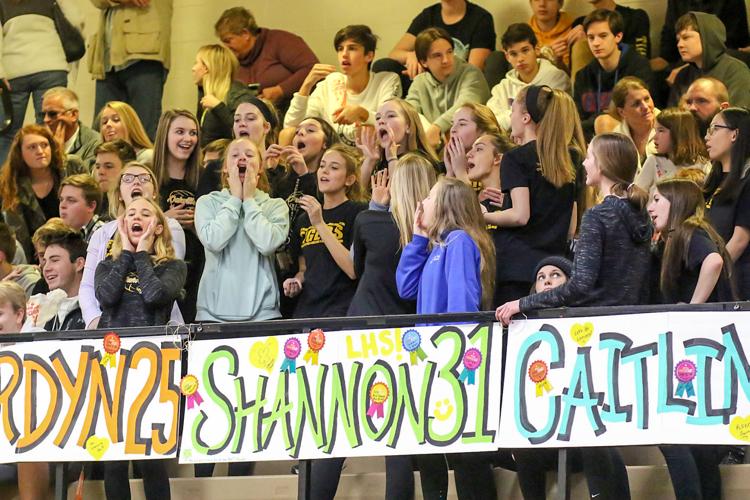 Lafayette vs. Oakville volleyball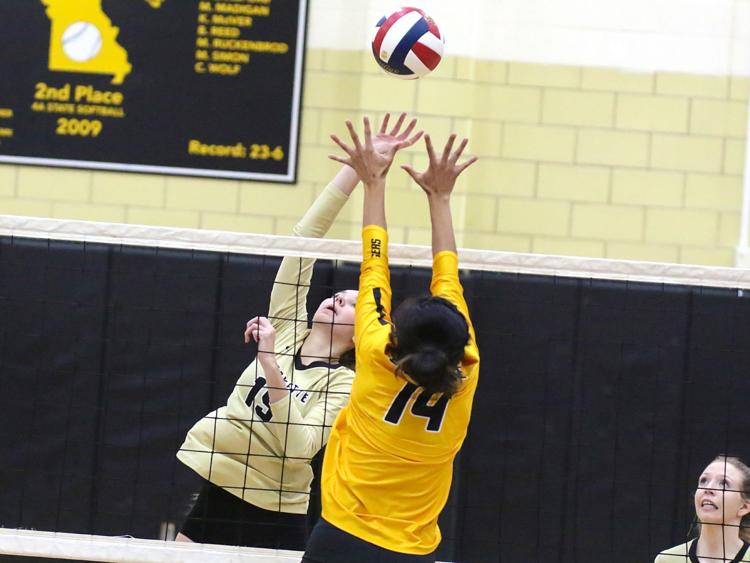 Lafayette vs. Oakville volleyball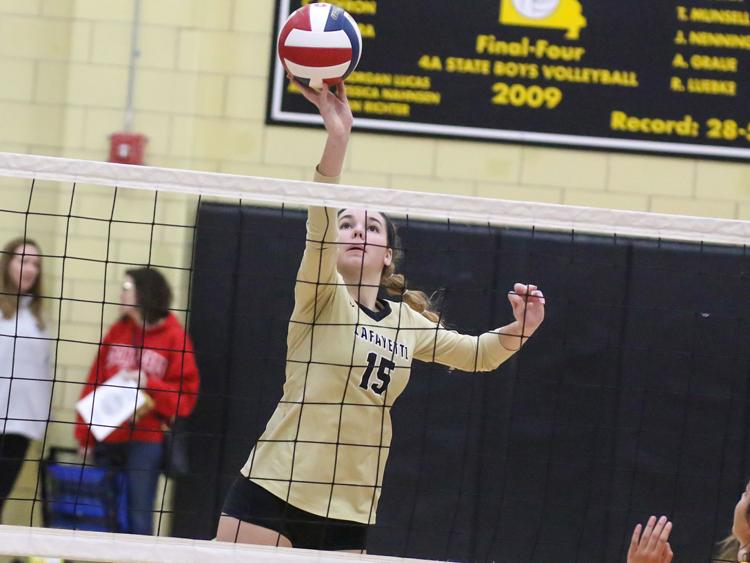 Lafayette vs. Oakville volleyball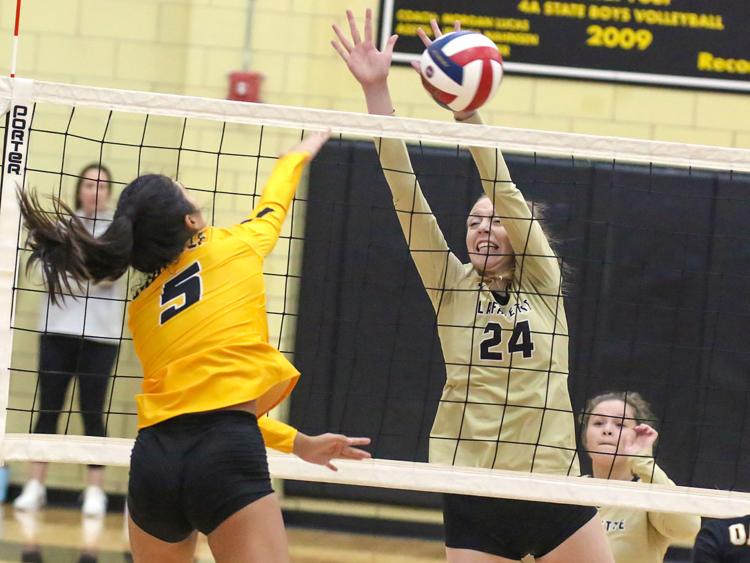 191102 pk lafayette_oakville_vb 15.jpg
Lafayette vs. Oakville volleyball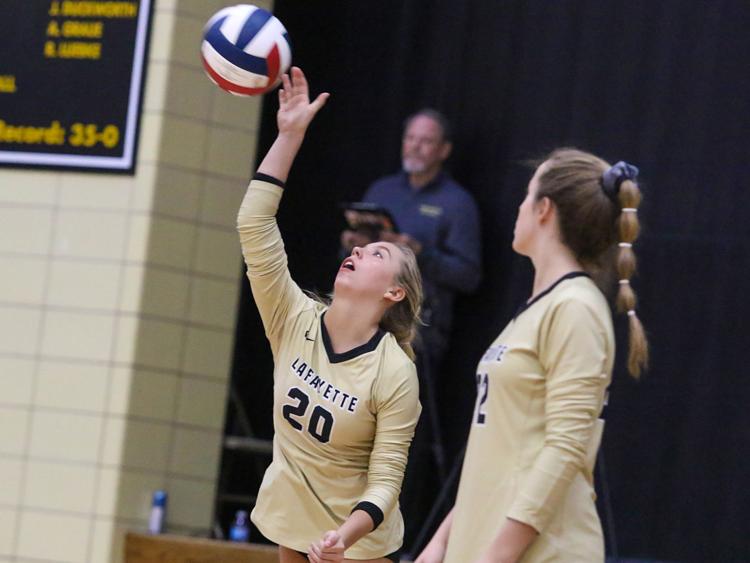 Lafayette vs. Oakville volleyball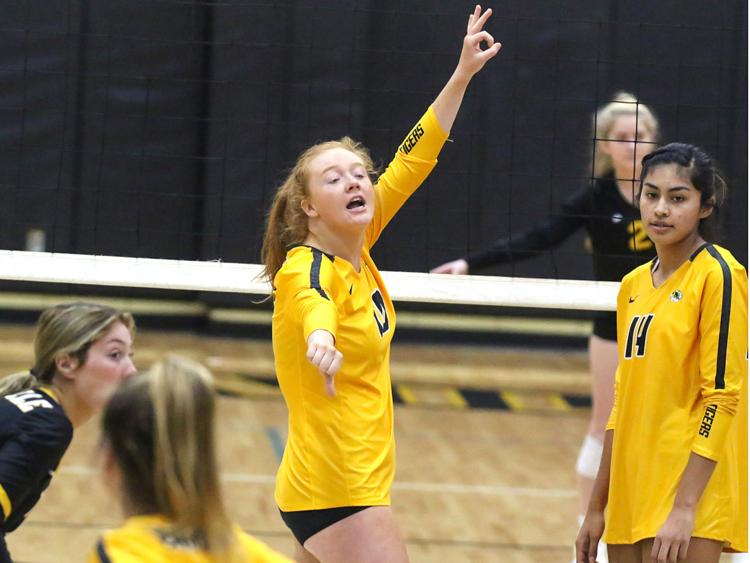 Lafayette vs. Oakville volleyball
Lafayette vs. Oakville volleyball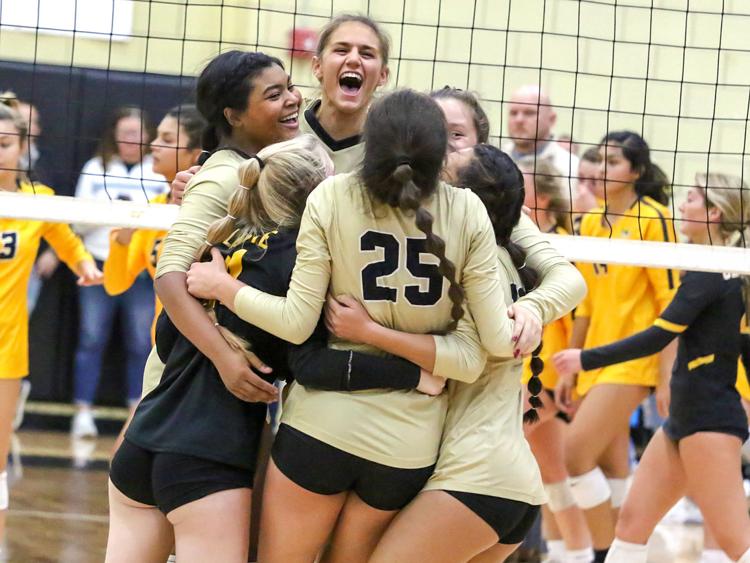 Lafayette vs. Oakville volleyball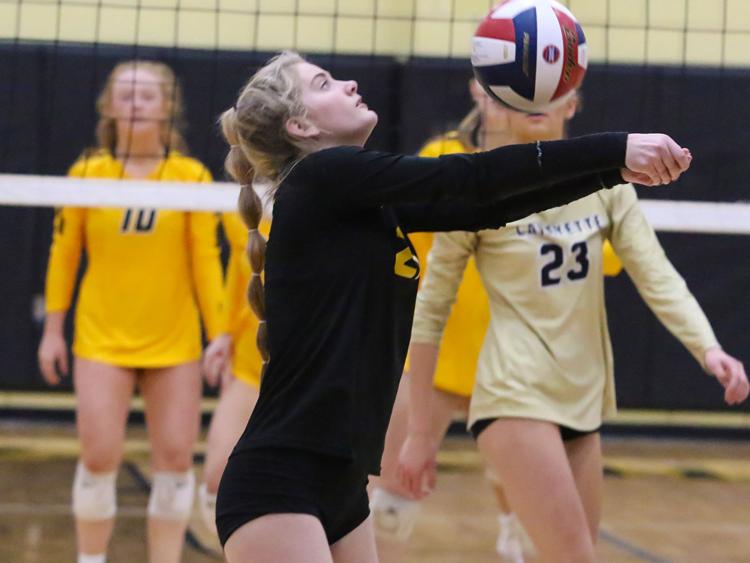 Lafayette vs. Oakville volleyball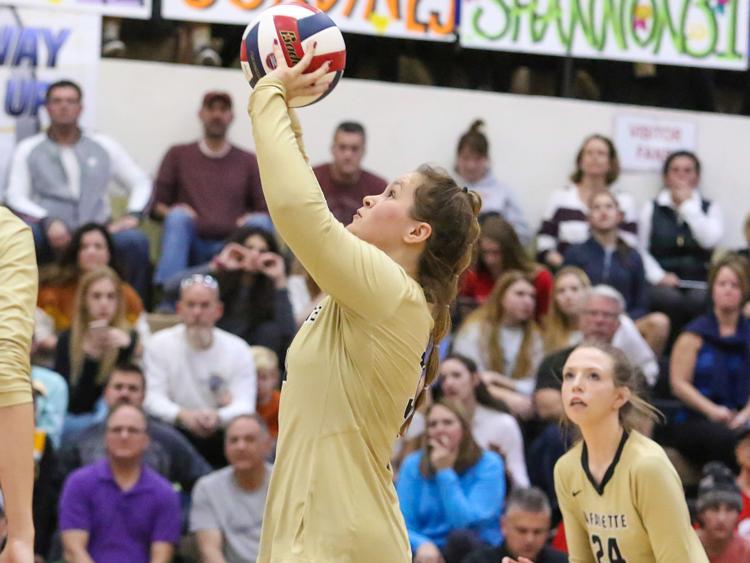 Lafayette vs. Oakville volleyball