AVISTON — Abby Johnson felt out of place. And a little scared.
The Breese Central senior middle hitter walked into the University of Nebraska gymnasium in June to participate in a tryout camp along with numerous other prospects.
"I was so nervous, I was shaking when I first walked in there," Johnson said. "It was very intimidating."
By the end of the week-long affair, the 6-foot-4-inch Johnson was the one doing all the intimidating.
Johnson turned heads from the opening whistle and was awarded "Outstanding Player" honors from the Nebraska staff, led by longtime coach John Cook, who has four NCAA championships under his belt, including titles in 2015 and 2017.
The Aviston, Illinois, native was so impressive that she earned a return to trip Lincoln for the "Dream Team" camp in July, which featured players who already had committed to the Cornhuskers along with some of the top high school players in the country.
Again, Johnson made a lasting impression taking home the "Top Attacker" prize.
This time, her performance was so out-of-this-world that Cook offered Johnson a chance to join the program as a preferred walk-on, starting with the 2020 campaign.
In less than a month, Johnson went from scared and apprehensive to one of the finest under-the-radar recruits in the Midwest.
"It's still hard to believe that this all really happened," Johnson said. "I'm still pinching myself."
Believe it. The tallest female teenager in the Clinton County town of 2,098 is set to join one of the most storied programs in college volleyball history.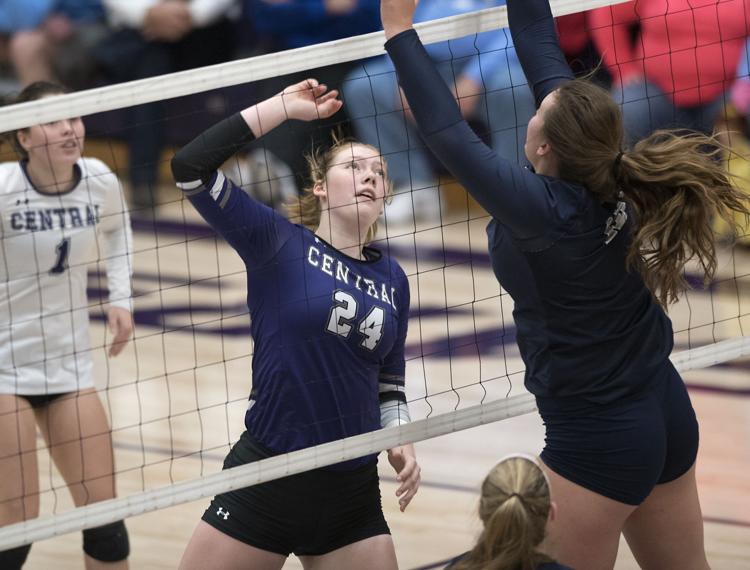 Johnson got a berth in the initial camp thanks to Geoff Davis, her club coach with H2 Sports Wordwide. Davis sent a video to one of the Nebraska assistant coaches, who decided to take a gamble and check out Johnson in person.
"After the first camp, I felt like they just wanted to see more," Johnson said. "I never believed it would lead to this."
Johnson caught the attention of the brass by blocking a shot from a male camper, who was hoping to land a spot on a practice squad, which goes up against the women's players in order to prepare the players for the rigors of the ultra-tough Big Ten Conference. That eye-popping rejection turned heads among the coaches and drew stunned silence from the other players.
The upward trend continued at the Dream Camp a month later when Johnson hit a ball so hard that it gave her roommate a mild concussion.
Those two events led to Nebraska assistant coach Jaylen Reyes making the trip from Lincoln to Aviston to personally make the preferred walk-on offer.
Johnson, who has received scholarship offers from University of Houston, Arkansas State and East Tennessee State, jumped at the chance to play for Nebraska despite the walk-on status.
She admittedly cried a little bit when she realized her wildest dream was about to come true.
"This is the hardest I've worked for anything in my life," Johnson said.
Added her father, Avey, "It's amazing how much she's wanted this. It's definitely something to be proud of."
Johnson led Breese Central with 296 kills and 109 blocks last season. Her size and strength drew the attention of numerous NCAA Division II schools and a host of D-I institutions.
But she really kicked up her game a notch during the trips to Nebraska. She has returned home a more mature, confident player on both sides of the net.
"I don't think, at first, she realized her level of play and how good she could be," Central coach Cris Toennies. "The hard work she puts in, especially off the court, has showed her that she does really doesn't have any limitations."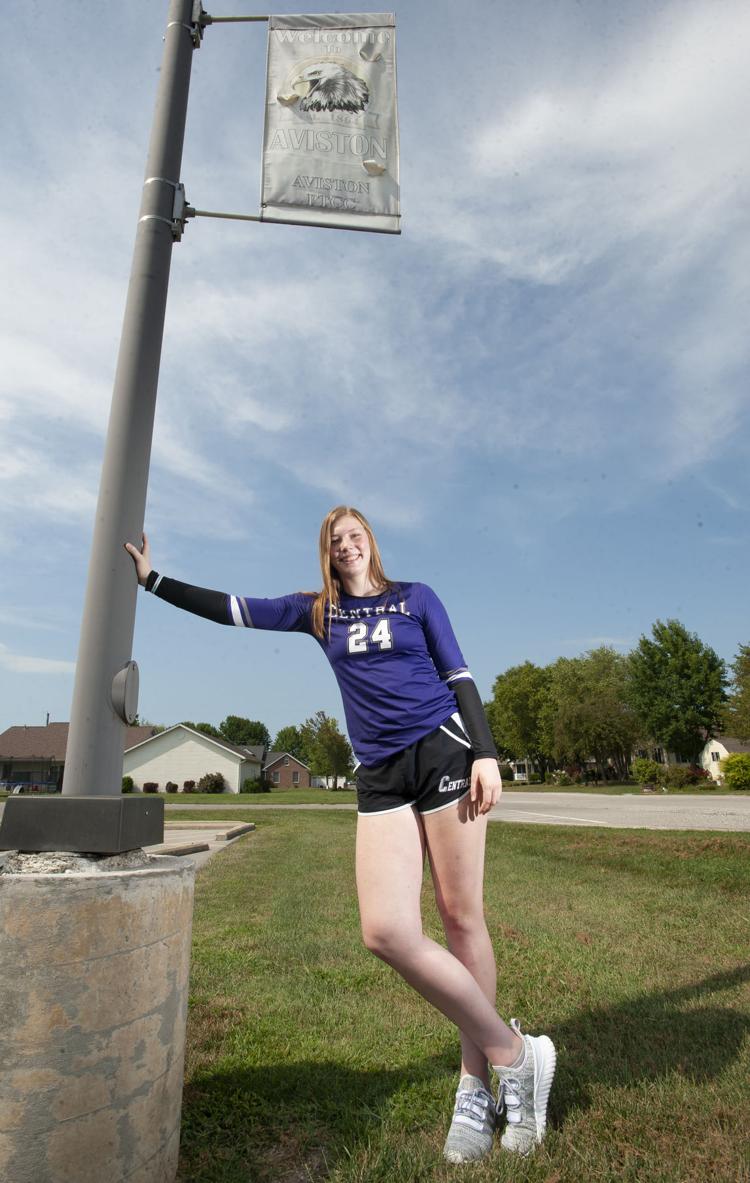 Johnson's teammate at Breese Central, Grace Boeschen, has enjoyed watching the rapid rise of her friend.
"Every day, she's getting better," Boeschen said. "And it's because she works so hard at it."
Johnson grew up playing basketball and volleyball but decided to concentrate on volleyball once she reached high school.
She works out on a regular basis and has displayed her muscles in the past by toting around three teammates on her back during a photo shoot.
The jumping jack is the center of attention everywhere she goes mainly because of her large frame.
"People look at me and stare everywhere I go," Johnson says. "I'm used to it."
Johnson's lone struggles with her size come when it's time to go shopping for clothes and accessories. She has yet to find a pair of jeans that fit perfectly. Instead, she rolls the cuffs to about three inches off the ground, in an attempt to make a fashion statement when in reality the move is out of necessity.
The Cougars have hit the 20-win plateau the past two seasons with Johnson helping lead the way before bowing out in the postseason to rival Mater Dei.
With five returning seniors, Johnson said this season's team enters the campaign with plenty of high hopes.
"This is the year we've all been waiting for," Johnson said. "It's time to go out and show what we're capable of doing."
Johnson can think of nothing better than to close her high school career with a trip to the state tournament in November.
"Our offense is built around her," Boeschen said. "With all the things she can do, we can't wait for the season to start."