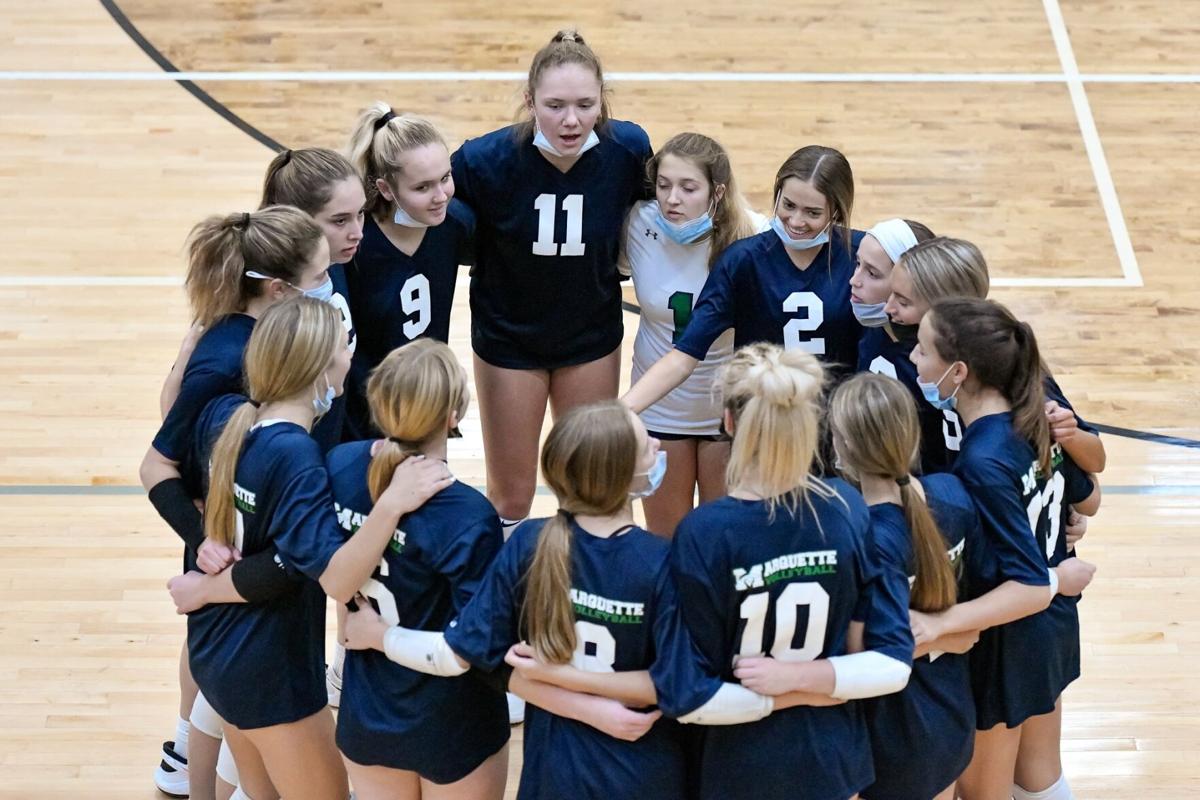 Every volleyball season it happens.
Numerous players achieving career milestones — 500 or 1,000 career kills, digs or assists. They are usually celebrated by their teams with a short announcement during a match and on social media.
But do these milestones still mean the same thing?
High school volleyball in Missouri experienced seismic shifts last season — going to five classes with a new playoff system; and going to a best-of-five sets format instead of a best-of-three.
While these traditional milestones still hold weight, at least for several more years until the new format takes firm hold over the next few years, the question lingers on whether the goalpost should be moved in the future in celebrating these milestones as players play longer matches and naturally get more opportunities to pad their stats.
While simple logic would say they do, that answer is not as clear as it seems.
"I think that it has to be," Kirkwood coach Julie Goodmann said. "Our stats are going to be unfair to the kids who have played two or three to the kids who playing are three out of five. We're playing more matches."
But simply because a team can play up to five sets in a match doesn't mean its happening in a regular basis.
Eureka, for example, has gone more than three sets in just three of its 21 matches this season. Due to tournament play that still has a best-of-three format, the Wildcats have played 10 matches consisting of just two sets.
"If you're doing five sets, I mean it's still a celebration of being on varsity for a long time, consistency," Eureka coach Jodie Fowler said.
Nerinx Hall coach Ed Naeger believes the traditional milestones will still hold weight.
"Those are still impressive milestones," Naeger said. "I mean, five sets for a girl to play, consistently, night after night, and reach those milestones. I think it's going to take a while for kids to reach those still."
Also factoring into the discussion are new scheduling guidelines approved by the Missouri State High School Activities Association this year. These guidelines have affected every sport and are designed to allow more flexibility in scheduling.
Traditionally in volleyball, athletic directors have either had to choose between a 16-3 or 18-2 format — meaning they could either schedule 16 regular season matches and three tournaments or 18 matches and two tournaments.
The new guidelines in volleyball simply cap the number of regular season matches at 36, so teams can decide what match to tournament ratio works for them.
Francis Howell Central athletic director Scott Harris said the changes really affect sports like baseball, softball or basketball that can have entire tournaments cancelled due to weather. But he believes volleyball will benefit from it as well.
"It gives you more opportunity to get more playing time a lot of times," Harris said. "So, anytime you play more games, I think it's a good thing for students."
The 36 total match allowance could yield itself of more playing time. Most tournaments average six matches played. When you add those numbers under the old format and compare them with the new, teams could conceivably play six to eight more matches a season.
More matches, more records.
"School records and career records in a lot of sports are changing now because of the number of contests that are allowed," Harris said. "And if you spent three years on varsity in baseball or softball, you can play in excess of 100 games. You never had high school kids play 100 games before."
Lafayette coach Zach Young said there should be a balance to be fair to players who accomplished milestones with more limited opportunities.
"As far as you know record book and all that kind of stuff, we've tried to at least put an asterisk on a few of them to (recognize) where you know some of those kids that used to play two out of three and were really phenomenal," Young said.
All the coaches agree that the traditional milestones will continue to hold weight and be recognized, but they are preparing for more celebrations.
"Maybe as coaches, we should look at what other states are doing and how are they looking at their stats?" Goodmann said.
In the end, it still is all about team success.
While coaches are happy to celebrate an individual player's achievement, there is always a balancing act between individual and team. And often in volleyball, you can't have one without the other.
"Obviously if a kid reaches 1000 digs, assists, or kills, whatever, we're going to celebrate it," Young said. "But I think the kids here know that you know if a kid gets 1,000 digs, it's because the blockers did a good job of funneling the ball to them or if a kid gets so many kills, they know it's because their passers and setters get it to them, so we really focus on the team aspect more."