HERMANN — Cinderella didn't hold her interest.
Grace Winkelmann wasn't too impressed with The Little Mermaid either.
At age 5, Winkelmann wanted to be outside with the rest of her family, playing in those highly competitive 3-on-3 volleyball matches at the family farm in Rhineland.
Instead, her parents, Paul and Lynn, decided she wasn't ready. So they would put a tape in the VCR to occupy Grace while the rest of the volleyball-crazy family went at it on the makeshift concrete court.
"I was a girly girl back then, into princesses and stuff like that," Grace recalled. "But I still wanted to be out there hitting (the volleyball) with everyone else. I felt kind of left out."
Grace finally got her chance two years later.
She has been turning heads ever since.
Now a senior at tradition-rich Hermann High, Winkelmann is trying to help the Bearcats to a third successive Class 2 state championship and her fourth berth in the final four.
And it all started when she shunned those "little girl" movies in exchange for taking her lumps from her older family members on the court.
"At the time, I wasn't that good, but I kept playing and I kept learning," Grace said. "I learned a lot from my sisters, things I still use now."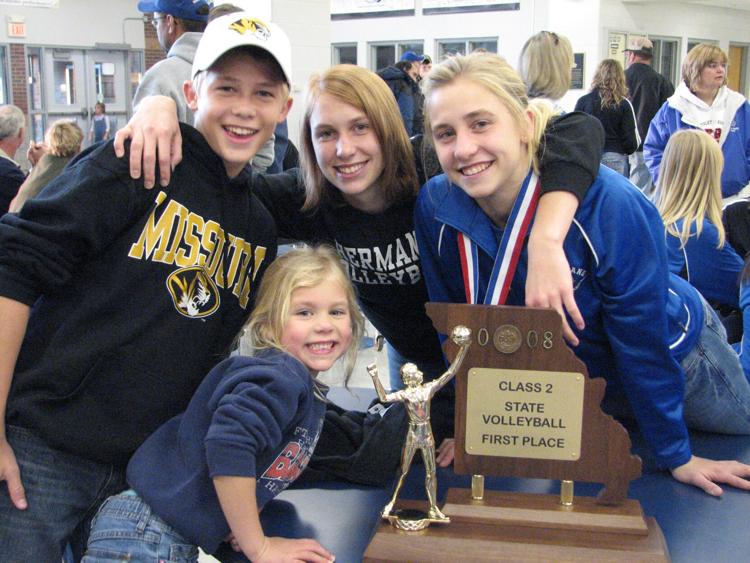 The 5-foot-9 Winkelmann is one of the most versatile players in the entire state. She led the area in kills last season with a whopping 542 — 102 more than her nearest competitor.
Her team-leading 227 digs cements her as the Bearcats' top defensive specialist. Add 39 aces and an out-of-this-world serve receive percentage of 97.22 and you have an impressive six-rotation performer.
"She can take control of a match in so many different ways," Hermann coach Phil Landolt said.
Grace learned the sport the hard way. The last of three female volleyball-playing sisters, she spent her formative years taking one lump after another from Chelsea, a 2008 Hermann grad, and Shelby, a 2011 product.
"We'd kick her off when she was younger because she just wasn't good enough yet," Shelby said. "She didn't like it at the time, but she kept coming back, fighting to get better."
Those 3-on-3 battles, which have been going on for decades, are legendary in mid-Missouri.
Family members and friends choose up sides and go at it tooth and nail.
"A lot of diving and concrete burns," said Hermann senior setter Hannah Grosse, who participates on a regular basis. "We'd be diving after everything."
Added Landolt, who is Lynn's cousin. "It gets pretty intense. No one wants to lose and they would do anything not to."
The battles led to numerous family scrapes and finger pointing.
To this day, the rivalry still lingers. The 28-year-old Shelby, who serves as an assistant coach at Hermann, is on a nice little streak.
"She and her team have been winning most of the time — because she cheats," Grace said.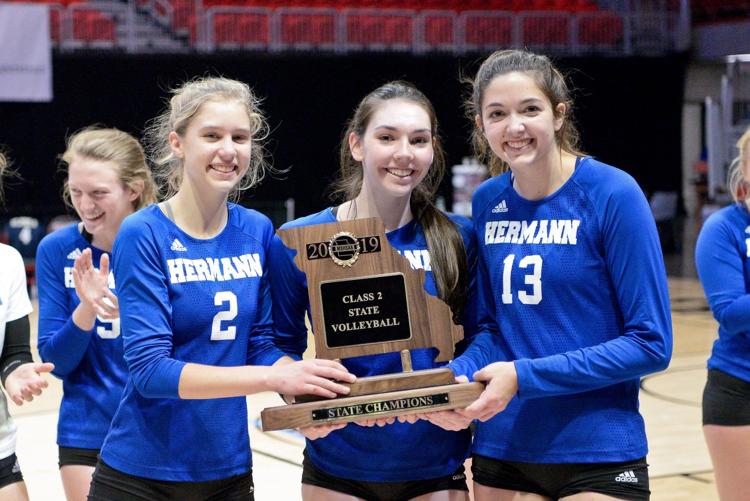 The Winkelmann girls, along with Lynn, sport an eye-popping resume.
Chelsea, 30, the oldest, won a state title 2006 and helped the Bearcats to a third-place showing in her final season the following year. Shelby reached the state tournament in all four years with two championships (2008 and 2010). Grace played a minor role on the third-place team as a freshman before claiming back-to-back titles.
Mom, the former Lynn Allemann, got the ball rolling by guiding Hermann to a third-place finish in 1983.
And Lynn, at 54, still participates in those backyard battles on a regular basis.
"I can't do all the things I used to be able to do," Lynn said. "But I can still hang with them. I don't back down."
Grace could end up as the most talented of the skilled quartet. Her all-around game earned her a scholarship to University of Central Missouri in Warrensburg.
"I would definitely say she's the best passer," Lynn said.
Grace began her volleyball career excelling in the back row. She grew seven inches between her freshman and sophomore seasons. With that spurt, she developed into a deadly hitter.
"She hits such a hard ball," Landolt said. "She's figured her arm swing out and she's so smart. She knows what's open and has great court sense with a high volleyball IQ."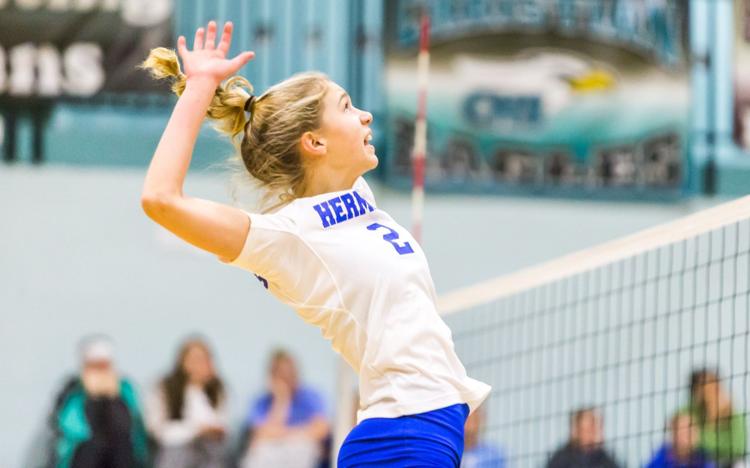 Grace got her start at age 3 by learning to pass a balloon in volleyball matches with her sisters in the living room. Because her older siblings had already developed their hitting skills, Grace spent her early years as an assist specialist.
"We would just be bouncing the (balloon) around and I'd end up getting it to them so they could hit," Grace said.
Grace is expecting big things this season. The Bearcats are off to a 3-2-2 start with a third-place finish in the Jefferson City Tournament over the weekend.
"For us, it's about what happens at the end of the year, that's always what we're looking for," Grace said.
Grace, who averaged 11.3 points per game for the basketball team last winter, is looking forward to the next two months. Should she win a third state crown, she would pass Shelby on the family gold medal list.
The multi-talented quartet has amassed five state titles and 10 final four trips.
Grace remembers tagging along and watching Chelsea and Shelby on their championship runs.
"I would dream that I could do that someday," Grace said.
Her shot at another crown could be a perfect ending to a high school career that may never be duplicated.
Then, she will return home for another in a series of backyard matches with friends and family.
"We'll be doing that for as long as we can," Grace said. "That's just what this family does."
STLHighSchoolSports.com is the most comprehensive source of stats, scores and stories from any and all area high schools.