The Jefferson R-7 girls volleyball team has had plenty of wins this season.
But it may be a pair of losses that had the biggest impact on the Blue Jays' success.
The first one of those defining setbacks came Sept. 9 against Valle Catholic, dropping Jefferson's record to 1-3.
"We came together after practice, we're like there's no more of this," Jefferson junior outside hitter Kirstyn Loyd said. "We lost that match because of communication, and like we went off to all of our own spots on the court, we weren't playing as a team."
Coming together meant embracing the team motto: "I play for her."
Blue Jays coach Tara Fish brought back the motto, which was a rallying cry for the team in 2014 when it won its only district title. Fish was an assistant coach on that team.
"It means stop being selfish, it's not about you it's about the team," Fish said. "I knew with the dynamic of everything happening, with everyone worried about college and stuff like that that, we just needed to have that in our heads."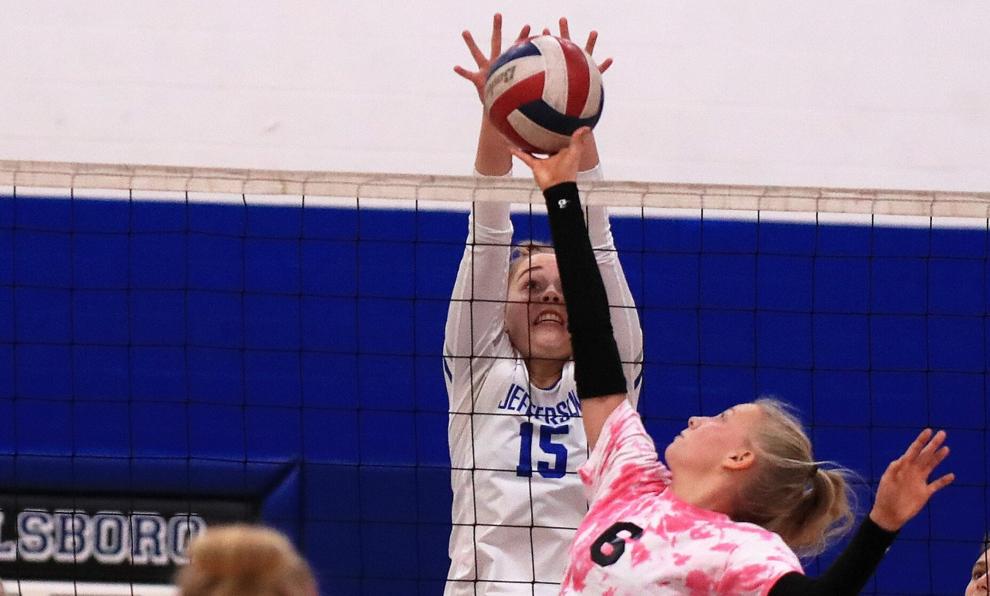 Jefferson has just two seniors, the rest are all juniors including its starting six. The high school season started during a prime time when many of those juniors were weighing future options.
Distractions put aside, Jefferson hit its stride, winning seven matches at the SEMO Tournament, including avenging the earlier loss to Valle.
The Blue Jays have gone 18-1-1 since Sept. 14 and have vaulted to No. 7 in the STLhighschoolsports.com small school rankings. If it wins Thursday against Grandview, Jefferson (26-6-1) will win its first conference championship.
"The change happened when we went down to the SEMO Tournament," Fish said. "Our first games going in, we just dominated and … that just builds confidence."
Jefferson's lone loss in its last 20 matches came in a tournament in Kentucky to Briarcrest Christian, the same Briarcrest from the movie "The Blindside," which is seeking its fourth successive Tennessee state championship.
"We scored 17 against them in one of the sets," Fish said. "If we can do that, what can't we do?"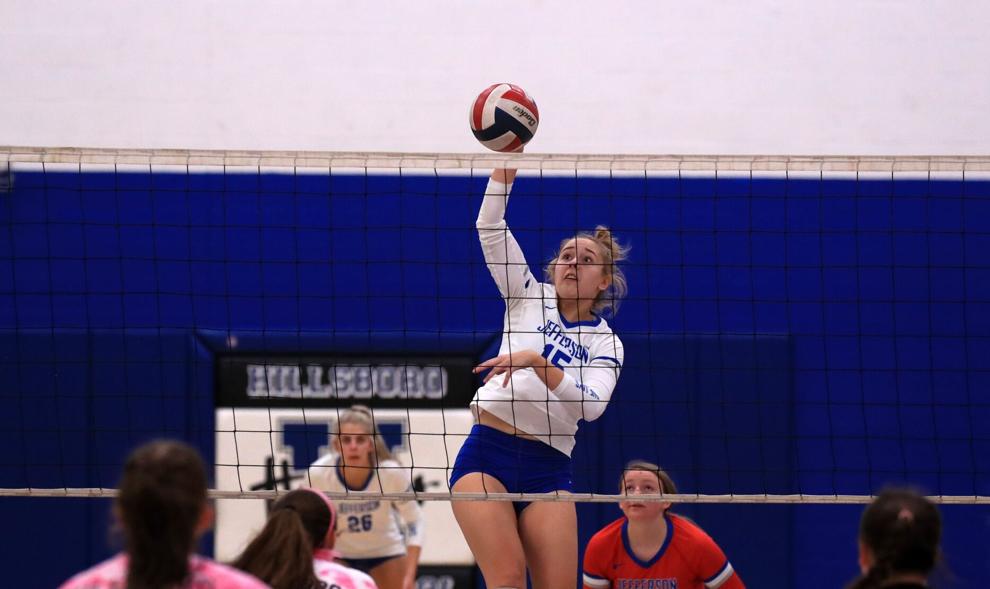 To outsiders, Jefferson entered the season with high expectations.
But from within the program, those expectations have been building ever since this talented junior class played together as seventh graders on a middle school team.
"We have a really good team culture and we're all like best friends, so it really helps on and off the court," junior Ava Roth said.
Still, those expectations bring added pressure.
"Sometimes it's a little difficult," Blue Jays junior Emma Breier said. "But like once you get past that and realize that it's about having fun instead of like we have to impress everyone all the time, it just falls into place and then everything is perfect."
While Jefferson hasn't had a losing season in nine years, postseason success has been fleeting. The Blue Jays advanced to the state quarterfinals in 2014 after their lone district title but are seeking their first trip to the final four.
This group has all the ingredients to make a run in Class 2.
Loyd is one of the area's kills leaders, averaging 3.90 a set. Breier averages 3.07 kills and Roth is a strong all-around player who averages 2.52 kills and collected her 1,000th career dig Monday.
Setter Paige Seibert makes the offense go, averaging 9.79 assists.
"It's definitely coming together after every point, not focusing on the mistakes we made, and just focusing on what we know we can do," Seibert said.
Fish knew this group could be special for a while. To foster an even stronger bond, she organized a preseason team bonding trip to Nebraska.
Nine players went on the trip, and Fish has seen the benefits on the court, including in the Blue Jays' sweep of rival St. Pius X on Oct. 5, which snapped the Lancers' 64-match conference winning streak that dated back to 2009.
"Our confidence is pretty high," Loyd said. "If we're working the way we are, being together, enjoy it, having fun, we'll have a great shot."
Not only is this group trying to forge a new playoff history for Jefferson, it is also creating tradition.
Fish said former players and their parents are coming back to support the team. Excitement is building south of Festus.
"The thing I tell them most of all, I want you to go have fun," Fish said. "Have fun, because that's what this is supposed to be. Every time we break the huddle, I tell them to go have fun, bring energy to the court. I want them to make memories and have fun. That's what it's all about."