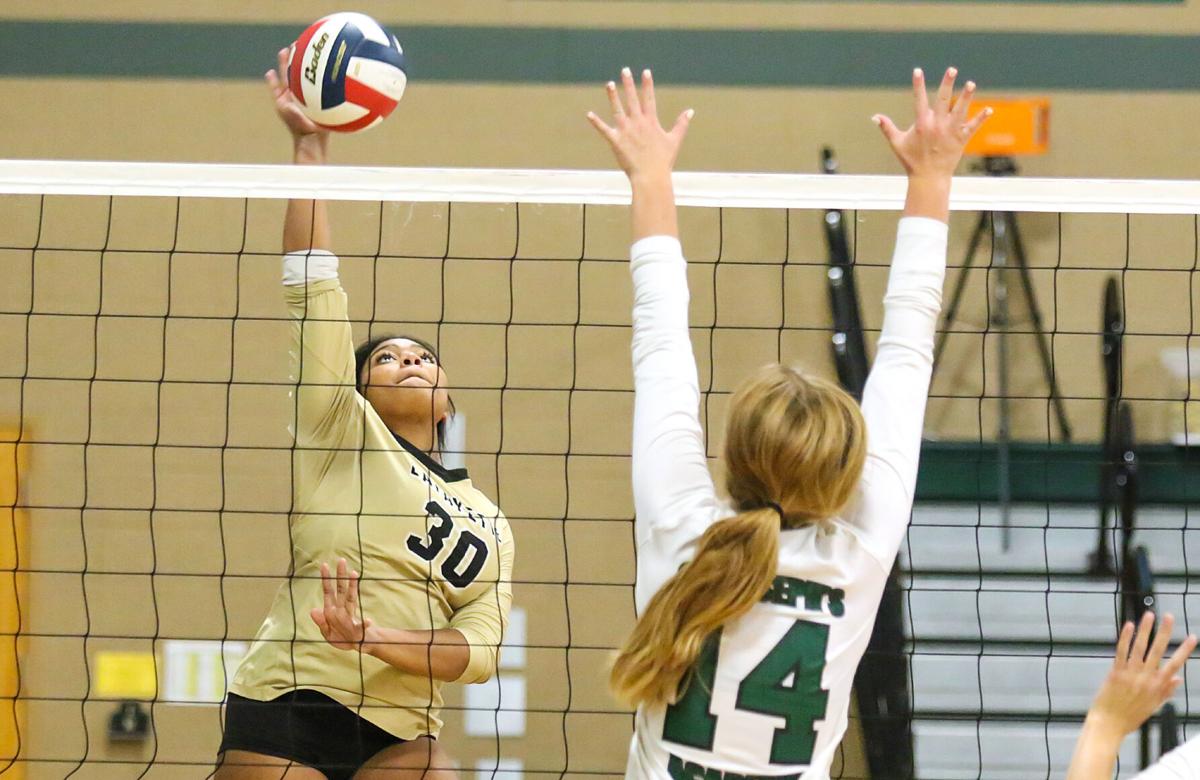 WILDWOOD — Lafayette High sophomore Alyssa Nelson set the tone early.
Nelson, the Lancers' setter, connected with four different hitters on her first four sets in a nonconference volleyball match against St. Dominic on Wednesday. Lafayette rode the balanced attack to a 25-22, 24-26, 25-20, 25-19 victory.
"I try to give everyone a chance at the beginning to see who might put the ball down," Nelson said.
She had plenty of options.
Layne Witherspoon put down 13 kills and Maya Witherspoon added 11 kills to lead Lafayette (21-2-1), No. 1 in the STLhighschoolsports.com large school rankings. Caitlyn Little and Allison Risley each put down nine kills and Jordyn Lochmann had eight.
Nelson finished with 48 assists.
"That's the great thing about our team is it's hard to keep on one person," Lafayette coach Zach Young said. "It's everybody's day a different day ... everybody steps up at different times, but Alyssa does a phenomenal job of kind of feeling who's hot that night and getting them involved."
Breanna Schreimann blasted down a game-high 17 kills for St. Dominic (11-5-3), No. 5 among small schools. Kayla Robertson had nine kills and Rachel Schipper and Mary Kate Mulvaney combined for 35 assists.
St. Dominic took control early with a 7-1 run. Robertson had three big swings and Ella Bland and Riley Robertson each had an ace to give the Crusaders an 11-5 lead.
Lafayette chipped away at the deficit until Lochman put down a kill, Elizabeth Katz followed with an ace and Nelson added a block to tie the first set at 17-all.
Risley took over for the Lancers down the stretch with a pair of kills and stuff block. Layne Witherspoon's third kill of the set clinched the opener for Lafayette.
"Trying to hit it down in the corners into the seams was kind of working pretty well, and trying to steer away from their libero (Ella Boeding), she was picking it up a lot," Nelson said.
Schreimann helped St. Dominic take control of the second set, blasting home three kills and combining with Emma Blaine for a block to give the Crusaders a 21-17 lead.
"Bree's always special," St. Dominic coach Courtney Bland said of Schreimann. "She does a fantastic job for us. She's obviously our go-to and she can just put balls away like no other."
The Lancers answered and a Maya Witherspoon spike tied it at 24-all, but Robertson answered with a kill and Ella Bland followed with an ace to clinch the set for St. Dominic.
Lafayette broke open the third set with a 7-1 run. Lochmann had a kill and a block and Mia Moser added an ace to make it 20-13.
A Layne Witherspoon kill and a Nelson ace gave the Lancers a 2-1 lead.
"We all know she's a stud and she was really quiet last year so I'm glad everyone kind of brought her out of her shell," Layne Witherspoon said of Nelson. "She's really killing it on the court."
Lafayette pulled away in the fourth set behind the serve of Audrey Savacool. The Lancers libero started the run with an ace and then mixed up speed and length of her serves to keep St. Dominic's serve receive off balance leading to easy kills for Maya Witherspoon and Lochmann to make it 21-14.
Kills by Lochmann and Maya Witherspoon ended the 1 hour, 48-minute match.
Young said staying in the moment was big in pulling out the match.
"I think just understanding that, you know, every point's worth one," Young said. "You know that they're going to have some big kills and they're going to have some great points and we just got to turn the page and move on quick."