Fort Zumwalt North girls volleyball players call it "bungee Monday."
The special conditioning practice every week is a brain-child of Panthers coach Mark Morrison. It features various activities where players test their fitness while running against resistance bands.
STLhighschoolSPORTS.com rankings - 9/18/2019 Large SchoolsLast Week1. Cor Jesu (4-0)12. Lafayette (7-0)23. Francis Howell (3-0)34. Oakville (1…
"Morrison always likes to say that there's no team in the conference that's doing bungees like we are," Zumwalt North senior Abby Wright said. "It's tough. We've got a different workout every day. Coach really puts us through it."
Those tough workouts have translated to success on the court. Zumwalt North (10-1) is off to the best start in at least 20 years.
The Panthers are coming off of 5-0 result last weekend at the Alton Tournament. Wright, a standout middle hitter, was named tournament MVP and libero Mandie Herron and outside hitter Brooke Ronquest earned all-tournament honors.
"It was definitely unexpected," Herron said. "It's definitely a great start to the season, especially when you play with your best friends it's really fun."
North's core of five seniors — Wright, Herron, Jordan Gentry, Valerie Overton and Savannah Sellers — has set the tone for a group of talented juniors and sophomores, including Ronquest, Kailee McGee, Avery McGee, Abbi King, Jill Huser and Kennedy Janes.
"It's a great blend," Morrison said. "They play loose, they play with high energy and they just love to play the game."
The key to the Panthers' success is defense. Morrison said he can't remember coaching a team that has had so many pancake digs in such a short time.
Herron takes a special pride in frustrating opponents from the back row.
"Defense is one of those things where it's all grit and grind," Herron said. "We all get so high when we get a good pass so it makes it easier."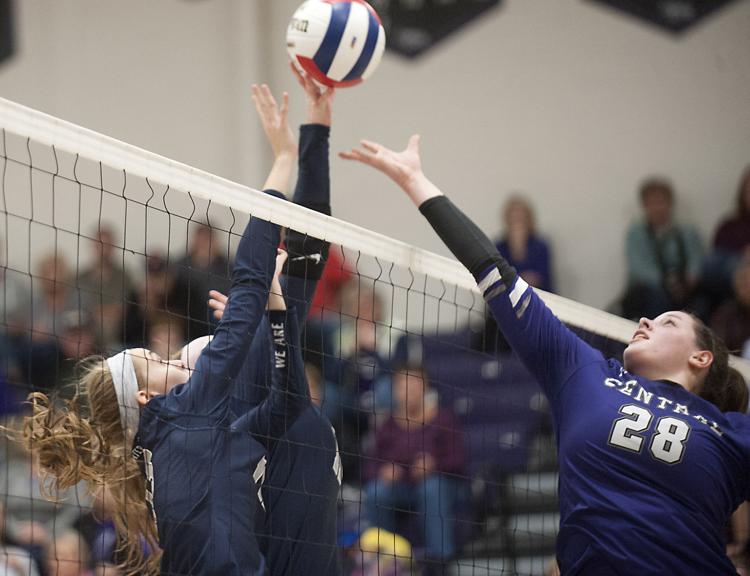 SHORTHANDED BREESE CENTRAL MAKES STRONG SHOWING
The Cougars knew the challenge at the Crossroads Classic in Effingham would be tough, playing against much larger schools and without standout Abby Johnson in the lineup.
But Central proved it was tough, too.
The Cougars knocked off Ursuline and Wheaton St. Francis in pool play Friday and came back Saturday to beat Normal to advance to the gold bracket semifinals. Though they lost to Plainfield North and Edwardsville and finished fourth, coach Cris Toennies was extremely happy with what her team showed.
"I have high expectations this year all the way to making it through the postseason," Toennies said. "I think this tournament shows just how far we can go and how well we can do even without one of our best players."
Senior Taylor Pavich had to adjust to setting a 5-1 instead of a 6-2 with fellow setter Brynne Luebbers out sick. Pavich also came up with several big kills from the right side.
Outside hitter Emma Szczeblewski attacked from all areas of the court and kept opponents off balance. Grace Boeschen continued to play strong defense after moving to libero from outside hitter.
Central (8-3) continued its strong play with a 23-25, 25-12, 25-14 win Tuesday over Cahokia Conference Mississippi Division rival Columbia. The win kicks off a big week for the Cougars, who also take on Freeburg on Thursday and No. 4 small school Mater Dei in a crosstown rivalry match Saturday.
"We need to continue to build on what we've got right now," Toennies said. "We need to continue building on out-of-system options, we need to speed up our offense a little bit and stay healthy."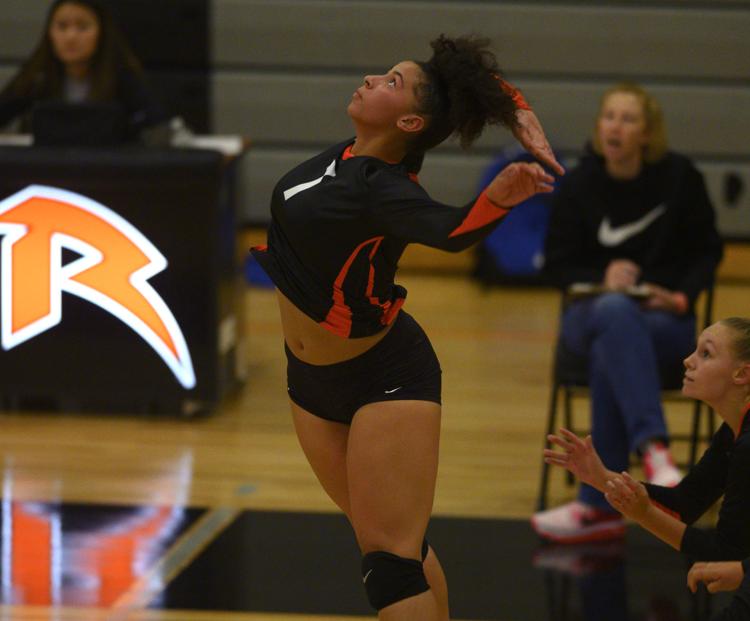 RITENOUR TAKES LUTHERAN NORTH TITLE
The realization finally hit Huskies coach Ellen Kim sometime before the seventh-inning stretch at the Cardinals game on Saturday night.
Kim had to rush out moments after Ritenour had beaten Whitfield 24-26, 25-19, 25-20 in the championship match of the Lutheran North Tournament because she had tickets to the Cardinals game, which already had started. She finally processed the accomplishment in between bites of nachos.
"Once I got there and I had settled in, I got a plate of food, I messaged the girls and said, 'Wow guys, we're pretty good. We just won a tournament,' " Kim said.
Ritenour (8-2-1) followed the championship with a 25-14, 25-21 sweep of McCluer North on Monday. It took the Huskies 20 matches to hit the eight-win mark last year.
Middle hitters Makayla Hollyfield and Mekayla Stephens power the attack. Hollyfield is a four-year varsity starter, but Stephens' emergence this season has created a tough one-two punch up front.
"She is just a completely different player this year," Kim said of Stephens. "She's blocking like crazy, she's hitting amazing. It's like all those things clicked with her."
Second-year setter Ava Biesterfeld continued her strong play and freshmen hitters Amber Glen and Sophia Reppert have proven to be strong six rotation players.
"We knew the freshmen were going to be good," Kim said. "I think I'm kind of surprised with how well they are passing and serving. We've had such high ratings on our serve receive and defense so our passing is exceeding expectations for sure."
With Hollyfield's senior leadership and the young talent, Ritenour has high hopes for competing for a conference and district championship.
"They have a lot of raw talent and skill and it's just elevating that mental game just a little bit," Kim said. "It's where can I place a shot instead of just hitting it really hard or where I can place a serve where the other team can't attack us?"
• No. 6 large school Timberland (9-1) won the St. Charles West Tournament on Saturday. The Wolves swept Fort Zumwalt East, Winfield and Troy in pool play, beat Fort Zumwalt West in semifinals and Holt for the championship.
• No. 10 small school St. Pius X won the North County Tournament on Saturday. The Lancers went 3-0 in pool play, before edging Pattonville 20-25, 25-21, 25-17 in the semifinals and sweeping No. 3 small school Festus 25-23, 25-19 in the championship.