O'Fallon outside hitter Taylor Guy is used to making her opponents feel uncomfortable on the volleyball court. But it was the senior who found herself outside of her comfort zone at the beginning of the season as the lone elder statesman on a team filled with a talented junior class.
"When the season first started I was a little freaked out being the only senior, but it's helped me become a better leader on and off the court," Guy said.
O'Fallon coach Melissa Massey said it helped Guy come out of her shell.
STLhighschoolSPORTS.com rankings - 10/16/2019 Large SchoolsLast Week1. Oakville (24-1-1)12. Lafayette (19-6)23. Cor Jesu (18-5)34. Edwardsvill…
"It's just not natural for her to be a vocal person," Massey said. "We've been trying to coach her through that. But I feel like she has taken it and ran with it for sure. She's accepted that. It was uncomfortable for her at first, but now she's all in. It's cool to watch her grow not only as an athlete but as a person."
While Guy had to adjust to the leadership role, her volleyball abilities still made Panthers' foes adjust. Guy is O'Fallon's top offensive threat, averaging 3.09 kills a set.
Massey said Erionna Coleman (3.02 kills) is getting more comfortable at outside hitter after moving from middle blocker. She said libero Kyla Ellis is proving to be a big game player and setter Ally Denton has worked hard to keep the Panthers' 5-1 offense clicking.
"I think that we have one of the strongest back rows in the conference," Guy said. "I think that we work best when we're under pressure in the bigger games."
O'Fallon (19-8) has won three of its last four, but several big tests remain beginning with its own tournament this weekend and a meeting against No. 1 small school Althoff next week.
Massey said she hopes the tough matches will help tune up the Panthers for the postseason.
"Obviously you want to win, but at the end of the day if you're just winning games easily and you're not being challenged physically and emotionally, it does nothing for you in the postseason," Massey said.
The coach said there is still work to be done. The Panthers' lineup isn't set and she hopes the final two weeks will help solidify O'Fallon's rotation.
"I'm still trying to get some players who have been playing JV more exposure so they are ready to play on varsity because we need some more firepower," Massey said. "I'm confident we'll get there."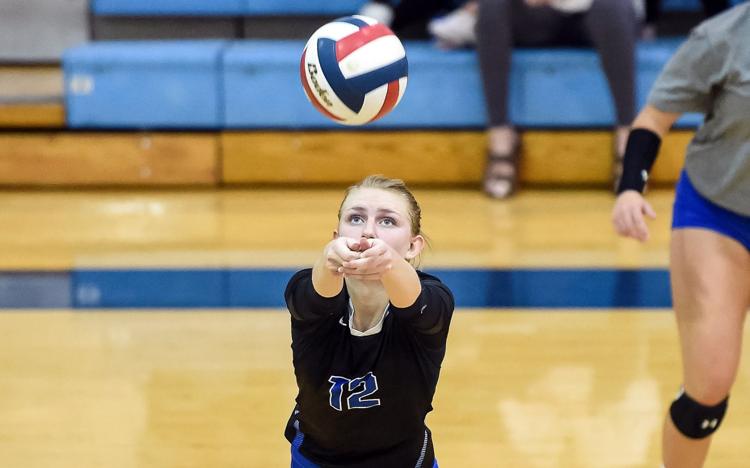 NORTHWEST REALIZING ITS POTENTIAL
The Lions have a completely different look this season.
For the past few years, Northwest's offense began and ended with Megan Fortner on the outside. With Fortner graduated, coach Debra Fortner has gone with a more balanced approach.
"I've got six good hitters that come across the court," Debra Fortner said. "It's nice that you can throw the ball up pretty much anywhere and come down with a kill."
Fortner said senior libero Taylor Hasbrook has kept the Lions in several games with her defense.
"Our defense is getting better," Fortner said. "We struggled a little bit at first but Taylor Hasbrook is so good, she reads so well. We're asking her to cover two-thirds of the court and giving another person a third, but she's handling it like a champ."
Fortner said setter Jillian Schmoll is running the offense at a high level and that hitters Maureen Mathews, Erica Schamel and Alyssa Jones have stepped up.
No. 10 large school Northwest (25-7-1) has won 11 of its last 13 matches.
"It was kind of convincing these guys that they are better than they think they are," Fortner said. "Teams had to beat them. We played Lindbergh in a tight match, they beat us the first game and they came back in games two and three and gave it everything they got. That kind of turned it around for us."
The Lions will host the Class 4 District 2 Tournament in a couple of weeks. Fortner said the team's mindset will be key.
"Staying positive," Fortner said. "We've got to correct a few errors, got to get a little smarter with our swinging, but really just got to keep playing and not letting anything hit the floor. Play with confidence, don't' be afraid to take the big swing and have the expectation that teams have to beat us, not that we have to beat them."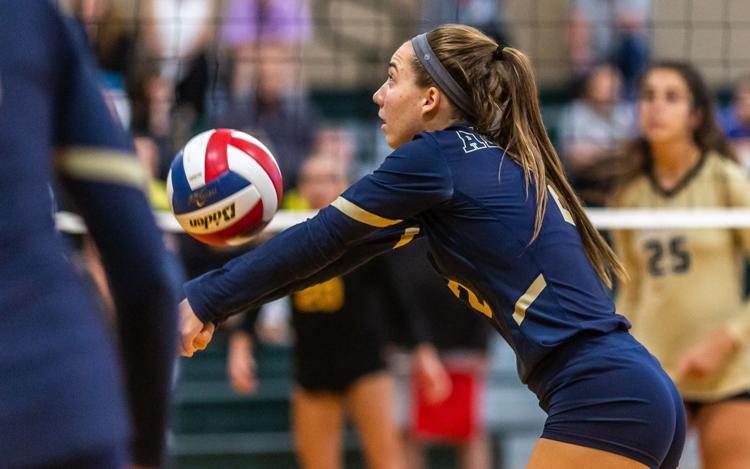 NEW TOURNAMENT TO CROWN SOUTH 7 CHAMPION
With teams spread out from Belleville to Centralia to Carbondale, travel always has been a concern for teams in the South 7 Conference.
"It's probably going to be a learning process for all of us," Marion athletic director Ryan Goodisky said. "It's something that we've talked about at our conference meetings the last few years."
Conference members always have played two matches against each other. This year the members each played one match before the tournament during the regular season and then will play their second match in the tournament in a round robin format.
To alleviate the number of matches during the tournament, conference members who are closest to each other are scheduled to play their second match Thursday ahead of the tournament. That means Althoff and Cahokia, Carbondale and Marion and Centralia and Mount Vernon will get their second meeting out of the way before the tournament since travel between those schools isn't an issue.
"I think going into this tournament it's pretty obvious that Althoff and Centralia are the two best teams from top to bottom in the conference this year and they are scheduled to play at the end of the day at 2:15," Goodisky said. "But when you factor in that they will play multiple matches throughout the day, are you worried that the teams could be tired at that point in time? Is it truly going to be the best championship match at the end of the day between those two schools if everything falls into place? There's probably some advantages and disadvantages just like anything, but in all honesty we really won't know until Saturday when this thing plays out."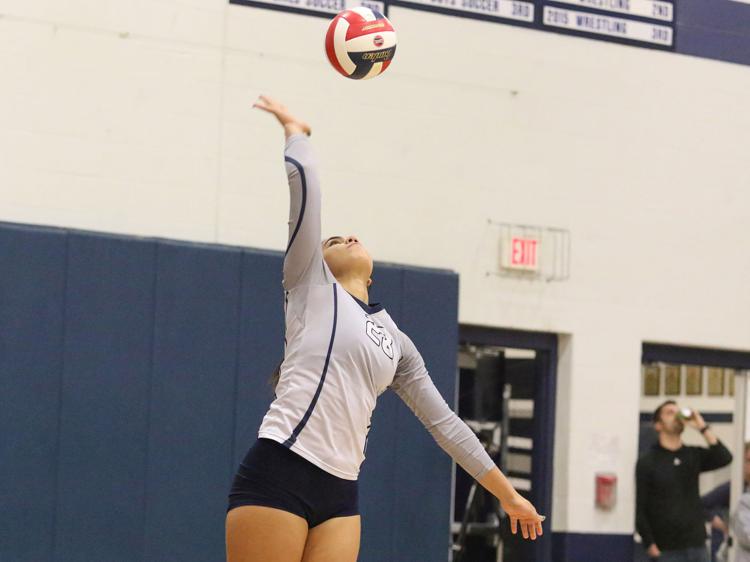 FRANCIS HOWELL CENTRAL OVERCOMES ADVERSITY
The Spartans have had to overcome their fair share of obstacles this season but have found their groove as the season has hit the home stretch.
Central coach Julie Gronek gave birth to twins late this summer, causing her to have to miss this season. Steve Le, the Spartans' boys volleyball coach, stepped in to lead the team.
After a rough start to the season in the rugged Borgia Tournament, No. 8 large school Central (13-4-2) has won ten of their last 11 matches and snapped an 18-match losing streak to conference rival No. 9 Francis Howell during that span with a three-set win on Sept. 30. Central and Howell are tied atop the GAC South standings and a win next week over Fort Zumwalt West would assure the Spartans a share of the conference championship, which would be their first in nine years.
Kayla Steinmeyer (3.67 kills), Elexus Pearson (3.14 kills) and Olivia Green (2.92 kills) have shouldered the offensive load. Alexis Arnel and Steinmeyer lead the team in serve receive and digs.