Big changes are coming to girls volleyball in Missouri next season, and several teams are trying to get ready in advance.
Starting next season, volleyball matches will move to a best-of-5 set format instead of best-of-3. Schools have had the option of playing five sets, but with the change looming several programs have taken the longer option to help prepare their players and but their coaches for the longer matches.
STLhighschoolSPORTS.com rankings - 9/11/2019 Large SchoolsLast Week1. Cor Jesu (3-0)22. Lafayette (5-0)33. Francis Howell (1-0)44. Oakville (8…
"It's a big difference," Incarnate Word coach Shane Weber said. "You've got to manage your bench better. You've got to manage your starters better. In a potential big match, if you go up 2-0 you can consider maybe playing a little different situation giving someone another chance because statistically you have to lose three in a row, you're in the driver's seat.
"But if you're down 2-0, you have to make a choice — do I ride the wave and keep my experienced girls out there or do I go in a different direction and maybe put a run on the board? It's a much different game for sure."
Weber said the Red Knights will play five best-of-5 matches this season, including last week's home loss to Borgia.
Lafayette, the defending Class 4 runner-up, will play three such matches. Coach Zach Young has experience in best-of-5 from coaching on the collegiate level.
"You get more chances to possibly get more kids in," Young said. "The kids get to play a little bit more, it's a longer match," Young said. "You can prepare those who go on to college. If you've got a pretty good team, it's pretty hard to beat you three times in one night.
"From a student-athlete standpoint, I'm not sure it's the best thing. It's a longer night. You cut into some study time. We've already got athletes who are probably being over-exposed and over-used as far as club and in high school, especially when you've got a team with one or two main attackers, they are taking that many more swings over the year."
Only three states, including Missouri and Illinois, play best-of-3. The rest already play best of five.
Jason West, Missouri State High School Activities Association communication director, said the MSHSAA board approved of the change last year.
The postseason format likely will change next year as well, with semifinals going from pool play to a straight bracket. That change would have less to do with going to a best-of-5, but rather with going from four classes to five.
"That's not quite a done deal, but based on the number of schools that have registered and based on the enrollment breakdowns and the classification policies we have, it is highly likely that we will go to five classes," West said.
KIRKWOOD'S BELDEN SETS SPORTSMANSHIP STANDARD
Pioneers libero Nora Belden just did what was right.
There was a disputed line call during Kirkwood's match against Borgia on Saturday. The Pioneers capped a spirited rally by putting the ball down near the line.
It was so close that the officials didn't have a clear view, but Belden did. She walked up to them and called the ball out, in favor of the Knights.
"Borgia is a very good team and I've played a lot of good teams and no part of me wants to play knowing that I didn't work for everything," Belden said. "I'd rather lose the game rather than my team getting a point we didn't earn."
Kirkwood coach Julie Goodmann said she was so focused on the next point she didn't realize what Belden did until after the match.
"One of the refs approached me and said I'm writing a letter to the state about your libero and I said, 'Why'?' " Goodmann said. "It was a tough game against Borgia and we'd had a rough day to that point. I don't even know what point it was at that point, but (the referee) was so impressed."
Kirkwood ended up losing the match, but Belden's actions left an impression.
Borgia tweeted about her act of sportsmanship and word spread from there.
"She's just trying to do the right thing," Goodmann said. "She has no idea people are talking about her the way they are, which is cool. She just knows it's the right thing and that's what you should do."
Belden wishes her actions weren't unusual.
"I was 100 percent surprised that anyone paid attention," Belden said. "I wish it would happen more often. Everyone is so focused on winning, but it's good to earn your points."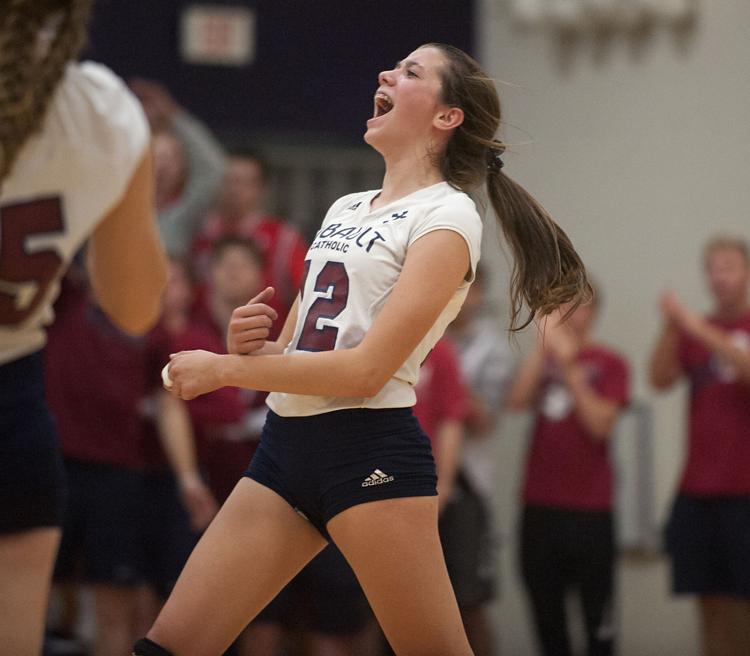 Watching your senior captain and three-year starting setter fall into a heap on the ground in the first set of an early-season tournament wasn't exactly how Kelsey Hartung expected to start her tenure as Gibault's new coach.
But the Hawks might be better off for it.
Kayla Huels has run Gibault's offense since her freshman year but came down awkwardly on another player's foot while going up for a block against Marissa. Huels twisted her ankle and was forced to sit for a couple of days.
That meant Ryley Lehmann, a junior, was thrust into the setter's role without any training.
"I had to pull the girls aside and say listen, 'We just lost one player. Even though she was a crucial part, everyone else still has to stay the same,' " said Hartung, who spent the last two years as a Gibault assistant. "Everyone still has to play their position to their potential and they did."
Lehmann helped guide Gibault to three-set wins over Marissa, Wesclin and Red Bud over the first two days of the Labor Day Tournament to help the team advance to the gold bracket.
Huels returned for the gold bracket matches and led Gibault (10-3), No. 7 in the STLhighschoolsports small school rankings, to the championship with wins over Pinckneyville and Red Bud.
Sitting allowed Huels to see a different side of the game. She told Hartung that she gained a better understanding of what the coach has been preaching.
"It was kind of a like a light bulb went off," Hartung said. "When you're on the court you don't really see it because you're caught in the moment, but when you sit down for a second and see what's going on the court it's an eye opener."
Ande Grohmann and Ashlyn Wightman earned all-tournament honors for Gibault, who has high hopes with a veteran squad.
"I think this team will go far and it's not just from talent," Hartung said. "The gel that this team has together, they're a great group of girls and they've been playing together for years. The chemistry on the court is phenomenal. They'll fight. They're constantly hungry, it doesn't matter who they are playing. They can be playing a top 4A team and they'll fight to the end."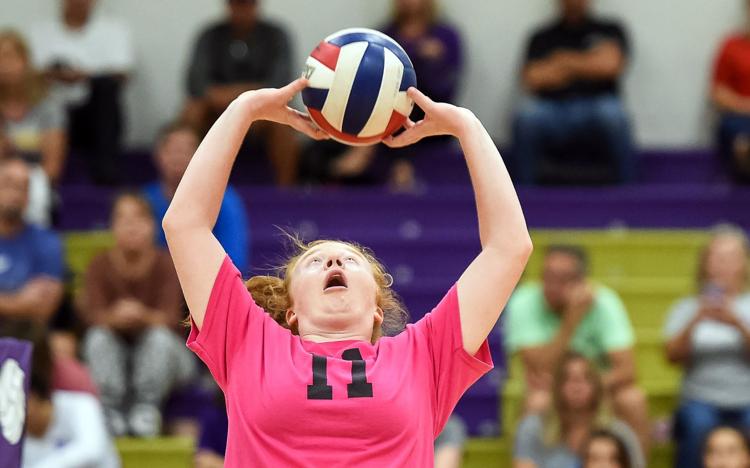 • Oakville won the Edwardsville Tournament, beating Mater Dei and Normal on the way to a championship match victory against host Edwardsville. Julia Klump was named tournament MVP and Alexis Williams and Liv Klump also earned All-Tournament honors.
• Highland won the Carbondale Tournament. The Bulldogs outlasted Waterloo 25-22, 21-25, 15-13 in the championship.
• Kirkwood's Katie Paul eclipsed the 1,000 career assists mark.