Summit outside hitter Amber Schade could have used some ice for her right arm Saturday night.
The 5-foot-11 senior is used to the feeling.
"I'm surprised it hasn't fallen off honestly," she quipped.
STLhighschoolSPORTS.com rankings - 10/9/2019 Large SchoolsLast Week1. Oakville (22-1-1)32. Lafayette (17-6)23. Cor Jesu (16-4)14. Edwardsville…
Schade, as she has all season for Summit, saw plenty of work in the Lutheran South Tournament. Schade, who has verbally committed to Lindenwood University, helped lead the Falcons to a second-place finish.
"She always kind of handles most of the offensive load," Summit coach Aaron Hummert said. "I'm not joking when I say I think she attacked the ball more than 200 times this weekend."
Summit (18-7-1), No. 9 in the STLhighschoolsports large school rankings, started slowly in pool play, splitting with Troy. The Falcons rebounded by sweeping No. 10 Timberland and then got swept by Helias.
The Falcons beat Parkway Central in the semifinals and then lost in three sets to Helias in the championship.
"I like the fact that despite losing in two to Helias the first time that we came out and played a whole different ballgame (in the championship)," Hummert said. "We knew what they were going to go to. They beat us up with their middles the first time around and we were able to contain their middles for the first set and part of the second set. I liked our ability to see something, adjust and make those changes. It also shows that a good game plan will help you out especially against a good opponent."
Hummert liked the play of his middle hitters Kylie Stehlin and Elaina Vogel. He said libero Tessa Schneider was strong in serve receive and setter Abby VanBuskirk did a good job running the offense.
"We are all around just very well connected," Schade said. "The team dynamic this year is a lot smoother and we all get along a lot so it contributes a lot to winning."
That team dynamic has been helped with more familiarity with Hummert, who is now in his second year at the helm.
"I think we're right where we want to be," Hummert said. "We've got to find a couple of little things to get us over that hump. It's seems like there's something just getting in our way come crunch time."
Hummert believes that speed bump can be overcome by paying attention to the little things during practice.
Summit built on its weekend performance with a three-set win over Pattonville on Monday night. The hope is that the strong play is just the start of things to come down the stretch.
"We just need to stay positive and just do what we do best," Schade said. "Work as a team and just continue to grow and come together."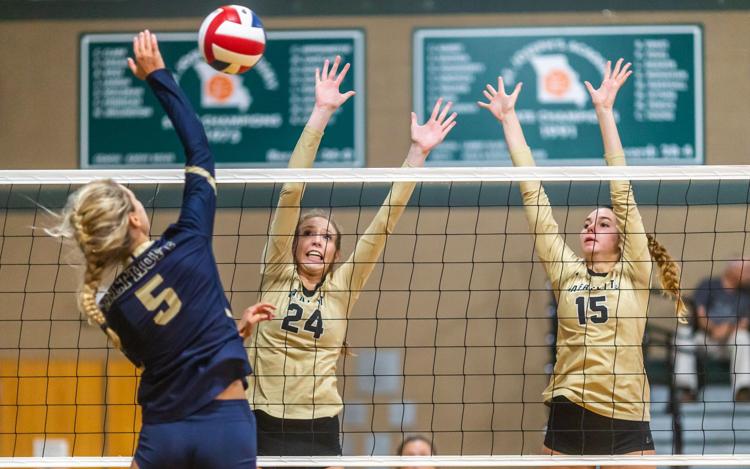 LAFAYETTE TAKES CONSOLATION AT BLUE SPRINGS
The Blue Springs South Tournament is always extremely competitive. This year it was on another level.
Area powers No. 2 Lafayette, No. 3 Cor Jesu and No. 7 Francis Howell all ended up in the consolation bracket.
"I think we had the toughest pool there, but I'm not going to complain about that," Lafayette coach Zach Young said. "We went to get good matches and we got good matches."
Lafayette (17-6) ended up beating Cor Jesu (16-4) in three sets in the Silver Bracket final, avenging two losses to the Chargers earlier this season.
But Young noted that Cor Jesu was missing several key players in the latest meeting.
"On paper it's a great win and I'm not going to take anything away from it because they are just a great program," Young said. "But I think we kind of caught them on their heels a little bit on that as well."
Lafayette began pool play by beating eventual tournament champion Nixa in three sets. The Lancers dropped a three-set match to Blue Springs and got swept by St. James Academy of Lenexa, Kansas, to fall to the consolation bracket.
The Lancers swept Howell and Lee's Summit North, setting up the rematch with Cor Jesu.
Young said middle hitter Allison Beaton continued her consistent play and that right-side hitter Allison Sink had a good tournament. He said defensive specialist Maggie Rogan finished the tournament at libero and anchored the back row.
"I think we're making strides in the right direction, but it's one of those things that there's so much parity it the St. Louis area where one day you look great and the next day another team makes you not look so good," Young said. "I think it's really going to come down to these last three weeks to who puts in the work and who can be gritty and I think it will be a fun playoffs this year."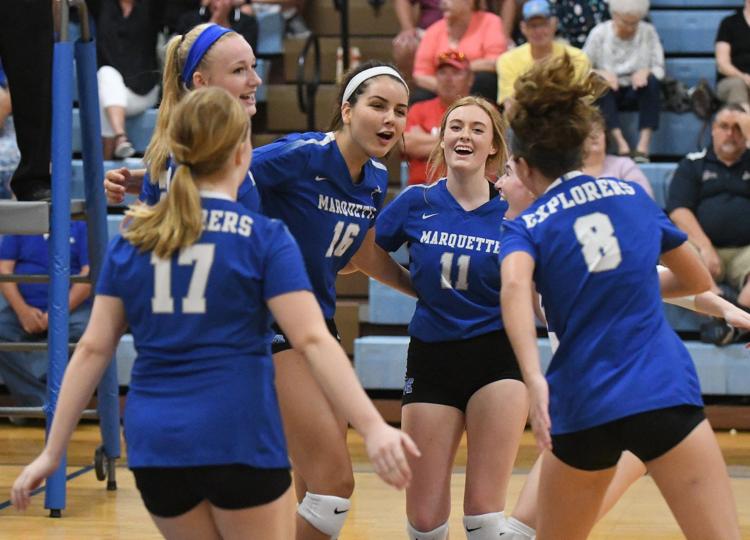 ALTON MARQUETTE ON A ROLL
Explorers coach Sue Heinz took one look at her team's Class 2A regional field and knew something had to change.
With heavy hitters Breese Central, No. 3 small school Mater Dei, Columbia and Staunton looming in the playoffs, Heinz wanted to make sure her team was battle-tested. So even after the season started, she got her team in the O'Fallon Tournament next weekend to face bigger, tougher competition.
"Hopefully, if we don't get wins, we'll have good losses and that's what we've had this season," Heinz said. "I know that sounds pessimistic in a way, but the loses that we've had this season they've all been 2-1, we've never been shutout. All of our losses have been good, we're playing hard and I think that's what we're going to get out of that, to show that we can compete with a higher level team. We've got the skill."
The losses haven't exactly been commonplace for Marquette (16-5) of late. The Explorers have won 13 of their last 15 matches.
Heinz said middle hitter Emma Menke has set the tone offensively and outside hitter Kristine Laurtizen has stepped up during the streak. She said libero Delaney Cain had 25 serve receives without an error against Metro East Lutheran and Ellie Jacobs and Nova Silliman have done a good job playing cross-court defense against opposing opposite hitters.
"I think the girls are just finally coming together playing really well as a team," Heinz said. "Working hard together, I've got a very talented team kind of spread across all my hitters. They all have some skill. I don't have one superstar. I have a couple of standouts, but for the most part everybody is clicking together and working well together."
The Explorers hope to take their game to an even higher level in time for the playoffs.
"In practice we're trying new things," Heinz said. "We're working on new plays. They have more confidence in their skills as well."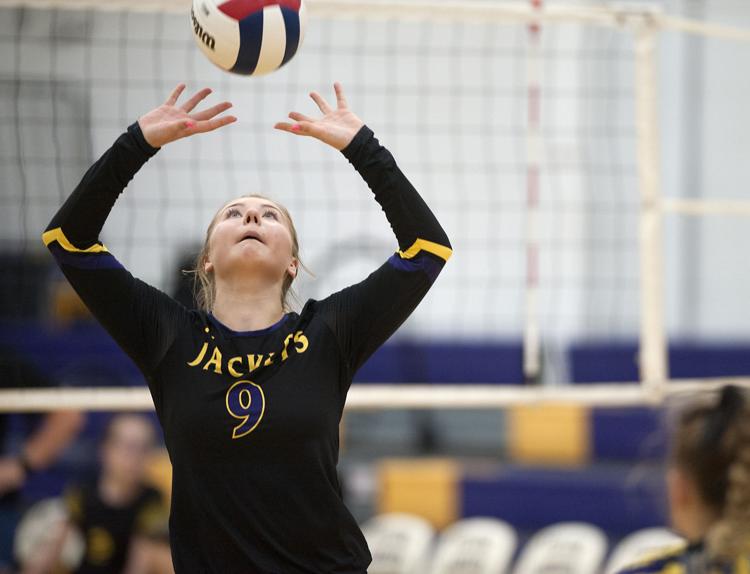 • Eureka's Avery Crowder and Lafayette's Shannon McLain both reached 1,500 career assists during the Blue Springs South Tournament.
• New Athens (17-5) won the Sparta Tournament on Saturday. Danika White and Lindsey Poirot made the all-tournament team for the Yellow Jackets.