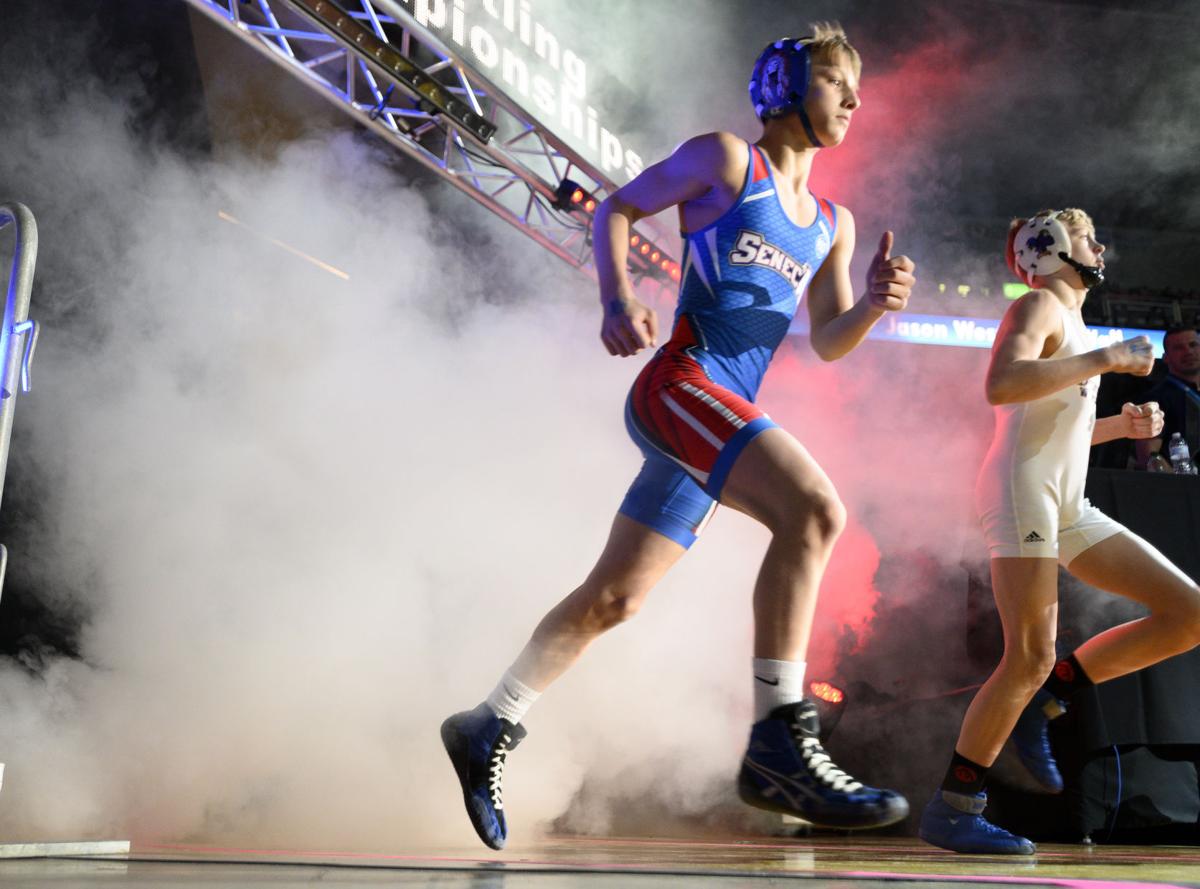 Missouri's wrestling state tournament will look quite different this season, and the Missouri State High School Activities Association announced most of the details Tuesday.
Instead of the usual three-day event which brings boys and girls wrestlers from each classification together in the same location, the 2021 MSHSAA wrestling championships will be broken into five individual tournaments — each occurring on a separate day between March 9-13.
Each of the five tournaments — four classifications for boys and one classification for girls — will be conducted at Cable Dahmer Arena in Independence. MSHSAA communications director Jason West said the girls state tournament is scheduled for March 9 but dates for the boys tournaments have not been assigned.
The location was moved from its traditional venue of Mizzou Arena in Columbia because of "questions and uncertainty of venue/facility availability relative to COVID-19," according to a news release from MSHSAA.
"It is not ideal, but I understand the dilemma MSHSAA is facing," Northwest-Cedar Hill coach Ron Wilhelm said. "I think the coaches and wrestlers really want the feel of the entire state experience and a one-day tournament eliminates that aspect."
Previously, the three-day state tournament had been scheduled for Feb. 18-20 at Mizzou Arena.
The number of wrestlers from each classification who will qualify for the state meet also was changed to 12 from the usual 16 per weight class. The reduction in participants was "in order to comply with National Federation of High School rules regarding the maximum number of matches in a day," the news release said.
The method to qualify for state also has changed. MSHSAA has expanded the number of districts from four to eight per class, with the top four finishers from each weight class in each district advancing to a sectional round, which is a new addition to the postseason schedule.
The top three finishers from each weight class in the four sectionals will become the 12 wrestlers advancing to the state tournament.
"Only taking three qualifiers will really devastate those bubble kids who dream of making the state tournament. I feel for those kids," Wilhelm said.
District tournaments for girls are scheduled for Feb. 5-6, while districts for boys will be Feb. 13.
Sectional tournaments for girls then will take place Feb. 20, and sectionals for boys will occur on Feb. 27.
Despite the changes, Wilhelm is grateful a state tournament experience is still a possibility for his wrestlers and for wrestlers across Missouri.
"I'm excited that MSHSAA is doing everything in their power to still have a state series and I truly applaud their efforts," Wilhelm said.