Sam Karraker was so close, yet so far away from Belleville Township's Mississippi Valley Club Hockey Association championship in 2019.
An eighth grader at the time, Karraker could only cheer on the team from the stands at McKendree Ice Rink. Players can join Belleville Township's program as seventh graders, so Karraker had played with and practiced with the players on the ice.
"It was kind of painful because I was so close to being on that team," Karraker said. "And the kids that really made it happen, there was a huge class of like 13 or 14 kids that really made a big push that made them win that year, I got to play with all those kids."
Karraker is doing his best to led Belleville Township (18-1-1) to another title.
Karraker is the area's top scorer with 36 goals and 16 assists. He has five game-winning goals and six hat tricks.
"I've yet to score a goal that's just individual," Karraker said. "It's passing. My line has really helped. It's hard to play individually in this game, but the team is just, I don't know how to explain it, we just click."
Belleville Township coach Nick Horbenko said Karraker's work ethic sets him apart.
"I've been coaching him since he was a seventh grader and if we were going to do a line drill, we're just skating them up and down the ice, he would always make it a point to try to win," Horbenko said. "Even though he was a seventh grader skating against seniors, he didn't care, and I appreciated that. Even if it was a quote, unquote, punishment-type drill, he would always try to be the first guy even if he wasn't the one that caused us to skate."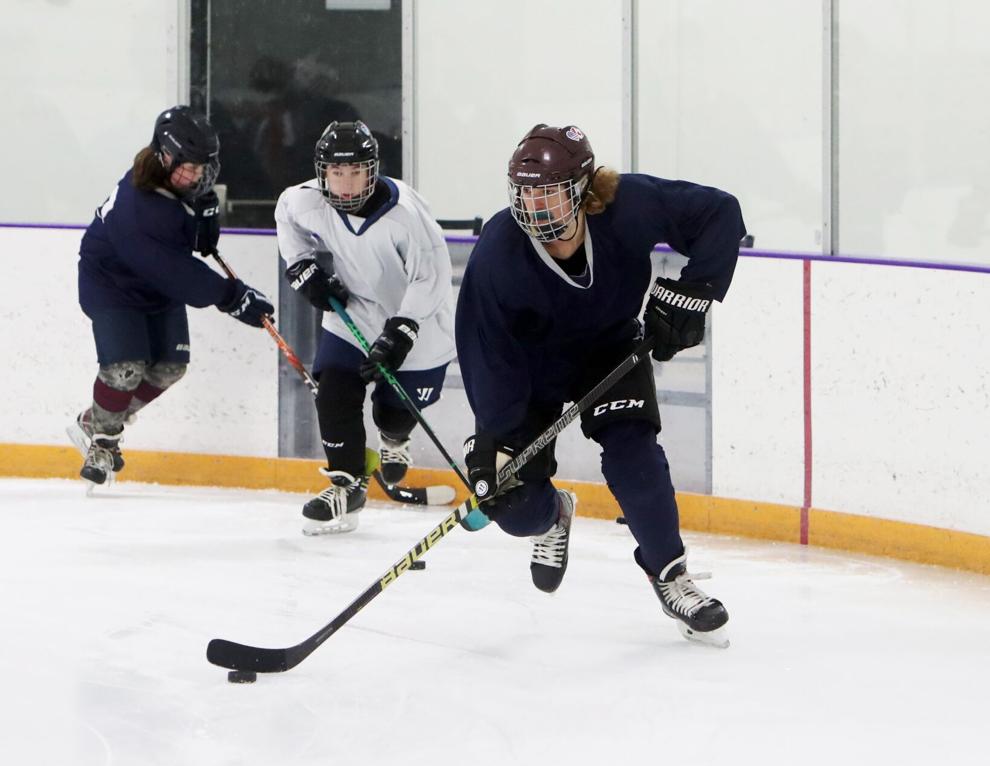 While Karraker leads by his work on the ice, teammate Ajay Altman provides inspiration by simply pulling into the ice rink's parking lot.
Altman lives in Carbondale, about a 90-minute drive to Belleville's home rink. Since there are no closer hockey options, Altman was drafted onto Belleville and makes the trip for every game and practice.
So how does a kid who lives in Carbondale end up on a Belleville hockey team?
"My parents are Canadian," Altman said. "They saw a thing for like free hockey lessons when I was about 5 (years old) or so and I just kind of fell in love with it."
Altman and Karraker complement each other well on Belleville's top line.
"He kind of gets that line going," Horbenko said of Altman. "He's in the corners doing the dirty work."
Horbenko calls Altman the team's sparkplug.
Altman has spent significant time on the top line with Karraker, but at times Horbenko said he has moved Altman around to help jumpstart other players.
"You need to have four lines pumping to win the whole thing," Horbenko said. "So we're tinkering and the person I've been moving around a little bit is Ajay, because if you can't get going with Ajay, you can't get going."
Altman, who has 5 goals and 14 assists, loves the role.
"I take pride in being able to be pretty versatile in like pretty much any forward position," Altman said. "I think that just kind of really lets me know that I'm valued in any aspect of work."
Sean Keck (11 goals, 15 assists) rounds out the top line.
The second line consists of Barrett Lampe (11 goals, seven assists), Miles Browne (four goals, seven assists) and Grant Hubert (seven goals, four assists).
Defenseman Nathan Young, who plays forward on his club team, is second on the team in points with 18 goals and nine assists. Ethan Robinson (two goals, three assists) also has excelled on the blue line.
All the ingredients have added up to the best record Belleville has ever produced through the first 20 games of a regular season, according to STLhighschoolsports.com records.
"I've been coaching there six years now," Horbenko said. "We've slowly just been getting better and better each year as a team. So, yes, I expected us to get better again from last year to this year. I didn't expect it to be this dramatic."
But the Belleville Township players aren't satisfied with having a stellar regular season. Finishing with a second Mississippi Valley championship is the goal.
"It doesn't matter if we're in the all-star game or doesn't matter if Sam's leading the league in points," Altman said. "He wants to hold up the trophy at the end of year and so do I. We just need to play as intense as we can every night. We're never going to have the luxury of being able to take the game off."
Some recent early playoff exits have provided motivation.
"It's my last chance," Karraker said. "There's a couple seniors on the team, they know it's their last chance and as a team we know this could be our year if we can really put the work in."