Marquette's run to the Challenge Cup championship game has not been for the faint of heart.
The Mustangs have faced must-win scenarios in every round, including marathon shootouts and a heart-pounding sudden death period. Each round, the drama seemed to build.
"I've been asking if we can bring a trash bag on the bench just because I've just been ready to throw up about every time of nervousness," Marquette defenseman Luke Chase said. "I can't handle it and then the excitement of winning every time those big games in the late stages."
Marquette is the first public school to make the Mid-States Challenge Cup championship game in 10 years and it is the first appearance for the school since 2003, when it lost to CBC 4-2.
The Mustangs (12-11-1) once will again face CBC (17-2-4) for Mid-States' top prize at Centene Community Ice Center at 9:20 p.m. Saturday.
"We just are winning games," Marquette coach Gary Tockman said. "People look at the rosters and they look at who's playing, and it's like, 'How do you guys keep winning?' It's just pure character and guts."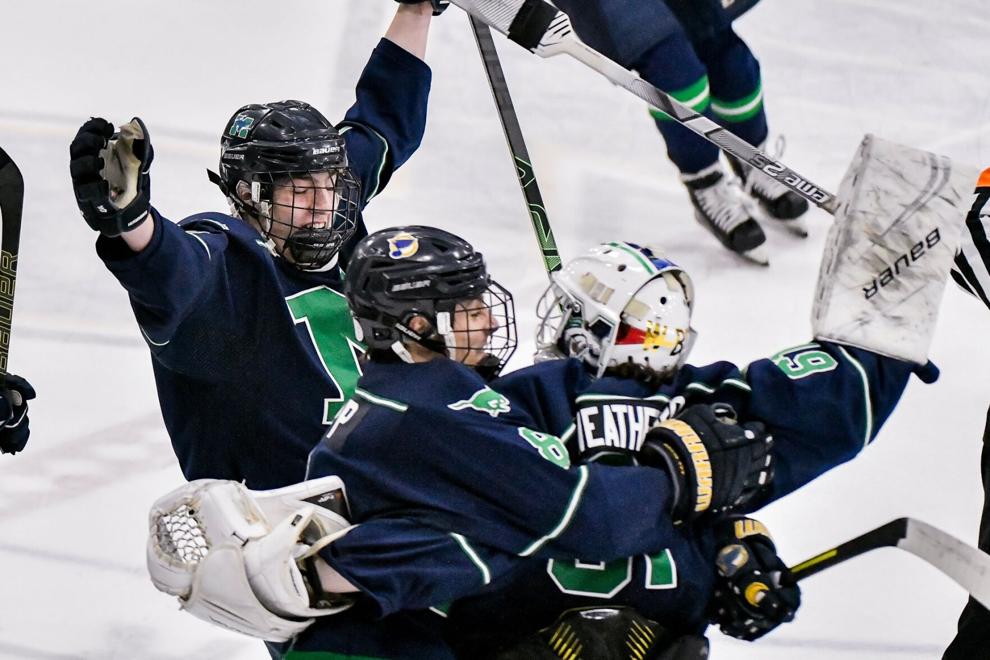 A total buy-in to the team's defense-first mentality doesn't hurt, either.
Marquette focuses on limiting opponents' high-quality chances and capitalizing on opportunities.
"We always knew that we weren't going to be the most offensively talented team or the most skilled team, so we knew we had to work even harder in the defensive zone to keep goals out of our net in order to win those tight games," Marquette forward Justin Rapp said. "So, it took it took a little bit of convincing everyone that we need to learn how to play our positions in the defensive zone, that's where we need to be our strongest because we live and die by our goalies."
Central to the defense-first mindset are Marquette's goaltenders.
Isaac Weatherford and Cole Eckert form arguably the best one-two goalie tandem in Mid-States.
Eckert did most of the heavy lifting during the regular season, sporting an .896 save percentage with a pair of shutouts.
Weatherford has been a forest green and navy wall during the playoffs. The senior is 5-1-1 with a .983 save percentage, stopping 172 of 175 shots with five shutouts in the postseason including minigames.
"All four years, both of them have just been unreal," Rapp said. "They've kept us in so many games and we've won so many games with them behind our backs."
Marquette's wild postseason ride began in the preliminary round robin.
After dropping its first game to Kirkwood, the Mustangs faced top-seeded De Smet the next day in a must-win game. Weatherford started his postseason run with 33 saves and Tyler Sillanpaa scored a third period goal for a 1-0 win.
Tockman said the mood in the locker room before the contest was loose.
"It was more of a we have nothing to lose type atmosphere," Tockman said. "It was just like you know we just lost, and we're now playing the No. 1 seed and let's just go and play hard and we're not supposed to win, so if we win even better."
A tie with Francis Howell in their last pool play game punched the Mustangs' spot in the quarterfinals against St. Louis U. High.
The Jr. Billikens won Game 1, putting Marquette in another must-win scenario in Game 2 to force a minigame. Weatherford made all 28 saves and Colin Farrell scored a second period goal to give the Mustangs a 1-0 victory.
After a scoreless minigame, the series was decided in a shootout. Ty Stultz made a shot in the third round to keep the season alive and John Bush finally ended it in the ninth round.
"I couldn't even watch," Rapp said. "I had my head down just listening for the cheers and hoping that I can hear our bench go crazy instead of theirs."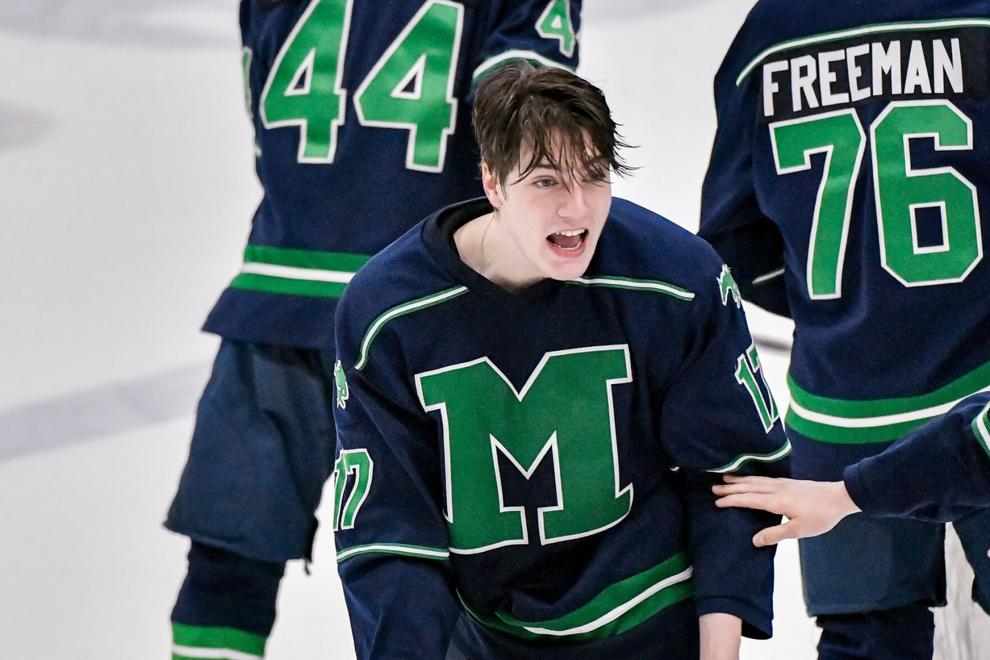 Marquette had a rematch with De Smet in the semifinals. After winning Game 1, the Mustangs were seconds away from advancing with a 2-2 tie before the Spartans scored with 24 seconds left to force a minigame.
Marquette's captains — Chase, Rapp, Ryan Paul and Ryan McDonald — helped rally the troops.
After another scoreless minigame, the series went to a winner-take-all period before a possible shootout. Stultz's goal 39 seconds in, a tip of a McDonald shot, sealed another dramatic win for the Mustangs.
Marquette takes pride in crashing what has primarily been a private-school party in the Challenge Cup final.
"The private schools are great hockey teams and they're there each year and one of the best teams, they deserve to be there, but it is nice to see a little bit of different blood in there," Tockman said. "To let it be a public school, that's even better."
Marquette last beat CBC on Nov. 12, 2010. The Cadets are seeking to win their 17th Challenge Cup, which would be the most of any team in Mid-States.
The Mustangs are looking for their first Challenge Cup title.
"We've got to get pucks on net," Chase said. "We know that they're going to try and rush the net a lot because they understand that we've got good goaltending, so you've got to give it right back to them. Definitely got to be heavy on them early, got to get on them quick and hopefully we can get shots on net and capitalize on those chances."