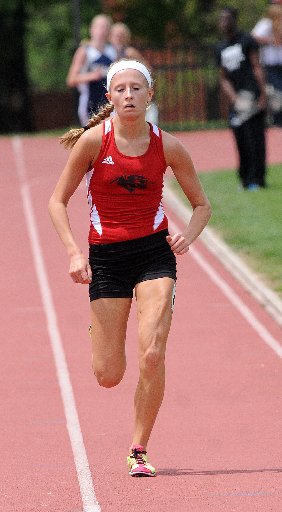 A wounded animal can be dangerous to deal with. Just ask Kaitlyn Fischer's opponents.
Fischer, a Herculaneum senior, is running for rarefied air — to become one of just a handful of track stars to ever win state in two events all four years of high school. State titles No. 7 and 8 in the 1,600 and 3,200 meters would go along with the cross country state title Fischer won in the fall. Fischer's distance prowess made her an overwhelming choice for STLhighschoolsports.com's Jefferson County female Athlete of the Year honor.
But this track season hasn't exactly started the way Fischer has envisioned. Fischer, who some opposing coaches call "The Animal" due to her intensity and competitiveness, was shelved early on due to knee tendinitis.
And "The Animal" doesn't like being a spectator.
"I was really upset, because I want to compete," Fischer said. "I wanted to get those times that I was ready for and had trained for all winter. It was right in front of me and it slipped away."
At first, Fischer was worried that the injury would wipe out her entire season and with it, the chance to run into history. Herculaneum assistant track and cross country coach Jim Kasten said they consulted with a variety of doctors, therapists and coaches before hammering out a plan to get Fischer back on the track.
That plan included special taping, therapy and a tweak in Fischer's running form. Instead of running on her toes, Fischer is focusing on letting her heel hit the ground more.
And the plan seems to be working. In just her second race back, Fischer ran a personal best 10:55.48 in the two mile at the KU Relays on April 19.
"To come back and PR after being out four three weeks gives me confidence," Fischer said. "Being out, I had no confidence."
Fischer's bounce back came as no surprise to Kasten, who has worked with her throughout her high school career.
"She lives the way athletes are supposed to live their life," Kasten said. "She does all the little things. She eats right, she studies, she make sure she gets sleep ... she'll do whatever it takes to succeed."
Now the focus shifts to continued dominance at state.
"I think about it all the time," Fischer said. "As much as I want to get good times, winning the mile and two mile again is my main goal. If I can accomplish that, I'll be satisfied."
Jason West, communications director for the Missouri High School Activities Association, said only a handful of athletes have won two different events at the state meet all four years. Fischer would join Central KC's Muna Lee (100/200) from 1997-2000; McCluer South-Berkeley's Alishea Usery (200/400) from 2005-08; Hazelwood Central's Megan Thompson (1600/3200) from 1987-90; and Princeton's Blake Goodin (1600/3200) from 2009-12.
Kasten said the biggest issue in Fischer's comeback is Fischer. Kasten said she works so hard and wants it so much that the Herculaneum coaches have to find the balance between doing enough while not doing too much.
Herculaneum track coach Dave Cook said Fischer takes nothing for granted on the track.
"If there is anyone in front of her, even if it is someone she is going to lap, she will run them down like they are taking something from her," Cook said.
Track success aside, Fischer perhaps is most proud of the cross country state title she won this fall. That championship proved elusive during her first three years, but in her final try Fischer led from start to finish.
Fischer blistered the course in 18:40.97, nearly 55 seconds ahead of second place.
"I've always wanted to win cross country at state," Fischer said. "It was definitely a highlight. I tried so hard every year, and I came up short. This summer in my training, I had a different mindset that 'I've got to do it.'"
Kasten, who has been a coach since 1971, said Fischer is the best athlete he's ever coached. "She brings everything to the table," Kasten said.
Fischer will take her talents to the University of Missouri, where she will run track and cross country. And win or lose at state, she has furthered the distance running tradition at Herculaneum.