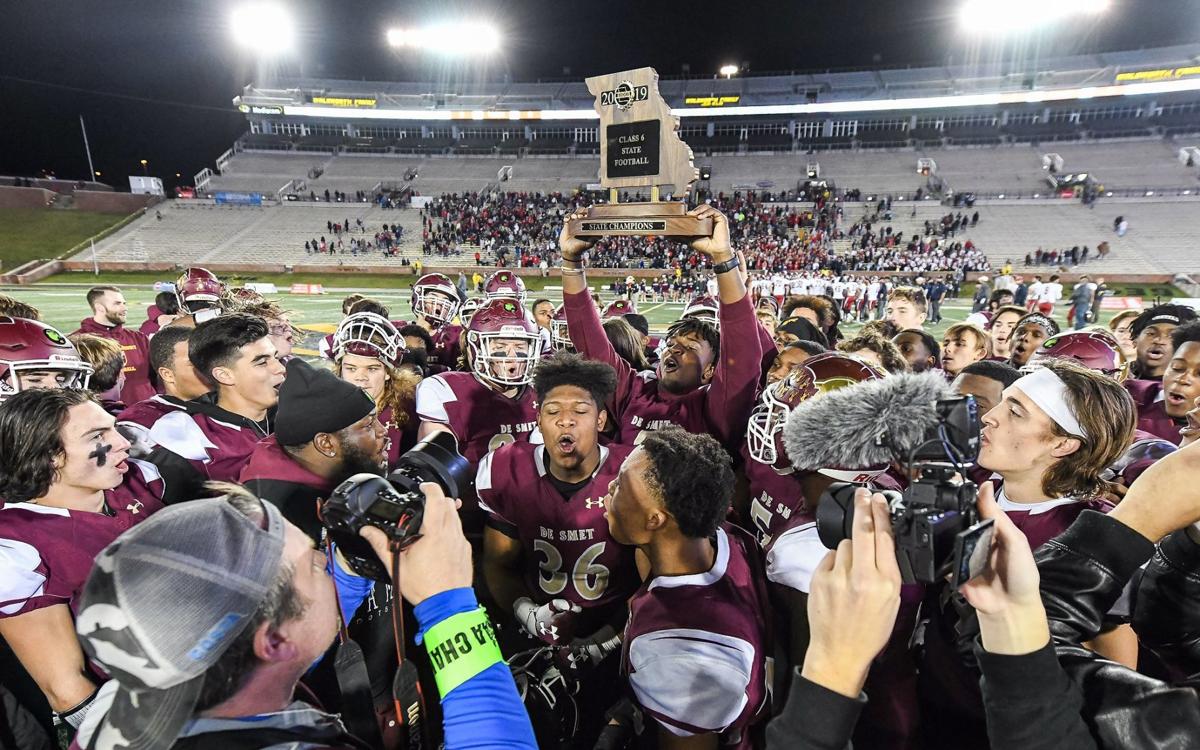 Antoine Shell looked into the near empty grandstand and had flashbacks.
The starting senior center on the De Smet football team's offensive line, Shell and his teammates began their pregame warmups on Faurot Field in Columbia in front of a sparse section of Spartans.
On the other side of Memorial Stadium it appeared that every last resident of Joplin was settling in for the town's first championship game in more than three decades.
De Smet won its first football championship in 2005. Its 14-year dry spell wasn't nearly as long as Joplin's but it certainly felt every bit of those 5,113 days. Most of the Class of 2020 was welcomed to the varsity as sophomores when the Spartans went 1-9 and were outscored on average 39-21. If that wasn't bad enough, they were often greeted by a grim sight in the stands when they returned for the second half.
Area state champions list: 2019-20
For additions or corrections, please email Chris Gove at cgove@stltoday.com. Thank you.
"We came out after halftime and it was really empty," senior wide receiver Jordan Johnson said. "It was rough."
Those hard times proved fruitful. Save one heart-stopping win over Chaminade, De Smet plowed through its opponents this fall. The Spartans went 14-0, held nine opponents to seven points or fewer and outscored the competition on average 44-9.
"This year if they left it was because we were blowing out the other team," Shell said.
Which is why Shell was a little confused and had a twinge of unease when the crowd was so small before the Class 6 championship game in November. This year was different at De Smet.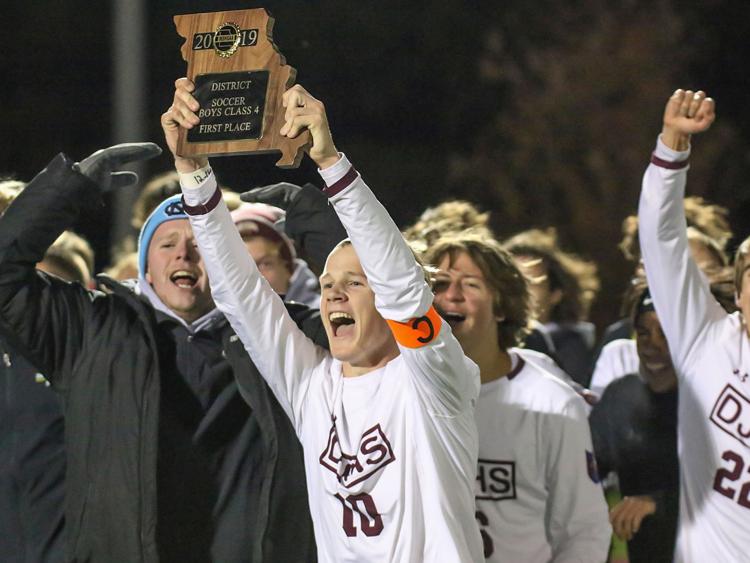 Just the week prior, the soccer team captured the Class 4 state championship, its sixth title and first since 2011. Shell and his teammates were there to watch the soccer boys survive overtime and 13 rounds of penalty kicks to knock off an unbeaten Lee's Summit at Soccer Park.
The football team couldn't make the start of the championship match, they were on a bus returning from handing Raymore-Peculiar a 37-0 mercy-clock beating in a semifinal. When they finally arrived back at school, they quickly unloaded and then carpooled over to Soccer Park where the match was still scoreless.
"When we got there (the fans) were going crazy, they were surprised," Shell said. "We came into the soccer game with high energy, we woke up the crowd for sure."
Shell's unease about crowd at Faurot Field was quelled when the Spartans were introduced before kickoff. Whether tailgating in the parking lot or just cutting it close, the De Smet faithful arrived right on time and in full force.
"When we came out, everybody was there," Shell said.
On consecutive Saturdays Spartan fans witnessed history as De Smet beat Joplin, 35-20, to capture its second state football championship. The football and soccer championships combined with a resurgent basketball season and individual state championships from wrestlers Colton King (106 pounds) and Jacobi Jackson (285) helped cement De Smet as the STLhighschoolsports.com large-school program of the year. It's the first time De Smet has been selected since the award was instituted in 2001-2002.
It's also the first time this award has been presented without a spring season to consider. Due to the coronavirus pandemic, no spring sports were played and no champions were crowned. Which means, technically, De Smet remains the defending Class 5 state baseball champion. Which is fitting. When the baseball team shook off a sub .500 record and stunned its own school by claiming the program's second baseball title last spring, it helped ignite an athletic renaissance De Smet has been working toward for the better part of three years.
"These kids just support each other, they want what each other has," De Smet athletics director John Pukala said. "Winning that baseball championship in the spring spurred that on."
There were signs this wave of success was coming. The soccer team was the state runner-up in 2018 to arch rival CBC. The football team went 9-3 before it lost in a Class 6 district championship, also to CBC.
"You could kind of see it building," De Smet soccer coach Josh Klein said. "You got a clear message that something was happening here. There's a great energy in the building."
Energy and expectations are nice, but until the Spartans showed they could put a banner on the wall it was all just talk.
"De Smet is built on tough love," senior Nick Grewe said. "We hold everyone accountable."
A wingback and one of four captains on the soccer team, Grewe said the soccer Spartans were already champing at the bit for another run to state. The baseball team reveling in an unexpected championship provided a different kind of motivation.
"Everyone saw how excited they were and how happy they were," Grewe said. "Those guys are your friends but you're definitely jealous."
Now Grewe and crew are the ones to envy. Grewe and the other captains on the soccer team were chosen to help design their championship ring. There's a lot that goes into wearing a captain's armband on the pitch but there's simply nothing quite like putting your stamp on something that will be a treasured keepsake for the rest of your and your teammates lives.
"That was something that was too good to be true," Grewe said. "It was a surreal feeling."
While nothing is promised, De Smet's reign as a powerhouse is primed to continue in the near future. The soccer team lost a talented class of seniors but also had a significant number of juniors who made an impact coming back.
The football team returns much of its stalwart defense, all three of its NCAA Division I caliber running backs and much of its offensive line.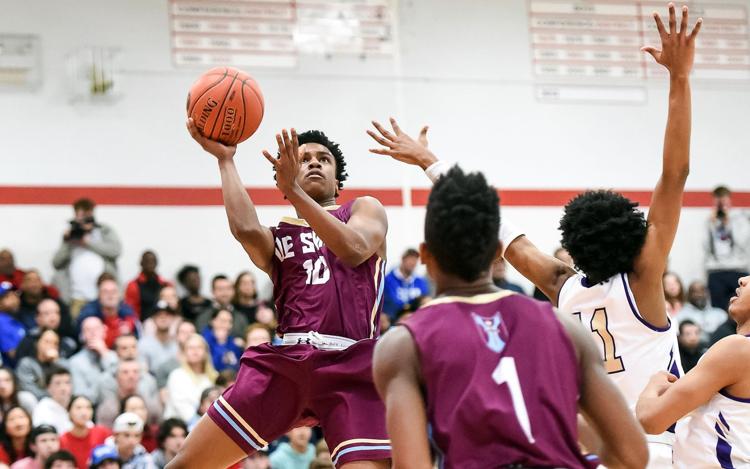 The basketball team, which won 20 games in back-to-back seasons for the first time in 18 years, lost a hard-fought district championship to CBC in March and loses just one senior. During the regular season, the basketball Spartans were the Metro Catholic Conference runner up. They beat Chaminade at least once in consecutive seasons for the first time since 2006. They ended a 16-game losing streak to the Cadets which they celebrated by storming their own court.
"Basketball games are always fun," Johnson said. "When we beat CBC that was the best feeling ever."
It's a feeling the Spartans got used to this year and one they hope carries on.
LARGE SCHOOLS PROGRAM OF THE YEAR: FINALISTS
STLHighSchoolSports.com is the most comprehensive source of stats, scores and stories from any and all area high schools.