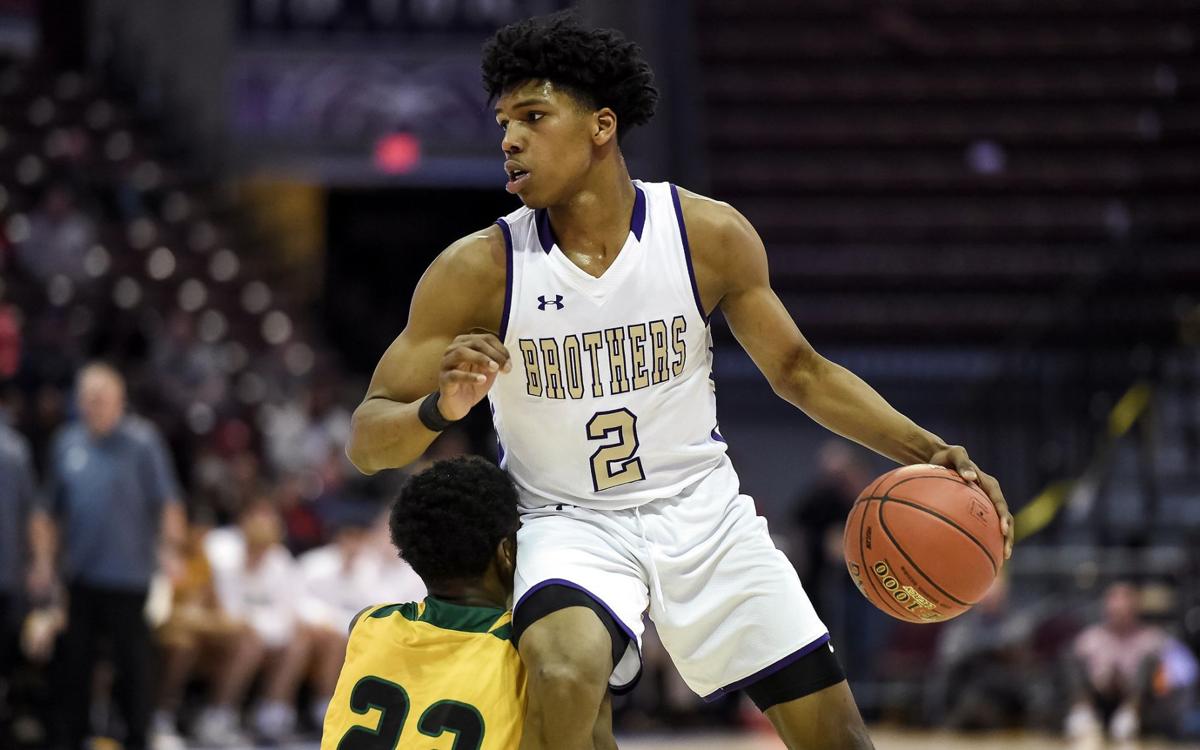 TOWN AND COUNTRY — One of Missouri's finest helped sell Caleb Love on North Carolina.
A highly rated senior guard for the CBC basketball team, Love announced his verbal commitment to the University of North Carolina Tuesday night. Verbal commitments are not binding The first day he and other seniors can sign a national letter of intent is Nov. 13.
Love, 18, made his choice after whittling his lengthy list of offers down to the Tar Heels and Missouri.
"Cutting Mizzou was hard just because they're the home town school," Love said. "They'd been recruiting me the hardest since they offered me. That was real hard."
The 6-foot-3 and 185-pound point guard is the third recruit to commit to North Carolina from the Class of 2020. He joins 6-foot-10 center Day'Ron Sharpe and 7-foot center Walker Kessler. Love is the only point guard North Carolina has come after hard.
He will get to play with two bigs after he talked with one of the best bigs to ever pull on a Tar Heels jersey.
Love received a word of encouragement from Poplar Bluff's native son, Tyler Hansbrough. An all-time talent that led the Mules to back-to-back Class 5 state championships in 2004 and 2005, Hansbrough is the last Missouri native to take his talents to Tobacco Road.
When Love took his official visit to Chapel Hill in late September, he played pickup basketball with Hansbrough, who made the pitch on playing for the Tar Heels.
"It meant a lot," Love said. "He just told me, 'I hope you come here. I see a lot of potential in you.' It felt good hearing it from him. He did a lot at North Carolina."
Hansbrough set a high bar to follow as he was selected as the national player of the year in 2008 and helped North Carolina win a national title in 2009. He is one of eight men's basketball players in school history to have their number retired.
Love said it has always been a dream to be deemed worthy of an elite college basketball program. A five-star recruit and the top-rated college prospect in Missouri, he received his first offer as a sophomore from Southern Illinois Edwardsville. It felt good to have his first one but he was always aiming higher. Eventually he landed offers from North Carolina, Kansas, Louisville, Arizona, Indiana, Tennessee, Texas and more.
"He said he wanted to play at a big school like that. He wanted to be at that level," CBC coach Justin Tatum said. "The way he worked and put the time in, I'm happy for him."
Tatum has some experience with North Carolina and its coach Roy Williams. The Tar Heels were in on Justin's son, Jayson, when he was at Chaminade. Justin and Williams have a good relationship and that certainly didn't hurt when Love's name was brought up.
"When I got the chance to talk to him about Caleb he said, 'Shoot it to me straight. Can he be in the ACC?'" Tatum said. "Roy was open and candid they need him. They want him to contribute right away when he gets in. He asked me to push him, get after him and prepare him as much as I can."
CBC went 24-8 last season and finished as the Class 5 runner up. Love averaged 19 points, four rebounds, nearly three assists and two steals per game as a junior and was named to the Post-Dispatch All-Metro first team. The stage has been set for Love to show how much he has improved from last season. CBC will play just four home games as it traverses the country and the region to take on the best competition. Tatum said there are games with Vashon, East St. Louis and showcases against Chicago powerhouses Morgan Park and Whitney Young. Plus, there's the always tough Metro Catholic Conference, which CBC won outright last season for the first time in a long time.
"Our schedule is built for what he needs to start preparing himself for," Tatum said. "He will be challenged and pushed. He'll have to fight through adversity. That's something I wanted to push for him and not just for him but our team coming off last year. We want to get back where we were and finish it."