MARYLAND HEIGHTS — Kelly Thames has never been so happy in blue.
Entering his 12th season as Pattonville's boys basketball coach, Thames is generally decked out in green. He was a standout on the court in black and gold at the University of Missouri. He punched his ticket to the Tigers after a sensational career in red and black at Jennings High.
But Wednesday afternoon, Thames was in blue and sporting the widest smile his face would allow.
His son, Kellen, had signed to play college basketball with St. Louis U. and Billiken blue was everywhere, even on him. 
"It's a great feeling," Thames said. "I know how hard he worked and this is what he wanted. He wanted to play at the college level."
The 6-foot-6 and 190-pound Kellen was one of several local basketball standouts who signed binding national letters of intent Wednesday, the first day of the early signing period. He'll be joined at SLU by St. Louis U. High senior Nick Kramer. Fort Zumwalt North senior center Connor Turnbull signed with Butler. East St. Louis senior point guard Christian Jones signed with Mizzou.
Basketball players have until Nov. 17 to sign in the early period. The regular signing period runs from April 13 through May 18. The first day football players can sign is Dec. 15 and all other sports can sign with NCAA Division I and Division II programs from Wednesday until Aug. 1.
Kellen, 17, is just happy to be on the other side of his recruiting process. In the best of times recruiting can be stressful and overwhelming. When the repercussions of COVID-19 and the NCAA's response to it by granting a blanket extra year of eligibility are factored in it just made things more complicated.
"I knew everything was going to work itself through," Kellen said. "During the COVID times I was working out at home. I had no access to a gym. I was just keeping my mind positive. I got the call and I was excited."
SLU won Kellen's commitment in part because it was the first to offer him a scholarship. He eventually landed more than a dozen, including Mizzou and Georgetown. But SLU's willingness to take a chance on him when it did meant a great deal to Kellen.
"Those are the first people to believe in me. They were the first to give me an opportunity," he said. "In that moment I felt like I knew where I was going to go."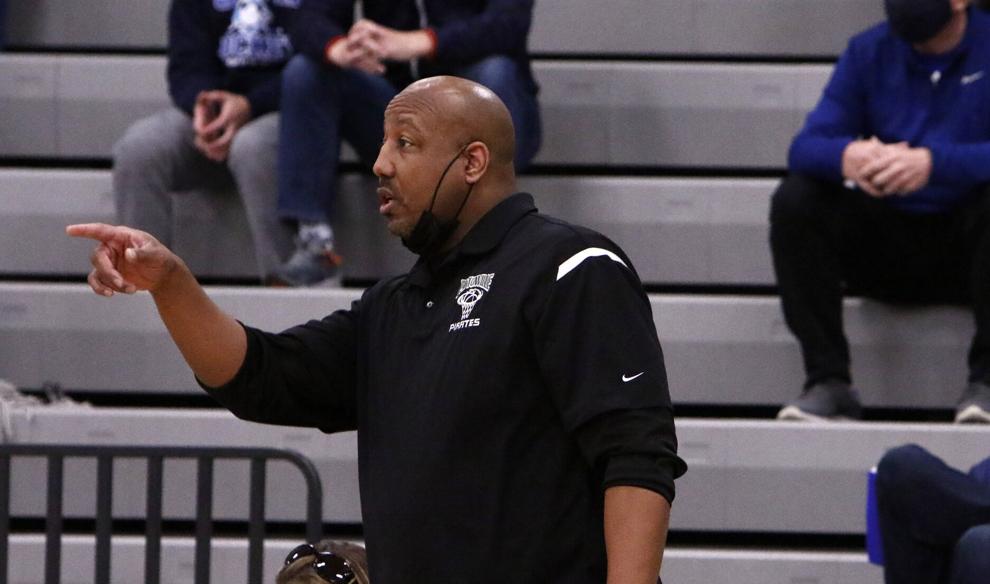 SLU landed an all-around talent who spent his junior year stuffing the stat sheet. Kellen averaged 19.2 points, 7.5 rebounds, 5.6 assists, 2.6 steals and nearly a block per game. He knocked down better than 72 percent of his free throws.
More importantly, Kellen's production was critical as Pattonville went 22-2 for the best record in school history, won the sixth district title in school history and advanced to a Class 6 sectional.
By signing Wednesday he has given himself the gift of focus. Kellen can put everything he has into making the most out of a senior season that will start soon and end in the blink of an eye.
"He wanted to sign early and have his senior year to play free, play hard and try to do the same thing he did last year even better," Kelly said. "It's a relief. The burden is off his shoulders, he can have fun and play with his teammates and friends."
Kellen is eager to get the winter season going. The Pirates have plenty to look forward to as they try to take the next step. Kellen wants to the team to be successful on the court and in doing so maybe catch some eyes and get his teammates a chance to have their own signing celebration.
"I can do it for these guys and hopefully get them opportunities to have a day like this," he said.
It can be incredibly difficult for a kid to live in the immense shadow of a parent who was a highly successful athlete, especially when playing the same sport. Kelly has done what he can to alleviate that for his son. He wanted Kellen to find his own path. That basketball became his passion was a blessing.
"I just want him to be happy and be successful and I think he's on the right path," Kelly said. "He loved the game. I just put him in good situations as far as him developing. Whatever happens, happens. I'm Dad first no matter what."
Kelly can't be Dad when he's stalking the sideline in his green Pattonville jacket. He has to bottle up all the nerves, excitement, exasperation and emotions a parent goes through watching their child play. He's responsible for everyone, not just Kellen. That will change once he matriculates to SLU. For the first time in a long time Kelly can just be Dad.
That alone is worth wearing Billiken blue.
"I can go to the games and cheer now," Kelly said. "I'm happy for that, too. I'm just happy to see him happy."
Class of 2022 area college signings: NCAA Division I and II
| First | Last | High school | Sport | University |
| --- | --- | --- | --- | --- |
| Delaney | Ahearn | Nerinx Hall | soccer | Mississippi State |
| Kyla | Allen | Jefferson | track | Southwest Baptist |
| Joshua | Anderson | Westminster | football | Eastern Michigan |
| Annie | Arand | Borgia | volleyball | Missouri S&T |
| Alexis | Arnel | Howell Central | volleyball | Truman State |
| Reese | Baechle | Francis Howell | gymnastics | Missouri |
| Connor | Bain | Triad | baseball | Drury |
| Rose | Baldus | Ursuline | soccer | Truman State |
| Jaylen | Banks | Lutheran North | football | SIU Carbondale |
| Dylan | Bates | Fort Zumwalt West | baseball | Missouri S&T |
| Chase | Beattie | Holt | baseball | St. Louis U. |
| Gabriella | Becker | Lindbergh | soccer | Missouri State |
| Macie | Begley | St. Dominic | soccer | SIU Edwardsville |
| PJ | Behan | MICDS | lacrosse | Brown |
| Meghan | Belrose | Ursuline | soccer | Northern Kentucky |
| Reagen | Berra | Troy | soccer | McKendree |
| Jordan | Berry | Summit | softball | Cedarville |
| Jacqueline | Beville | Cor Jesu | volleyball | South Alabama |
| Liz | Bierhals | Whitfield | field hockey | Maryville |
| Grace | Bindbeutel | St. Dominic | soccer | Oklahoma State |
| Evan | Binder | Whitfield | wrestling | Air Force |
| Kyra | Blondin | Francis Howell | lacrosse | Rockhurst |
| Keegan | Bluette | Webster Groves | soccer | Truman State |
| Ava | Blum | Nerinx Hall | soccer | Omaha |
| Paige | Boeger | Clayton | soccer | SMU |
| Ian | Bollinger | Gibault | golf | Lewis |
| Will | Bonnett | Parkway West | swimming | BYU |
| Dalton | Boruff | Breese Central | baseball | Lindenwood |
| Cole | Boston | Timberland | baseball | McKendree |
| Julia | Boyher | Summit | track | Lindenwood |
| Mason | Breidenbach | Marquette | baseball | Bradley |
| Ella | Brinkmann | Borgia | volleyball | Maryville |
| Chase | Brock | Whitfield | baseball | Lindenwood |
| Brian | Brown | Lutheran North | football | SIU Carbondale |
| Kinley | Brown | Francis Howell | soccer | South Carolina |
| Lily | Brown | Borgia | volleyball | Maryville |
| Macy | Brown | Incarnate Word | softball | McKendree |
| Jaiden | Bryant | Incarnate Word | basketball | Missouri State |
| Luther | Burden | East St. Louis | football | Missouri |
| Finley | Burns | Marquette | volleyball | Lindenwood |
| Steven | Busch | John Burroughs | swimming | South Carolina |
| Bradley | Butler | Lafayette | football | Butler |
| Dillion | Byrkit | CBC | soccer | William Jewell |
| Audrey | Cain | Alton Marquette | golf | McKendree |
| Nasim | Cairo | Edwardsville | football | Southeast Missouri |
| Brecken | Calcari | MICDS | field hockey | New Hampshire |
| Caden | Cannon | O'Fallon | golf | Florida A&M |
| Gina | Catanzaro | Triad | soccer | Maryville |
| Emily | Chadwick | Howell Central | softball | Missouri State |
| Hailey | Chambliss | Eureka | soccer | Missouri State |
| Tyler | Charlton | CBC | baseball | Missouri State |
| Ellie | Choate | St. Joseph's | tennis | Navy |
| Anna | Chor | O'Fallon | soccer | Texas-El Paso |
| Claire | Christeson | Civic Memorial | basketball | Missouri-St. Louis |
| Avery | Christopher | O'Fallon | soccer | Western Kentucky |
| Jenna | Clark | Webster Groves | golf | Maryville |
| Jordan | Coleman | Ball State | football | Ball State |
| Elizabeth | Collins | O'Fallon | softball | McKendree |
| Cami | Crouch | Nerinx Hall | track | Alabama |
| Alivia | Daniels | Troy | softball | Truman State |
| Dallis | Darnell | Troy | softball | Lindenwood |
| Parker | Dempsey | Timberland | baseball | Drury |
| Rylee | Denbow | Howell Central | basketball | Quincy |
| Ryan | Dickherber | Timberland | baseball | Lindenwood |
| Jordan | Dix | Parkway South | track | Jacksonville |
| Tanner | Dougherty | St. Louis U. High | volleyball | St. Francis |
| Shaya | Dry | Principia | field hockey | St. Louis U. |
| Kaylie | Drysdale | Cor Jesu | beach volleyball | Georgia State |
| Jack | DuMont | St. Louis U. High | baseball | St. Louis U. |
| Jessica | Earley | Lindbergh | field hockey | Maryville |
| Abby | Eberwine | Francis Howell | soccer | Truman State |
| Sam | Emrick | Howell Central | golf | Lindenwood |
| Elle | Evans | Edwardsville | basketball | North Dakota State |
| Jeff | Fearnley | Howell Central | baseball | Missouri-St. Louis |
| Payton | Federmann | Edwardsville | soccer | Omaha |
| Kendyll | Feiste | Fort Zumwalt West | soccer | Missouri-St. Louis |
| Lydia | Feiste | Fort Zumwalt West | softball | Lindenwood |
| Kathryn | Ferguson | Lafayette | tennis | Cincinnati |
| Dorothy | Fife | Lindbergh | field hockey | Maryville |
| Anna | Finley | Owensville | basketball | Missouri S&T |
| Kaitlyn | Finnegan | Cor Jesu | soccer | Maryville |
| Allie | Fishering | Incarnate Word | soccer | SIU Edwardsville |
| Ally | Fitzgerald | Marquette | basketball | Colorado |
| Cameron | Flynn | Fort Zumwalt South | lacrosse | Colorado Mesa |
| Sarah | Foley | Belleville West | soccer | Illinois |
| Tyson | Ford | John Burroughs | football | Notre Dame |
| Tyler | Freiner | Timberland | track | Missouri |
| Anthony | Fumagalli | Timberland | baseball | Illinois-Springfield |
| Joey | Funk | Vianney | baseball | Drury |
| Quinten | Gallagher | CBC | water polo | McKendree |
| Ramiri | Gardner | Fort Zumwalt South | volleyball | Southeast Missouri |
| Landon | Gelven | MICDS | lacrosse | St. Joseph's |
| Abigail | Gerstner | Nerinx Hall | lacrosse | Rockhurst |
| Alex | Ginnever | Holt | football | Eastern Illinois |
| Alex | Gitt | Parkway West | baseball | Lindenwood |
| Carolina | Glastetter | Borgia | volleyball | Maryville |
| Carly | Glendinning | Timberland | volleyball | Cincinnati |
| Morgan | Goodrich | Lindbergh | softball | Indiana State |
| Marquis | Gracial | St. Charles | football | Missouri |
| Sophia | Green | St. Dominic | soccer | Drury |
| Rylee | Griffith | Francis Howell | soccer | Missouri-St. Louis |
| Alyssa | Haile | Howell Central | softball | Missouri S&T |
| Mia | Ham | Parkway North | soccer | Quincy |
| Mikenna | Ham | Parkway North | soccer | Quincy |
| Mary | Hardy | Parkway West | soccer | Murray State |
| Zaire | Harrell | MICDS | basketball | Kansas City |
| Arlen | Harris Jr. | Lutheran St. Charles | football | Stanford |
| Sydney | Harris | Edwardsville | basketball | Central Michigan |
| Tori | Hatton | Troy | softball | Lindenwood |
| Tristen | Head | Wright City | softball | Tennessee Tech |
| Patrick | Heitert | CBC | football | Southeast Missouri |
| Allison | Hemsath | Francis Howell | softball | Washburn |
| Sophie | Henriksen | MICDS | swimming | Penn |
| Brooke | Highmark | Westminster | basketball | Belmont |
| Eli | Hill | Freeburg | baseball | Eastern Illinois |
| Mia | Hinkamper | Cor Jesu | volleyball | Quincy |
| Maci | Hockett | Edwardsville | soccer | Southeast Missouri |
| Quin | Hoening | Francis Howell | golf | Missouri S&T |
| Maddie | Hoffman | Cor Jesu | volleyball | Wingate |
| Zack | Hoffman | Lafayette | baseball | Missouri Southern |
| Hayley | Hogenmiller | Seckman | soccer | Murray State |
| Zoe | Houston | Francis Howell | soccer | Southeast Missouri |
| Rylee | Howard | Lafayette | soccer | Wisconsin |
| Sami | Huck | Potosi | softball | Missouri |
| Cooper | Hyken | John Burroughs | track | Bucknell |
| Maggie | Illig | Troy | soccer | Michigan State |
| Lily | Jackson | St. Charles West | cross country | Omaha |
| Rachel | Jackson | Francis Howell | soccer | Lindenwood |
| Logan | Jacobson | St. Pius X | football | Northern Illinois |
| Alayna | Jakul | Orchard Farm | soccer | Southeast Missouri |
| Mackenzie | James | O'Fallon | soccer | Western Michigan |
| Allison | Jansen | St. Joseph's | volleyball | Colorado Mines |
| Ethan | Jennings | Parkway West | volleyball | Pepperdine |
| Kyle | Johnson | Wright City | baseball | Lindenwood |
| Hailey | Jolliff | Liberty | soccer | Central Missouri |
| Christian | Jones | East St. Louis | basketball | Missouri |
| Mathew | Jones | Lafayette | baseball | Harding |
| Hannah | Kampwerth | Breese Central | volleyball | McKendree |
| Riley | Katen | Holt | soccer | Southwest Baptist |
| Ana | Keller | Triad | track | SIU Edwardsville |
| Nate | Kemp | St. Dominic | baseball | Missouri S&T |
| Amira | Khayyat | Liberty | soccer | Quincy |
| Olivia | Klump | Oakville | volleyball | Maryville |
| Jordan | Knight | Eureka | lacrosse | UVA Wise |
| Nick | Kramer | St. Louis U. High | basketball | St. Louis U. |
| Allison | Kruger | Liberty | track | Kentucky |
| Sydney | Lane | Edwardsville | soccer | SIU Edwardsville |
| Ava | Langheim | Whitfield | diving | Pepperdine |
| Jessica | Larson | St. Dominic | soccer | Missouri |
| Casen | Lawrence | Westminster | basketball | Truman State |
| Jalen | Lee | Fort Zumwalt North | football | South Dakota State |
| Noah | Leingang | Westminster | baseball | Maryville |
| Riley | Lewis | Edwardsville | golf | Iowa |
| Caleb | Lind | Lutheran St. Charles | cross country | Bradley |
| Kinlee | Lippert | Triad | soccer | Missouri-St. Louis |
| Rolen | Lively | Mehlville | volleyball | McKendree |
| Madeline | Lotspeich | Fort Zumwalt West | soccer | Indiana State |
| Lizzy | Ludwig | Freeburg | softball | Kansas |
| Ryan | Luitjohan | Edwardsville | track | Southern Indiana |
| Katie | Malzahn | O'Fallon Christian | beach volleyball | Lindenwood |
| Evan | Margherita | CBC | baseball | Quincy |
| Maya | Martin | Lafayette | tennis | Rockhurst |
| Luke | Matschiner | CBC | baseball | Drury |
| Eliza | Maupin | Webster Groves | basketball | Kansas State |
| Mia | Mazzola | Eureka | softball | Abilene Christian |
| Cameron | McCrary | Fort Zumwalt West | swimming | Missouri S&T |
| Jake | McCutcheon | Francis Howell | baseball | Missouri State |
| Ella | Mead | Lindbergh | volleyball | UNC Pembroke |
| Caleb | Merritt | John Burroughs | football | Wyoming |
| KJ | Miley | Whitfield | wrestling | Little Rock |
| Jacob | Millard | Lutheran St. Charles | baseball | Missouri-St. Louis |
| Brandon | Mitchell-Day | MICDS | basketball | Dartmouth |
| Anna | Moehn | Cor Jesu | swimming | Penn |
| Julia | Monson | O'Fallon | track | Eastern Illinois |
| Paige | Montgomery | Waterloo | volleyball | SIU Edwardsville |
| Regan | Moody | Althoff | soccer | Illinois |
| Taryn | Moore | Marquette | soccer | SIU Edwardsville |
| Logan | Mueller | Columbia | baseball | Quincy |
| Maddie | Muhr | Incarnate Word | soccer | Kansas City |
| McKenzie | Murphy | Columbia | beach volleyball | North Florida |
| Mary Kate | Neal | Howell Central | soccer | Missouri-St. Louis |
| Josh | Newell | St. Charles West | baseball | Lindenwood |
| Mia | Nicastro | St. Charles West | basketball | St. Louis U. |
| Sophia | Nittinger | Webster Groves | basketball | Eastern Michigan |
| Molly | O'Brien | John Burroughs | track | Davidson |
| Kate | Oliver | MICDS | field hockey | Harvard |
| Kylee | Orf | Liberty | softball | Southwest Baptist |
| Caiden | Otte | Troy | baseball | Drury |
| Ellie | Paloucek | Webster Groves | soccer | St. Louis U. |
| Baker | Pashea | St. Louis U. High | track | Dartmouth |
| Emily | Passini | Cor Jesu | soccer | Bellarmine |
| Kaitlyn | Patke | Borgia | basketball | Truman State |
| Cameron | Paul | Kirkwood | football | Southeast Missouri |
| Kharis | Perona | Westminster | lacrosse | Rockhurst |
| Kenzie | Petch | Marquette | field hockey | Maryville |
| Gracie | Piar | Alton Marquette | golf | CSU Northridge |
| Skylinn | Pogue | Eureka | softball | Iowa |
| Vanessa | Polk | John Burroughs | volleyball | Pepperdine |
| Grace | Pottebaum | John Burroughs | field hockey | North Carolina |
| Jack | Potteiger | Summit | baseball | Eastern Illinois |
| Alyssa | Powell | Alton Marquette | basketball | McKendree |
| Brynn | Presley | Triad | soccer | Maryville |
| Brooke | Punnewaert | Nerinx Hall | swimming | Tampa |
| Kaleb | Purdy | De Smet | football | Kansas |
| Easton | Rakers | Breese Central | baseball | Lindenwood |
| Mia | Rallo | St. Joseph's | golf | Central Missouri |
| Morgan | Ramthun | Incarnate Word | basketball | Missouri-St. Louis |
| Anna | Raumschuh | Ursuline | lacrosse | Mars Hill |
| Tyler | Rauser | Francis Howell | baseball | Truman State |
| John | Rea | Triad | baseball | Lindenwood |
| Nolan | Reed | North County | football | Southeast Missouri |
| Jadyn | Renth | Edwardsville | soccer | Northeastern State |
| Chloe | Rhine | Summit | softball | St. Louis U. |
| Grant | Richars | St. Dominic | baseball | Coastal Carolina |
| Joey | Riggs | Wright City | track | Southwest Baptist |
| Haley | Ritchie | Eureka | lacrosse | Grand Valley State |
| Kaian | Robers-Day | Festus | football | Baylor |
| Tess | Roberts | Liberty | soccer | Concordia St. Paul |
| Ayden | Robinson | CBC | football | Missouri Southern |
| Ella | Roesch | Parkway West | soccer | Indiana State |
| Alaina | Ronning | Westminster | rowing | Kansas |
| Isabella | Ross | Clayton | rowing | Kansas State |
| Nathan | Ruble | St. Pius X | football | Northern Illinois |
| Eric | Ruess | Festus | football | Missouri State |
| Ashtin | Rustemeyer | Lutheran St. Charles | football | Arkansas State |
| Joe | Ruzicka | Webster Groves | baseball | Belmont |
| Tia | Sansone | Whitfield | field hockey | Maryville |
| Taytum | Scarborough | St. Dominic | soccer | Illinois-Springfield |
| Cooper | Scharff | St. Louis U. High | swimming | Wisconsin |
| Madison | Scheer | Eureka | volleyball | Auburn |
| Peyton | Schieppe | O'Fallon | track | Bradley |
| Rachel | Schipper | St. Dominic | volleyball | Maryville |
| Gabby | Schlapper | Duchesne | soccer | Missouri State |
| Maddie | Schneiderhahn | Ursuline | soccer | Miami (Ohio) |
| Owen | Schneider | Summit | baseball | Missouri Southern |
| Blair | Schonhorst | CBC | football | Ball State |
| Breanna | Schreimann | St. Dominic | volleyball | SIU Edwardsville |
| Ryan | Schwendeman | St. Dominic | football | SIU Carbondale |
| Kellen | Scruggs | O'Fallon | baseball | Missouri Western |
| Madilyn | Sell | Marquette | volleyball | Missouri |
| Jeremy | Sheffield | Westminster | baseball | Georgetown |
| Ellie | Sigman | Lafayette | gymnastics | West Virginia |
| Macy | Silvey | Edwardsville | basketball | SIU Edwardsville |
| Ayalew | Sisay | Timberland | baseball | Indianapolis |
| Cora | Skaggs | Eureka | softball | Arkansas Tech |
| Anis | Smajlovic | Mehlville | soccer | Akron |
| Ethan | Smith | Lindbergh | baseball | Missouri Southern |
| Hannah | Smith | Eureka | soccer | St. Louis U. |
| Parker | Smith | Westminster | baseball | Drury |
| Anna | Sommer | Parkway South | volleyball | USC Aiken |
| Ashtoon | Soots | Fort Zumwalt West | soccer | Lindenwood |
| Mia | Stahl | Parkway South | lacrosse | Youngstown State |
| Giavonna | Starman | Fort Zumwalt North | soccer | Missouri State |
| Julie | Steiger | Francis Howell | soccer | Missouri-St. Louis |
| Lydia | Strasser | Holt | soccer | Southwest Baptist |
| Dylan | Tate | Eureka | baseball | Lindenwood |
| Kellen | Thames | Pattonville | basketball | St. Louis U. |
| Isaac | Thompson | St. Louis U. High | football | Missouri |
| Tyler | Tieman | Althoff | baseball | Truman State |
| Sydney | Tolbert | Marquette | diving | Lindenwood |
| Alex | Turley | Webster Groves | wrestling | Hofstra |
| Connor | Turnbull | Fort Zumwalt North | basketball | Butler |
| Rashad | Turner | Carnahan | football | Southeast Missouri |
| Saniah | Tyler | Incarnate Word | basketball | Kentucky |
| Ryan | Ulm | Fort Zumwalt West | baseball | Quincy |
| Maddie | Vanderheyden | O'Fallon | golf | Maryville |
| Carlie | Vick | Westminster | basketball | Florida Atlantic |
| Jack | Wagoner | Marquette | soccer | Indiana |
| Michael | Walsh | CBC | baseball | Lindenwood |
| Ryan | Walsh | Chaminade | golf | Loyola-Chicago |
| Ja'Marion | Wayne | Parkway West | football | Missouri |
| Jaydon | Wannstedt | Lutheran St. Charles | football | Murray State |
| Adriana | Weber | St. Dominic | lacrosse | Drury |
| Charlie | Weber | Chaminade | baseball | Wofford |
| Camille | Welker | Cor Jesu | soccer | Iowa |
| Brianna | Wellen | Collinsville | softball | Quincy |
| Brenden | White | Howell Central | baseball | McKendree |
| Ally | Williams | Oakville | volleyball | Maryland |
| Zora | Williams | Francis Howell | track | St. Louis U. |
| Caldra | Williford | Lutheran North | football | Murray State |
| Jessica | Willsey | Marquette | softball | Evansville |
| Delanie | Winkelmann | St. Joseph's | field hockey | Maryville |
| Daniel | Wissler | Fort Zumwalt West | baseball | Missouri |
| Alex | Wittenauer | Westminster | baseball | Truman State |
| Sadie | Wolf | Lafayette | soccer | Colorado Mines |
| Ella | Wolfard | Lindbergh | soccer | Quincy |
| Micah | Worley | Principia | baseball | Missouri |
| Andrew | Young | Marquette | basketball | Missouri S&T |
| Charles | Young III | Lutheran St. Charles | football | SIU Carbondale |
| Alex | Zoellner | St. Dominic | soccer | Rockhurst |
Class of 2022 area college signings: NCAA Division III, NAIA, JUCO
| First | Last | High school | Sport | University |
| --- | --- | --- | --- | --- |
| Jenna | Achs | Nerinx Hall | softball | Missouri Baptist |
| Madison | Adolphsen | Parkway North | basketball | William Woods |
| Kaley | Adzick | Lafayette | softball | Webster |
| Anthony | Anderson | St. Dominic | volleyball | St. Ambrose |
| Lauren | Argo | Marquette | softball | Millikin |
| Abby | Atherton | Fort Zumwalt South | basketball | Hannibal-LaGrange |
| Joey | Avitia | Washington | football | Concordia (Wis.) |
| Zachary | Baker | Timberland | lacrosse | Columbia College |
| Kieffer | Beckmann | Eureka | water polo | Penn St.-Behrend |
| Amanda | Beuth | Triad | swimming | St. Ambrose |
| Josie | Bezzole | Howell Central | softball | Three Rivers |
| Cade | Bobbitt | Granite City | soccer | Missouri Baptist |
| Katie | Boston | Nerinx Hall | volleyball | Carthage |
| Elliott | Boyer | Granite City | soccer | Southwestern Illinois |
| Grace | Bray | Fort Zumwalt West | soccer | Fontbonne |
| Avery | Budde | Breese Central | softball | John A. Logan |
| John | Butka | John Burroughs | baseball | Chicago |
| Emma | Carr | Fort Zumwalt East | soccer | Millikin |
| Maddie | Casey | Francis Howell | soccer | Southwestern Illinois |
| Izaac | Cell | Granite City | soccer | Blackburn |
| Sophie | Colson | Waterloo | soccer | Milwaukee Engineering |
| Hayden | Cook | Lafayette | baseball | East Central |
| Rylie | Crecelius | Fort Zumwalt West | basketball | Lake Forest |
| Maddy | Davis | Waterloo | softball | Southwestern Illinois |
| Cadence | Dempsey | Fort Zumwalt South | softball | Lake Forest |
| Ethan | Edinger | Troy | baseball | Kirkwood CC |
| Ella | Evans | Liberty | softball | Belhaven |
| Audrey | Evola | Alton | softball | Briar Cliff |
| Ella | Field | St. Dominic | soccer | Belhaven |
| Daniel | Flier | CBC | baseball | Jefferson |
| Carli | Foersterling | Alton Marquette | softball | Southwestern Illinois |
| Adison | Foutch | Breese Central | softball | John A. Logan |
| Zac | Fruend | Lutheran St. Charles | baseball | Moberly |
| Hailey | Gerard | Fort Zumwalt South | cross country | William Woods |
| Mackenzie | Gieseler | Marquette | softball | St. Louis CC |
| Sophie | Gill-Kemper | Columbia | volleyball | Southwestern Illinois |
| Brady | Gotter | O'Fallon | swimming | Stevenson |
| Trista | Grobe | De Soto | softball | Three Rivers |
| Aaron | Guller | John Burroughs | baseball | Chicago |
| Lillian | Harris | Granite City | cross country | Missouri Baptist |
| Cameron | Hart | Fort Zumwalt West | baseball | Missouri Baptist |
| Blayne | Holman | Francis Howell | baseball | Moberly |
| Camryn | Kessler | Summit | softball | Jefferson |
| Emma | Kinder | St. Dominic | lacrosse | Indiana Tech |
| Elijah | Kjellberg | Parkway Central | baseball | Greenville |
| Madison | Klein | Parkway South | softball | Missouri Baptist |
| Andi | Lipic | Cor Jesu | soccer | Trine |
| Kyle | Mager | Webster Groves | baseball | Jefferson |
| Irena | Malek | Timberland | soccer | Millikin |
| Joey | Marcinkiewicz | Summit | baseball | Moberly |
| Gwen | Marino | Fort Zumwalt West | volleyball | Columbia College |
| Trinniti | Matthews | Howell Central | basketball | Webster |
| Megan | McBride | Summit | soccer | Missouri Baptist |
| Grace | McGinnis | Summit | softball | Jefferson |
| Kylee | McKay | Timberland | soccer | Evangel |
| Hannah | Menke | Summit | track | St. Louis Pharmacy |
| Grace | Middendorf | Marissa | softball | Wabash Valley |
| Ella | Middleton | Civic Memorial | volleyball | Illinois College |
| Sean | Mitchell | Alton Marquette | baseball | Parkland |
| Payton | Montana | Seckman | soccer | Westminster |
| Brady | Moore | Breese Central | basketball | Rend Lake |
| Kyle | Mosley | Parkway Central | baseball | Aurora |
| Jillian | Nelson | Alton Marquette | soccer | Concordia Moorhead |
| Hattie | Ostermeyer | Francis Howell | softball | Jefferson |
| Ella | Palm | Mater Dei | softball | John A. Logan |
| Singh | Paramanmol | Granite City | soccer | Blackburn |
| Riley | Petsch | De Soto | cross country | Mineral Area |
| Kylie | Petroski | Althoff | soccer | Southwestern Illinois |
| Thai | Prakit | O'Fallon | golf | North Park |
| Meghan | Quinones | Fort Zumwalt East | soccer | Westminster |
| Allison | Recar | De Soto | cross country | Mineral Area |
| Ellie | Rodriguez | Wright City | soccer | St. Charles CC |
| Hayden | Sanborn | Vianney | baseball | Westminster |
| Adam | Sausele | Vianney | basketball | Columbia College |
| Joshua | Schulhofer | O'Fallon | football | Illinois College |
| Emily Rae | Sheffield | Holt | softball | Cornell College |
| Joe | Siervo | Parkway Central | baseball | Jefferson |
| Ben | Spear | O'Fallon | volleyball | Kansas Wesleyan |
| Andrew | Staph | Timberland | lacrosse | Columbia College |
| Logan | Stipes | Francis Howell | baseball | Culver-Stockton |
| Cooper | Swift | Liberty | baseball | Moberly |
| Lauren | Ulrich | Eureka | tennis | Savannah A&D |
| Cole | Vance | Liberty | baseball | East Central |
| Kyleigh | Villareal | Summit | softball | Missouri Valley |
| Emily | VonHatten | Mater Dei | softball | Greenville |
| Ailene | Walker | Belleville East | softball | Lake Land |
| Kannon | Walker | Belleville East | baseball | Lake Land |
| Taryn | Wallace | Alton | volleyball | Southwestern Illinois |
| Abby | Wampler | Summit | swimming | Davenport |
| Dyllan | Weicht | Holt | soccer | Missouri Baptist |
| Isaac | Will | Summit | baseball | Missouri Baptist |
| Hayden | Wilson | Fort Zumwalt West | baseball | Moberly |
| Nick | Witcher | St. Louis U. High | lacrosse | Centre |
| Ian | Wolff | Wright City | baseball | Black Hawk |
| Allison | Woobright | Alton Marquette | volleyball | Greenville |
| Luke | Wright | Parkway West | baseball | Heartland |
| Michael | Yemm | St. Louis U. High | volleyball | Carthage |
| Frederic | Zheng | Owensville | cross country | William Woods |
| Alyssa | Zimmerman | Triad | volleyball | Southwestern Illinois |