It was more than a year since Toriano Pride participated in a 7-on-7 football tournament. A junior two-way standout for the Lutheran North football team, Pride showed up at the NFA 7v7 tournament in Myrtle Beach, South Carolina, this weekend hoping to show all who came what he believes in his heart.
"I feel I'm the No. 1 (defensive back) in my class," Pride said.
By Sunday night, Pride had a new swath of believers. The 5-foot-11 and 185-pound Pride put together a spectacular two-day showing where he allowed one opponent to catch a single pass on him and even that one was a short, quick route to the sideline.
If there was any rust from his lengthy 7-on-7 layoff, he didn't show it.
"It felt natural," Pride said. "It's really one on one all day, every rep for me."
Pride was so good he was tabbed the tournament's "Alpha Dog" by 247sports recruiting expert Steve Wiltfong. That is no small tip of the cap considering the tournament field was loaded with some of the top-ranked college prospects in the country.
Then again, Pride feels he fits right in with that crowd.
"He is the best corner in the country," Lutheran North coach Carl Reed said.
Pride's list of scholarship offers speaks to his pedigree. He's one of a handful of locals to catch Clemson's eye. There's also Alabama, Florida State, Ohio State, Oregon, Oklahoma, Notre Dame and Texas A&M, as well as Missouri and Illinois mixed in to his nearly 30 offers.
Because of the NCAA extending the in-person recruiting dead period through May 31, Pride and other potential recruits can't take official visits, but they can drop by and explore on their own. Pride has family in South Carolina not far from Clemson and got a lay of the land.
Pride said he would like to get in more visits if possible when he can as he wades into his recruiting process. His plan at this point is not trim his lengthy list of offers but instead figure out where he'd like to go and then verbally commit at some point in August. That way he can have it put to bed before focusing on his senior year and chasing a third state championship ring.
Pride was a freshman on Vianney's 2018 Class 5 title team and then won his second when Lutheran North claimed the Class 2 title in 2019.
Finding his college home might grow significantly more difficult after his performance this weekend. Pride was already popular among some of the most recognized college football programs in the country, but he said he's already starting to see an uptick of interest.
"It's blown up a little more," he said.
As for where he'd like to play, that doesn't matter to him as much as being part of a program that's a good fit for him. At Lutheran North, Pride rushed the ball out of the backfield, caught passes and was dynamic in the defensive secondary.
"I'll go wherever you put me as long as I'm helping the team win," Pride said. "It doesn't matter to me."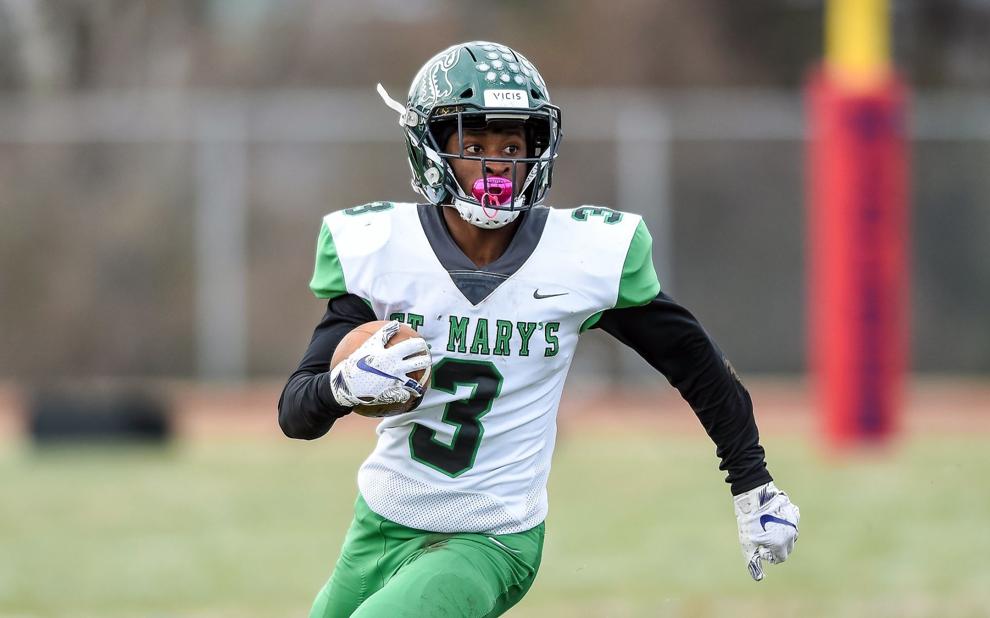 ST. MARY'S COLEMAN TRIMS HIS LIST
Kevin Coleman has so many choices he had to narrow them down.
The top-rated recruit in the class of 2022 in Missouri, Coleman whittled his list of more than 30 scholarship offers to eight suitors over the weekend. The eight he's chosen to focus on are Alabama, Arizona State, Florida State, Georgia, Oregon, Penn State, Texas and USC.
The 5-foot-11 and 170-pound Coleman is rated as a five-star recruit by Rivals and 247sports. He is one of two players in the area to receive a five-star designation. Luther Burden III, who recently transferred to East St. Louis from Cardinal Ritter, is the other. Burden recently was tabbed as the top-rated recruit in Illinois by both Rivals and 247sports after his transfer.
Coleman has been among the most impressive players in the area in his three seasons with the Dragons. In 31 career games he's made 142 receptions for 2,983 yards and 39 touchdowns. He's scored 54 total touchdowns when his rushing, kick return, punt return and interception returns are included.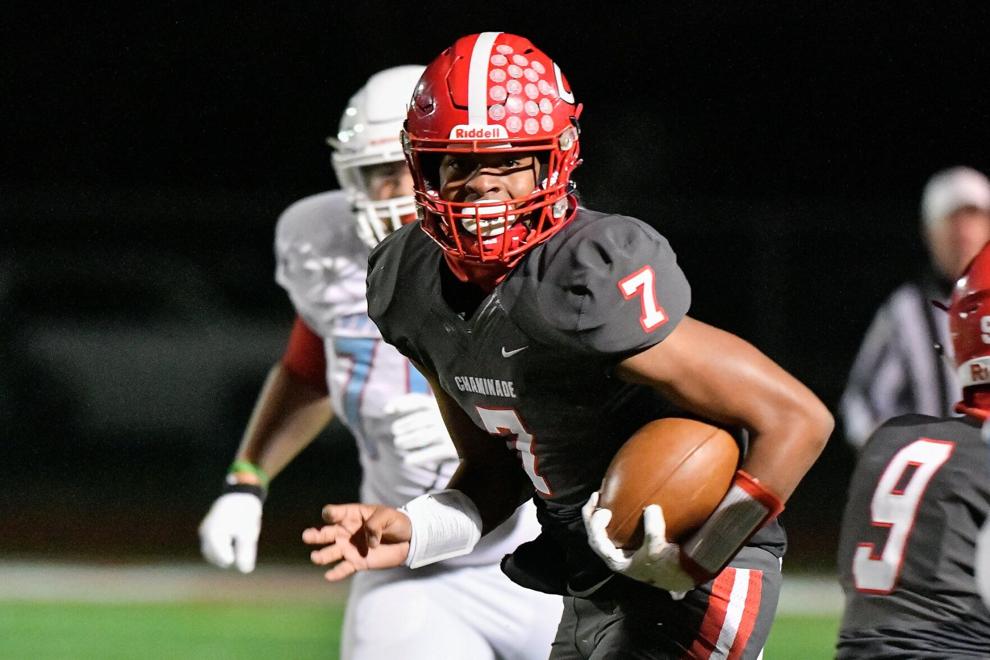 CHAMINADE'S EPPS PICKS THE POKES
Cameron Epps was ready to put his recruiting process on the back burner. On Feb. 10 the Chaminade junior verbally committed to Oklahoma State. A two-way standout for the Red Devils, Epps's future appears to be in the defensive secondary as a defensive back, but that didn't stop him from stepping in under center and playing quarterback this fall.
In a pandemic-shortened six-game season, Epps completed 37 of 73 passes for 489 yards, seven touchdowns and was intercepted twice. He also rushed for 485 yards and three scores. In the secondary he made 31 tackles.
The 6-foot-2 and 184-pound Epps picked Oklahoma State from a list of offers that included Arkansas, Boston College, Howard, Kansas, Kansas State, Michigan State, Vanderbilt and West Virginia. A week after he gave his verbal commitment in a video where he was surrounded by his family, Missouri became the latest program to offer him a scholarship.
Verbal commitments are not binding and the first time any football players can sign their binding national letters of intent is in the early signing period in mid-December.
Epps is rated by Rivals as the No. 10 recruit in Missouri.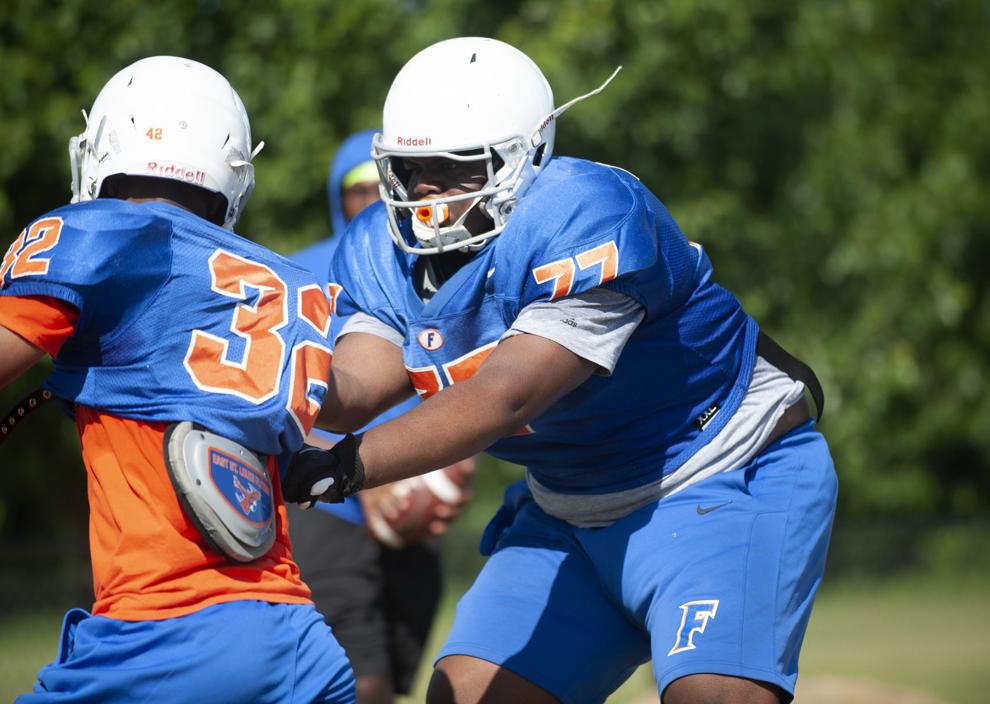 As the coronavirus pandemic starts to ease its grip on the nation this spring, there are expected to be more opportunities for student-athletes to compete at showcases and camps. Some area players, like East St. Louis offensive lineman Miles McVay, never stopped traversing the nation in search of competition. Here are a few up and coming sophomores who already have made a name for themselves on the recruiting trail.
• Miles McVay, offensive tackle, East St. Louis
At 6-foot-7 and 345 pounds he's already among the largest athletes in his class. McVay has already cobbled together an early list of scholarship offers that includes Arizona, Arizona State, Bethune-Cookman, Florida, Georgia, Kentucky, Michigan State, Northern Colorado, Mississippi and Tennessee.
He was recently named a Community High School All-Star by the Chicago Bears in large part due to his volunteer work with the Demetrious Johnson Foundation, the North Side Community School and his 3.6 grade point average. He asked that his $500 award be directed to The Little Bit Foundation.
McVay will get to take the field this spring when East St. Louis opens its season in March.
• Mac Markway, tight end, De Smet
The 6-foot-4 and 250-pound Markway had college scouts drooling over his potential from the moment he stepped on De Smet's campus. Markway has more than 20 scholarship offers, including Alabama, Arkansas, Florida, Florida State, Iowa, LSU, Miami, Michigan, Michigan State, Notre Dame, Oregon, Stanford, Texas A&M as well as Missouri and Illinois.
Markway caught two passes for 21 yards and a touchdown as a sophomore prior to suffering a season-ending knee injury this fall. As a freshman he caught five passes for 58 yards and two touchdowns as the Spartans won the Class 6 championship.
• Sam M'Pemba, defensive end, Ladue
The 6-foot-4 and 210-pound M'Pemba has been among the most sought-after recruits in the area as his scholarship offer list now sits at 20. Missouri and Illinois are in on him, as are Arizona State, Arkansas, Boston College, California, Florida State, Georgia, Kansas State, Maryland, Michigan, Notre Dame, Oklahoma, Penn State, Purdue, Texas and Texas A&M.
In the fall during Ladue's five-game season, M'Pemba caught 20 passes for 264 yards and two touchdowns. He also made 31 tackles, three tackles for loss and three sacks.
• Brett Norfleet, tight end, Francis Howell
The 6-foot-7 and 220-pound Norfleet has made an impact on the varsity both his freshman and sophomore seasons. As a freshman he made nine catches for 107 yards and two touchdowns while also racking up 17 tackles, six tackles for loss and four sacks.
As a sophomore he caught 14 passes for 214 yards and one score in seven games of action.
Norfleet has received seven scholarship offers from the likes of Missouri, Arizona State, Arkansas, Florida State, Kansas State, Minnesota and Tennessee.