ST. CHARLES — Marquis Gracial didn't have a curfew growing up in St. Charles.
His grandmother, Bernita Polk, made sure of that.
Polk kept the hulking 6-foot-4, 310-pound defensive tackle under lock and key ever since he moved in with her prior to his freshman year at St. Charles High.
"She hardly ever let me go out of the house at all," Gracial said.
Polk's ability to keep Gracial focused played a key role in his development into one of the top defensive linemen in the country.
Gracial signed a letter of intent to attend the University of Missouri on Wednesday in front of family and friends during a ceremony at St. Charles High.
"This is my dream," Gracial said after putting pen to paper.
Gracial, a 4-star recruit, received approximately 25 offers from NCAA Division I schools before choosing Mizzou. He also gave strong consideration to Alabama, Oregon, Iowa State and Arizona State.
But he wanted to stay close to home.
Polk struggles to get around and uses a walker on a regular basis. Gracial wants to make sure his grandmother can attend as many games as possible down the road.
"Looking at it now, she's one of the big reasons I'm here doing this," Gracial said. "I want her to keep seeing me play."
Gracial grew up in downtown St. Louis and his mother, Maria Gracial, sent him to live with Polk in order to keep him away from the dangerous streets of the city.
Polk took the responsibility seriously and put the hammer down from day one.
"To be perfectly honest, I'm pretty strict," Polk said. "But he never really acted like he wanted to run around. I really didn't have any problems. He was never the kind of child that wanted to get into trouble."
Gracial's routine under Polk's watchful eye is a simple one. He goes to school, attends football practice, then comes home to study. In the offseason, he heads to the weight room after classes.
That regimen has worked so far, and Gracial wouldn't have it any other way.
"Looking at it now, staying home all the time was definitely worth it," Gracial said. "I could have been doing something else, hanging in the streets, that wouldn't have been good for me."
A gentle giant, Gracial did not begin playing football until eighth grade. He came out for the University City elite team at the urging of his friends. He said his first season was not a whole lot of fun, and he considered giving up the sport.
But Gracial stuck with it and came into his own following his ninth-grade season, when he played exclusively on the freshman team.
"He just decided that year that football was something he wanted to pursue," St. Charles coach Bob Leonard said. "And he worked his tail off in the weight room and on the field."
Leonard recalls seeing Gracial and Polk wandering around the school prior to his freshman year looking for the proper office to get Gracial enrolled at St. Charles High.
Seeing the hulking teenager, Leonard zipped down the hall to greet the duo.
"It's been a long time since I ran that fast," Leonard joked.
Gracial, who verbally committed  in May to Mizzou, was a shining star on a team that won just five of 30 games during his three years, including back-to-back 1-9 campaigns.
Yet he managed to become a dominant force, despite teams using two and sometimes three players to try and keep him out of the backfield.
Gracial recorded 17 sacks and 43 tackles for loss with four fumble recoveries in his career. He even caught four touchdown passes while occasionally playing as a tight end.
"His work ethic is just tremendous," Leonard said. "That's what's gotten him into the SEC."
Gracial possesses a rare combination of size and speed. His quickness off the ball and lightning-fast first step make a him a strong run-stuffer.
Since he has only played football for four-plus seasons, Gracial has a very high ceiling.
"I'm pretty confident, he's going to do some big things," Leonard said.
Marquis Gracial, St. Charles football signing
Marquis Gracial, St. Charles football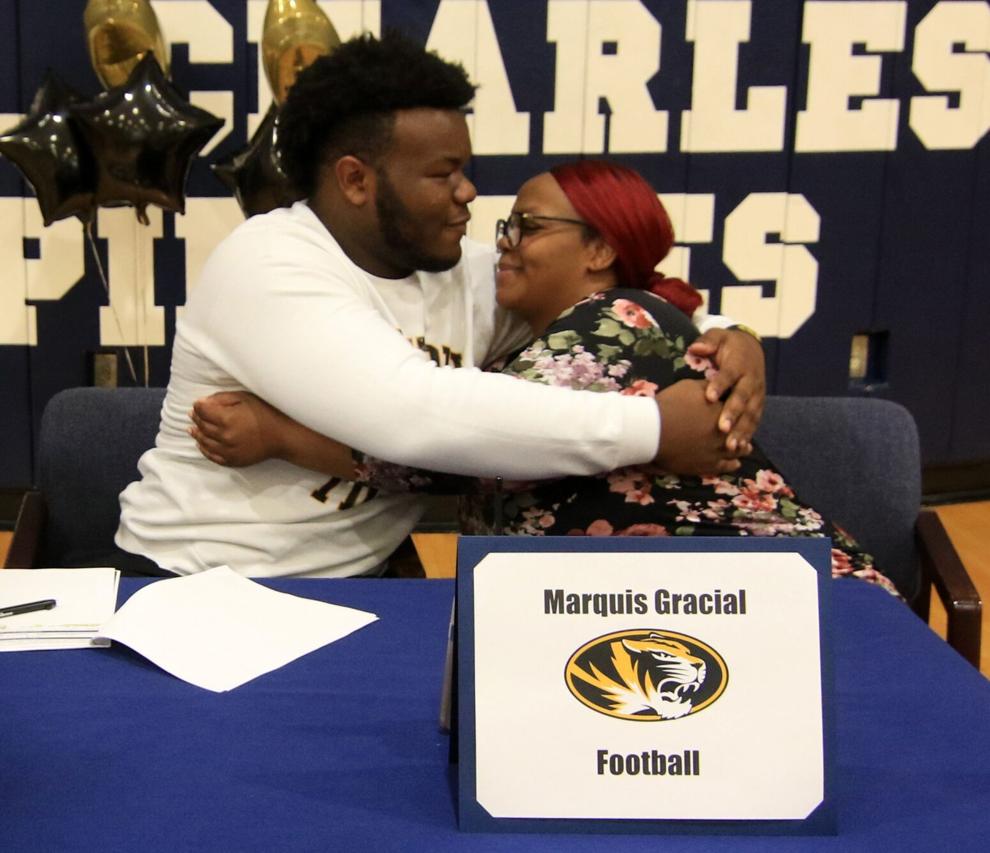 Marquis Gracial, St. Charles football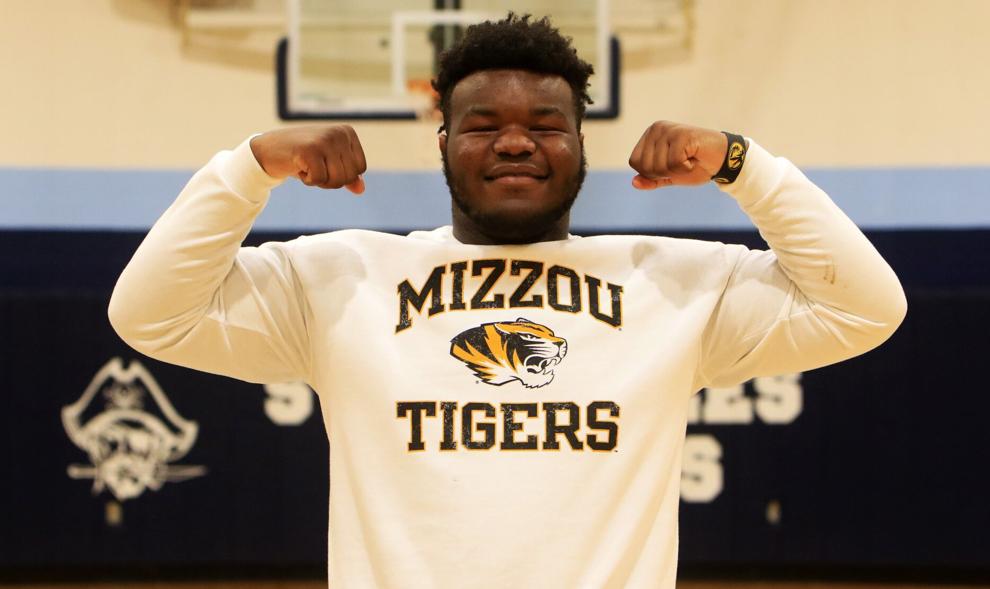 Marquis Gracial, St. Charles football
Marquis Gracial, St. Charles football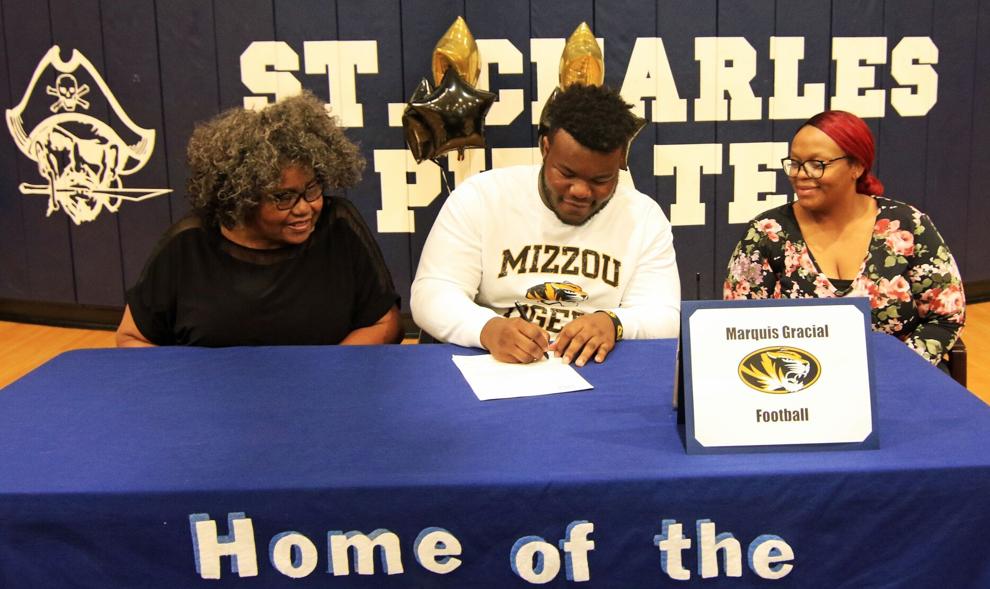 Marquis Gracial, St. Charles football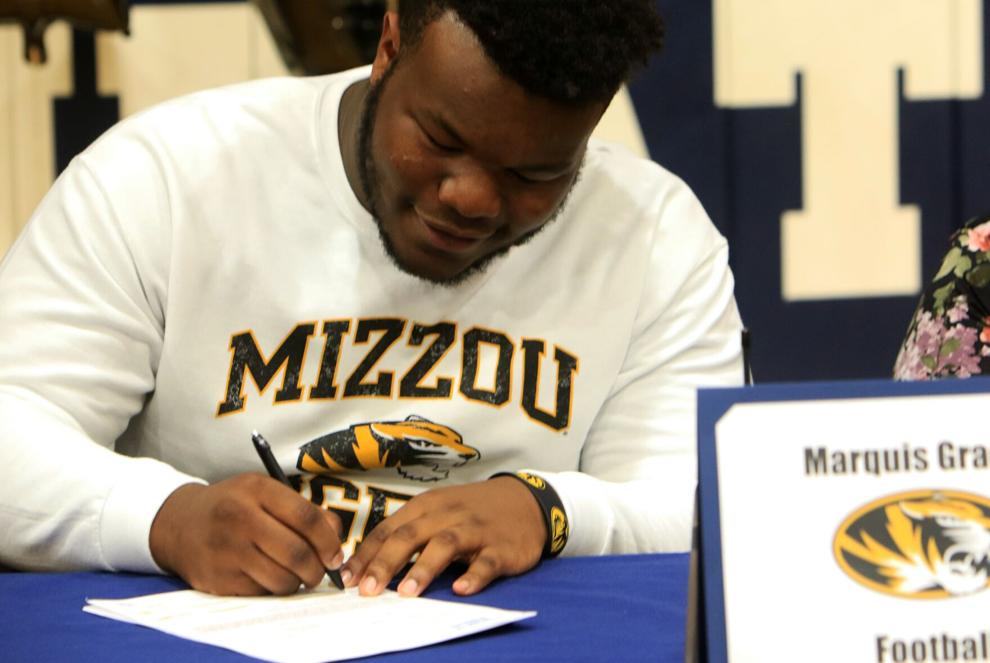 Marquis Gracial, St. Charles football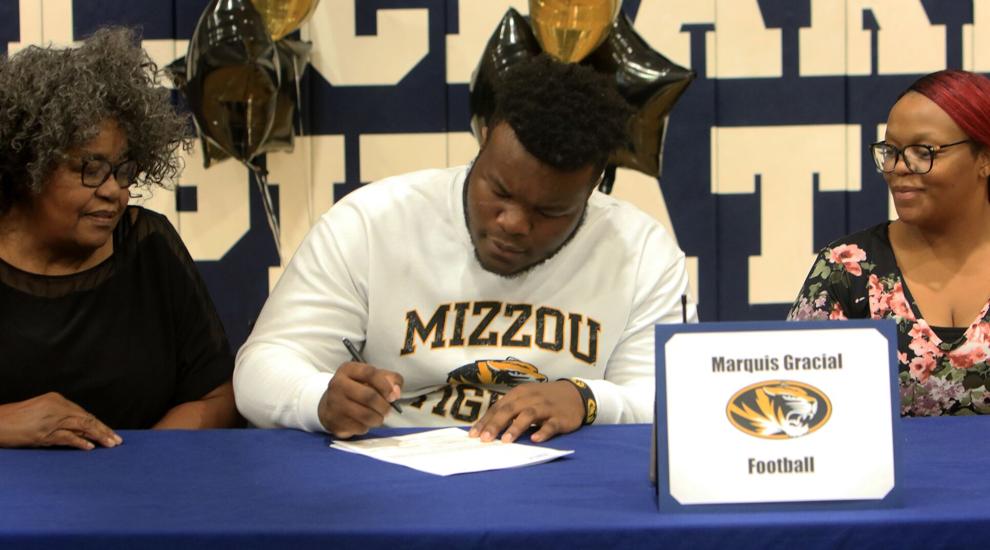 Marquis Gracial, St. Charles football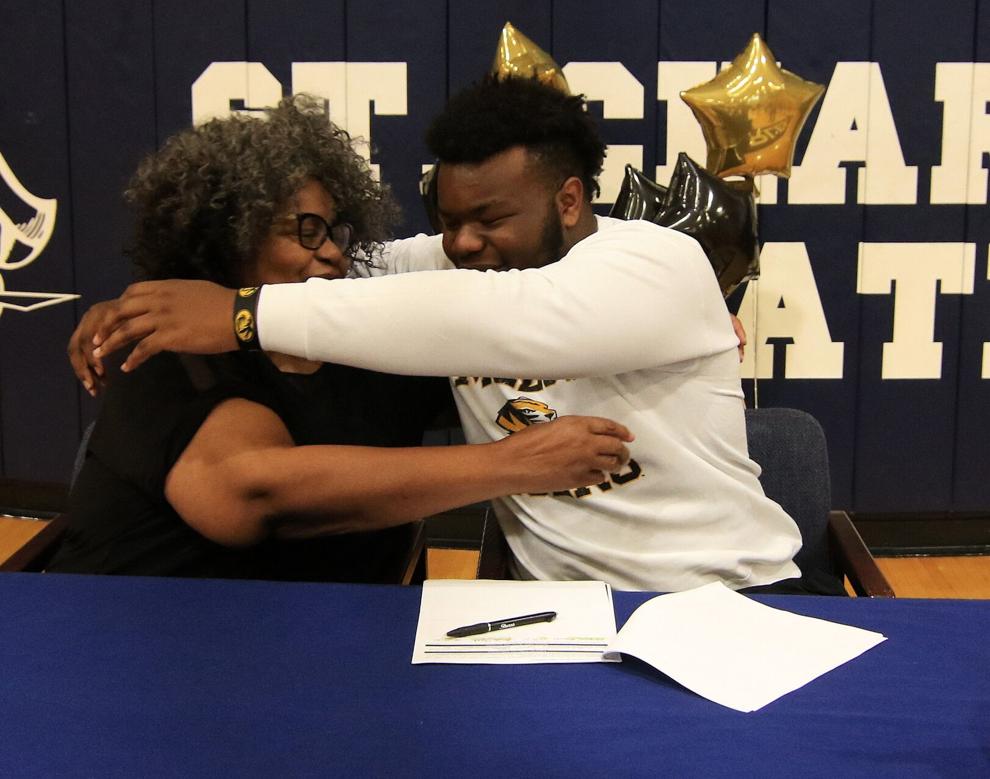 Marquis Gracial, St. Charles football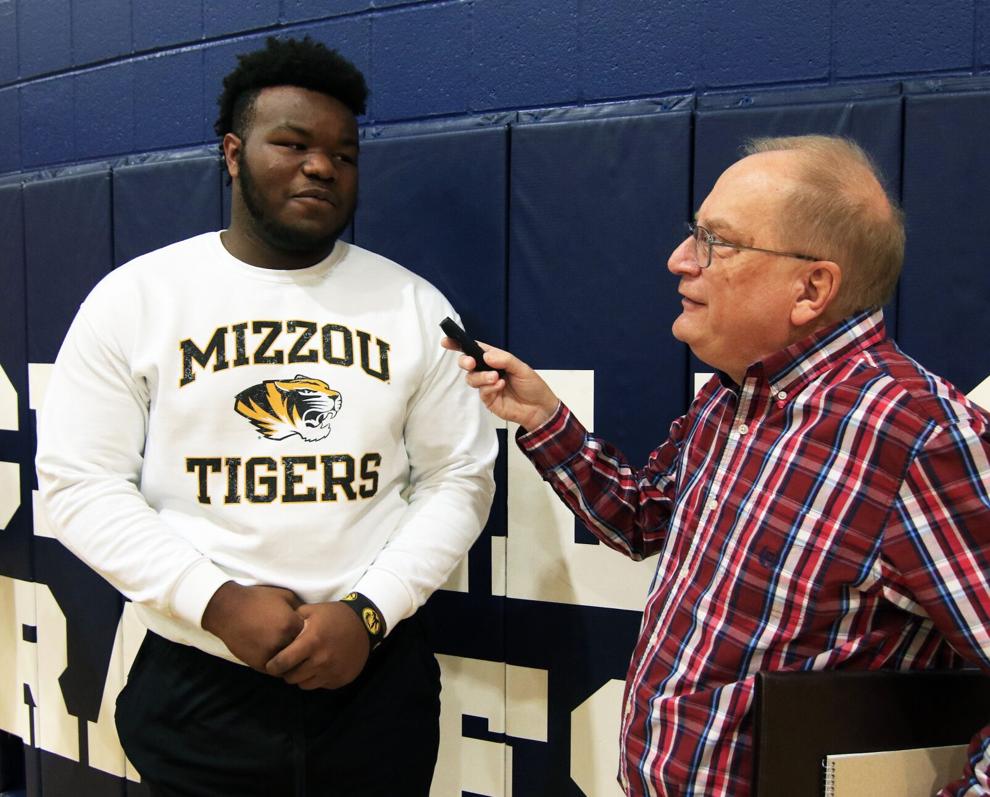 Marquis Gracial, St. Charles football